Here's What Happened When 8 People Put The Knight Guard Night Mouthguards to The Test to Help Their Teeth Grinding and Jaw Clenching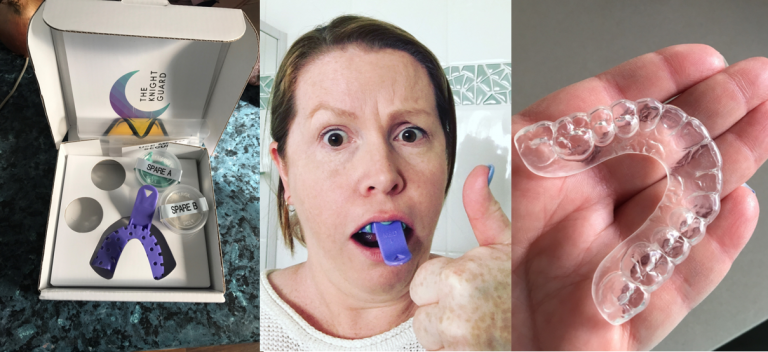 Here's What Happened When 8 People Put The Knight Guard Night Mouthguards to The Test to Help Their Teeth Grinding and Jaw Clenching
Community product review
As you may remember, last month we invited audience members who regularly grind their teeth and clench their jaws to trial a night mouthguard from The Knight Guard. The eight chosen candidates were sent an at-home impression kit complete with both written and video instructions on how to take an impression of their teeth themselves. They then returned the kit in the box provided, to The Knight Guard, who sent back a custom made night guard just a week or so later.
After sleeping in their new night guards for a couple of weeks, we caught up with our reviewers to find out whether they have noticed any improvements with their night teeth grinding and clenching, and issues related to it such as poor sleep, headaches, earaches and fatigue.
Reviewer: Morgan Felton, NSW
Ever since I was a child I've been really bad for grinding & clenching my teeth. It's getting so bad that I actually wake up with a tension headache from clenching of a night while I'm asleep. Plus my oldest daughter is starting to copy me which I do not want.
I was a little scared that I wouldn't be able to do it [the impression kit] on my own, but the packaging was so simple & easy to understand. It was a breeze. The steps were numbered & kept short which was great & watching the video while doing it helped even more.
Night 1 was a little weird. I've never had any type of guard in my mouth so trying to get used to it was something new, but after wearing it the first night I was used to it like it was meant to be there. The first time I put it in my mouth it just slipped straight onto my teeth and fit comfortably like a glove.
After wearing it for 2 nights I actually became more aware of when I was grinding and clenching throughout the day when it wasn't in.
It's working like a charm. There is no way I would give up this god send of a product.
Best thing I ever tried. The hardest part of the experience was trying to get 5 minutes alone without the kids trying to help. If you clench or grind in your sleep I cannot recommend this product enough!  
Reviewer: Laura Hanson, SA
I have been suffering from the symptoms of grinding my teeth (poor sleep headache, fatigue) for around 2 years. I wasn't really aware of the problem until my husband told me I was sometimes grinding my teeth (possibly due to medication I was on) after the birth of my daughter. I was aware of my jaw clenching as this happens when I'm stressed during the night resulting in pain and headaches the next day.
I was curious if The Knight Guard night guard would make a difference to my quality of sleep. I have a very active toddler and was finding I was super fatigued each day making it hard to keep up with her.
The at-home impression kit looked super overwhelming and I'll admit I put it off for a couple of days!!
It was great that the package is small enough to fit in the letter box saving a trip to the post office as I wasn't home when it was delivered.
Once I watched the video, I realised it wasn't so intimidating and actually quite simple to use. Super easy to send back as well. There was an instruction leaflet with the kit but the visuals in the video made it a whole load easier to understand.
I have a pretty bad gag reflex so thought at first I wouldn't like wearing it (struggled with sport mouth guards in the past) but it fit really well and was very comfortable.
I noticed straight away in the morning that I didn't have my usual pain/headache or sluggishness. My husband even mentioned I wasn't snoring as much so I'm pretty sure I had a better quality sleep than I normally would.
It's easy to wear and I'm sure it's contributing to a better sleep.
The product itself is high quality that you would get from a dentist without the trauma and time constraints from the several appointments it would take to get made. I have no complaints other than it would be good if they included some care instructions for the guard. It's definitely helping me to get a better sleep and be a more active and hands on Mum to my little girl.
Reviewer: Sarahjane O'Hanlon, NSW
I have suffered headaches and migraines since I was a child and I know I have been aware of my teeth grinding/clenching for over 10 years.
I haven't tried a mouthguard before because I was put off by the cost and the thought that it would be like a sports mouthguard and uncomfortable. It was always one of those things i would "get around to one day."
My first impression of the Knight Guard night guard was that it looked much smaller than I imagined, and the DIY factor was appealing, meaning I didn't have to go to the dentist, arrange childcare for the appointment etc.
It was an easy process, the packaging was plain, simple and easy. No fuss or multiple parts/pieces etc. I liked that the same box was used to send the kit back and forth- reducing waste
It was very easy and straightforward and the impression kit process was quick and simple.
It was explained clearly step by step. Nothing too complicated or involved and the whole process was explained from beginning to end.
The impression kit was much easier to use than expected. It was obviously awkward but a quick process. I definitely did not look as stylish as the lady in the video haha!
When the guard arrived I was surprised at how tiny it was! I thought it was something that I would have to "get used to" and the first night I was expecting disturbed sleep while I adjusted to it, maybe starting with one or two hours and increasing the time and to wake up drooling from not being able to close my mouth properly! But it was none of these things! The guard is incredibly comfortable. I know it is there but I feel no discomfort or awkwardness. I can speak with it in without spraying spit and lisping like the cumbersome guards and plates I had as a teen!
Ordinarily, most mornings my wakeup process would involve a series of jaw stretches to "unlock" my jaw after clenching and grinding at night. The first thing I noticed when I woke up after the first night was that my jaw was not locked! My temples didn't ache and I didn't have a headache. I could have cried! I was stuck in a cycle of grinding causing headaches, and then clenching my teeth because of the pain of the headaches. This has stopped that cycle!
Can I be dramatic and use the term "life changing." I am not waking up in pain, and I'm not worried I am going to damage my teeth. I have even worn it a few times during the day when I became aware that I was clenching my teeth.
I have already recommended it to a friend who suffers from TMJ and my brother who grinds his teeth at night 🙂
The whole process from making my impression to receiving the final guard, was quick and easy from start to finish. After years of grinding my teeth, waking up in pain with a locked jaw was my 'normal'. The guard is comfortable and easy to wear and I am happy to report that the Knight Guard for me has been a complete success and I now have a new 'normal'.
Reviewer: Eleanor Kippen, VIC
I have been grinding my teeth for at least 4 years, but possibly 10. Dentists have been trying to get me to purchase a night guard for a long time.
I have had guards quoted previously but the financial cost was too high, so I didn't get them. I was looking at around $500 less whatever health fund rebate I would get. This was through the dentist I was seeing at the time
I was keen to trial the Knight Guard night guard because it seemed like a good opportunity to see if it would actually change things for my teeth.
I was quite overwhelmed initially at the thought of taking my own impressions. The kit looked well stocked with an extra set of putty just in case, and the instructions seemed quite clear including the opportunity to send a photo of the impression if I was unsure. I was surprised at how compact the kit was!
After watching the videos a few times and gaining confidence to put the putty in, actually taking the impression was very simple. And I got it right first go! I really appreciated such a comprehensive video. It addressed many of my concerns about taking the impression.
When the finished night guard arrived I was surprised at how well it fit. I thought it would be much larger and clunky in my mouth, but it's only a little larger than my teeth so doesn't take up too much room. I can still easily close my mouth and put my teeth together comfortably. It's really easy to wear and quite comfortable to wear all night.
I'm pretty sure I'm still clenching and grinding my teeth, but they don't hurt when I wake. I hadn't realised they were hurting previously, but now when I wake my teeth don't feel loose.
It's comfortable and I'm finding my teeth are much happier in the morning.
It is reducing some of the symptoms associated with grinding. I'm unsure what my dentist will say when I next see them but I'm sure I will have done less damage to my teeth than I have in the past!
I'm really happy with The Knight Guard. It was straightforward to take my own impressions, the guard arrived very promptly, and it is comfortable to wear. I'm noticing that my teeth are not feeling loose in the morning and I'm hoping that they aren't wearing away anymore either!
Reviewer: Tricia Tan, VIC
My 16 year old son is a heavy grinder that causes his teeth to deteriorate quickly without the dental plate to protect it.
Here's what Tricia's son had to say:
In the past I have had a dental plate from the dentist ($300 ) but I outgrew it. It is the same in functionality. The dental plate was more comfortable to wear than the Knight guard but the Knight Guard is cheaper than the dental plate.
It is easy to wear , the impression was fun to work with. I will continue to use the Knight Guard product as I need to protect my teeth.
It is really affordable. The Knight Guard process the order efficiently. It even came with a return express post box.
Reviewer: Melanie Kynion, VIC
I have experienced the negative effects of teeth grinding, poor sleep, headaches, fatigue and earaches for 10 years.
In the past I purchased a child's sport mouthguard from the chemist. It worked but was bulky and nothing compared to The Knight Guard night guard. Really it was the cost that stopped me getting a professional one.
I applied to review the Knight Guard product because I wanted to see if a custom designed guard really was that much better than my store bought one.
My first impression of the at-home impression kit was that it looked easy to use. But I wasn't prepared for how quick the putty would set so I needed to try a second time.
I am absolutely thrilled with my custom made night guard. It's very small and light. It almost feels like invisalign.
I noticed a dramatic reduction in my teeth grinding.
It is bsolutely fantastic I will be recommending it to friends with similar problems and would not hesitate to get another.
Reviewer: Courtney Whitehead, WA
My husband has been grinding his teeth at night for the last 6 months so I thought this would be a great way to help him.
We haven't tried a night guard before due to the cost involved and having to take the time to go to a dentist to get the mould created and then having to go back to collect it.
Here's what Courtney's husband had to say:
It was really appealing being able to do it all in the comfort of my own home and hopefully protect me teeth in the process
The impression kit came in such small packaging and everything was really well labelled.
Using it was so easy. The online video was great as well.
I was amazed at how quickly the custom made night guard came back and it was so comfortable to wear.
My wife said she can't hear me grinding my teeth anymore! It's working really well.
The financial saving to our family as well as the time it would take my husband to make an appointment and see the dentist – I am so appreciative to The Knight Guard.
Our overall experience from receiving the product to doing the impression to finally receiving the night guard – it was all outstanding. We would highly recommend the whole process and then the final product has really helped to stop my husband grinding his teeth.
Reviewer: Lia Savron, SA
I have been clenching my jaw for as long as I can remember.
I have avoided trying a night guard in the past as I thought it would be too uncomfortable to sleep with.
I have already caused extensive damage to my teeth as a result of jaw clenching while I am asleep and I cannot afford the continued dental costs associated with my jaw clenching.
On receiving the impression kit I thought it was presented really well, everything seemed hygienic and organised, and very easy to understand.
It was a really simple process. The 'gel' didn't taste half as bad as I was expecting, I have had Invisalign and that gel tasted awful. There was no taste with The Knight Guard's formulation so it was much easier to keep in my mouth for the required time. The entire process was so simple and I can't believe how well it fits considering it was DIY!
When the custom made night guard arrived it was perfectly clear. I was a little surprised when I didn't need to cut any extra off the ends of the impression cut but the tops of it, which took a bit of snipping away but was easy enough.
It is perfect, it is nice and soft, much more comfortable than the Invisalign plates which are hard and taste awful. The Knight Guard is easy to wear, and I just brush it like I brush my teeth.
Even though I am continuing to grind, The Knight Guard is still doing what I believe it should be – guarding my teeth. Instead of teeth pressed against teeth, my teeth are pressed against a much softer material which I think would have to
be helping to prevent more damage to my teeth as a result of clenching.
It was such an easy process, the express post is a great bonus, and it is very comfortable to wear. On top of that, it has probably saved me a few thousand dollars in dental treatments and pain in the dentist's chair!
The Knight Guard is a great product I am really enjoying using. It protects my teeth from further damage and is comfortable to wear all night. The impression process was simple and easy to understand.
The Knight Guard night guards are made in Melbourne by qualified dental technicians by Impression Healthcare (IHL) – an ASX-listed dental tech company also responsible for ITW, custom teeth whitening kits, and Gameday Mouthguards, custom sports mouthguards, so you can be assured of a high quality product. And unlike boil and bite mouthguards that you can pick up in your local chemist, they will be perfectly moulded to the unique size and shape of your teeth because no two mouths are alike. But if for some reason you are not 100% happy with your Knight Guard night guard they do offer a 7 day money back guarantee.
If you or someone you know is concerned about their own night-time teeth grinding or clenching we encourage you to head over to The Knight Guard website and check out their range to find an affordable solution to your problem. Prices start from just $129.95 and could save you much more than that in the long run in dental costs or doctor visits to fix damaged teeth or treat associated pain.
Visit the Knight Guard website here.