Is the Owlet Smart Sock a Must-Have Baby Item? Five New Mums Put it to the Test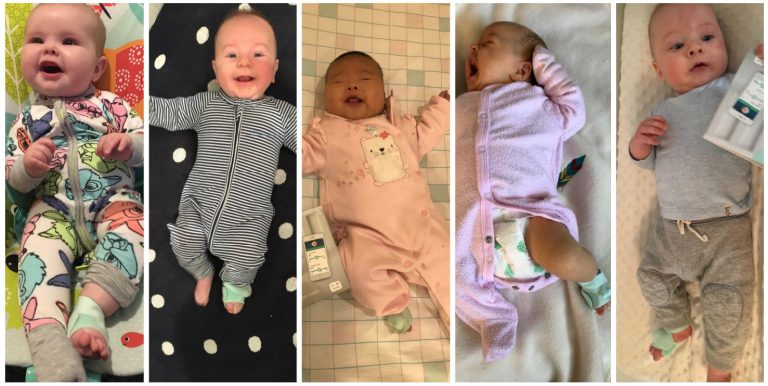 Is the Owlet Smart Sock a Must-Have Baby Item? Five New Mums Put it to the Test
Last month we invited five lucky new mums from our community to put the Owlet Smart Sock to the test with their precious bundles, and share their thoughts and experiences with us.
For those of you who aren't familiar with it, the Owlet Smart Sock has been designed to track your babies' heart rate, oxygen levels and sleep and send the insights in real-time to your smart phone.
Track heart rate and oxygen levels using clinically-proven technology (pulse oximetry, the little red light that they put on your finger in the hospital)
Wireless Bluetooth range up to 100 ft
3 Socks Sizes to fit as baby grows (fits 0-18 months)
Base station notifies with lights and sounds if something appears to be wrong
Receive notifications and see real-time heart rate and oxygen levels via the Owlet app
18-hour sock battery life
The sock is BPA Free, Latex Free, Lead Free
45-Day Peace of Mind guarantee
1-Year Manufacturer's Warranty
Free Connected Care app – to show historical sleep trends
Here's What Our Reviewers Had to Say…
My baby arrived 5 ½ weeks early. As she was in the hospital in special care for close to 2 weeks they used a plug-in monitor similar to the Owlet. Since relying on this from her birth, going home without monitors was really concerning. Also, being a first-time mum, I had no idea what to expect. Each nap, night etc, I would check on her all the time, as well as putting my head near her face to check she was breathing. Having the Owlet eliminated the need to be in the same room checking on her at all times.
My husband and I both used the Owlet. My child is pretty wriggly so it wasn't super easy to get it on her feet sometimes. Getting the monitor out of the sock and into the next size sock wasn't the easiest either. It took a bit to get used to. I was concerned it wasn't going to fit into her onesie but it does which is good. When we have it on it gives us greater peace of mind and I feel more confident when she wears it.
I love the app and how it tracks and records her sleep, as well as her oxygen and heart rate levels. I would love to see the option of having different coloured socks. The only other thing I wish was that the battery life was longer. Other than that, I have loved using it and will definitely use it on our next baby.
Megan QLD
I really wanted to trial the Owlet Smart Sock because I'd seen it advertised online and thought it would provide peace of mind.
My little man has been sick this week so it's been handy to be able to keep an eye on his heart rate and oxygen. It has given me some peace of mind!
Once set up it was quite easy to use too!

Watch the video above to see exactly what Amanda thought of her experience using the Owlet Smart Sock
Amanda SA
I wanted trial the Owlet because my daughter was close to moving from the bassinet into her own cot in her own room and I was apprehensive about the move. She has been in the same room as us since birth and I was worried I wouldn't hear her if something happened. Also going into Winter, I was worried about her getting sick or struggling through the night.
The packaging is lovely, very high quality and 'first impressions matter.' I love that it comes with three different sock sizes – this is something I wasn't expecting. I had a quick read through the instructions and set it up to charge all within a matter of minutes. It is easy to follow and install.
I like that it can be used on either foot, and obviously the peace of mind it gives when in use. The app is great to monitor current readings and I thought the 'wiggling' reading was a cute touch. I definitely thought the battery life could have been better, it took a few days to get into the habit to pop it on charge first thing in the morning otherwise it was dead by her long afternoon nap.
I liked that each reading has a specific colour that flashes from the base unit. It made it easy to know that baby was in a normal range without opening the app. The materials used all seem to be of a high quality. The Velcro hasn't gone 'fluffy' in the time I have used it and the actual fabric is nice and soft for baby's foot. It was easy to take on and off and easily worn underneath all clothing. I used open foot onesies as well and enclosed foot and had no issues fitting into either. It didn't leave any marks on her foot which I was concerned about originally. I didn't know about the 'Connected Care' sister app at first and would love to see the features from that be put into the main Owlet app. I could see how long she was awake through the night while feeding (because I'm barely awake enough to take notice haha) and watched her sleep cycles to make sure she was well rested. I like that the base station is also fairly compact and doesn't take up much room on a bedside table or drawers. It does need to be plugged in all the time though and the cord isn't overly long so that's something that would need to be considered when positioning in a room.
I think especially during the cooler months where more viruses are around it's great to know, even if your baby is sick, that the Owlet is tracking oxygen saturation and pulse. I'm not sure how long it could be used for and if an older baby would be inclined to play with it/try to pull it off but for that newborn to one-year stage I think it is a great investment. Even if you use it for one year it works out to just over a dollar per day and I think that's very manageable for the reassurance it gives.
We have loved being able to test and review the Owlet. It definitely helped us make the transition too 'the big girl cot' a lot easier and gave me the reassurance during the times she was sick. I also didn't wake her up as much checking that she's breathing as I have done previously – as I had the app to tell me everything was normal.
Alixandra NSW
My daughter often vomits milk after a feed and can sometimes be choking. This makes me worried after night feeds.
The Owlet gives peace of mind. The sock was a bit confusing to put on at first but became easy after a few goes. However, the sock can be challenging to put on when baby is crying. It would be nice to have a spare sock of the same size just in case one is soiled. It would also be nice if it had a combined function to listen to the baby when she cries as well, like other baby monitors, so we know when she has woken up. Overall it was great.
I will continue to use the Owlet Smart Sock because I'm obsessed with observing the trend from the app. It also lets me know the quality of her sleep.
Val NSW
I'd heard about the Owlet Smart Sock from a friend who has one, so I knew that it read baby's heart rate and oxygen levels. I wanted peace of mind knowing that the Owlet would notify me if there was any issue with his breathing.
There is nothing I didn't like about the Owlet Smart Sock. It is very simple and straight forward to use.
I loved how the app was always on hand it certainly gave me better peace of mind. I felt like I slept better than I have in months. Easy for my husband and I to both put on and bubs wasn't worried about having it on. Perfect unisex colour and the fabric was softer than I expected
I think most parents would love to use it.
Elle SA
For more information on the Owlet Smart Sock, to find your local stockist, or to purchase online visit www.owletcare.com.au