Play and Discover with LEGO DUPLO: Community Reviews (PLUS GIVEAWAY)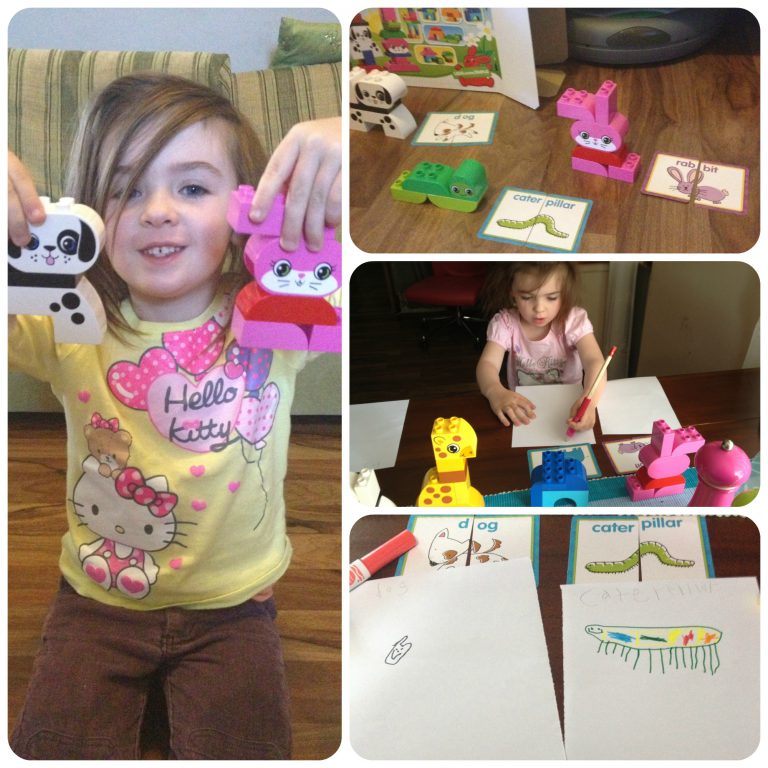 Play and Discover with LEGO DUPLO: Community Reviews
Last month, we invited 15 Mum's Lounge community members to review LEGO DUPLO with their children. We are sharing their reviews in a 4 part series.
LEGO DUPLO presents children with limitless play options, and allows them to play & explore, build stories, create & share and make adventures.
Our second group of parents share their thoughts and experiences with LEGO DUPLO:
Reviewer: Bernadette, Blayney, NSW
Charlotte (4) loved this product, she seemed especially excited to be able make all the different animals, so for our first play with this set we focused on discussion of what they were and learning their names, including the phonics for learning to spell or read the names. Later I integrated our flash cards which Charlotte had lost a bit of interest in previously but pairing them with the LEGO DUPLO she happily participated in the activity; Charlotte first built a couple of the animals then had to match them up with their flash cards by recognising the names.
Another learning activity I added was writing. She had to make an animal, match it to its name then write the name by copying it from the flash cards. Charlotte did this eagerly, whereas other times she has became frustrated when I encourage her to practice her writing. She then got to draw a picture of each of the animal to go with their name she had written. I think the difference here, was made by the LEGO DUPLO animals as she had something to model her pictures on.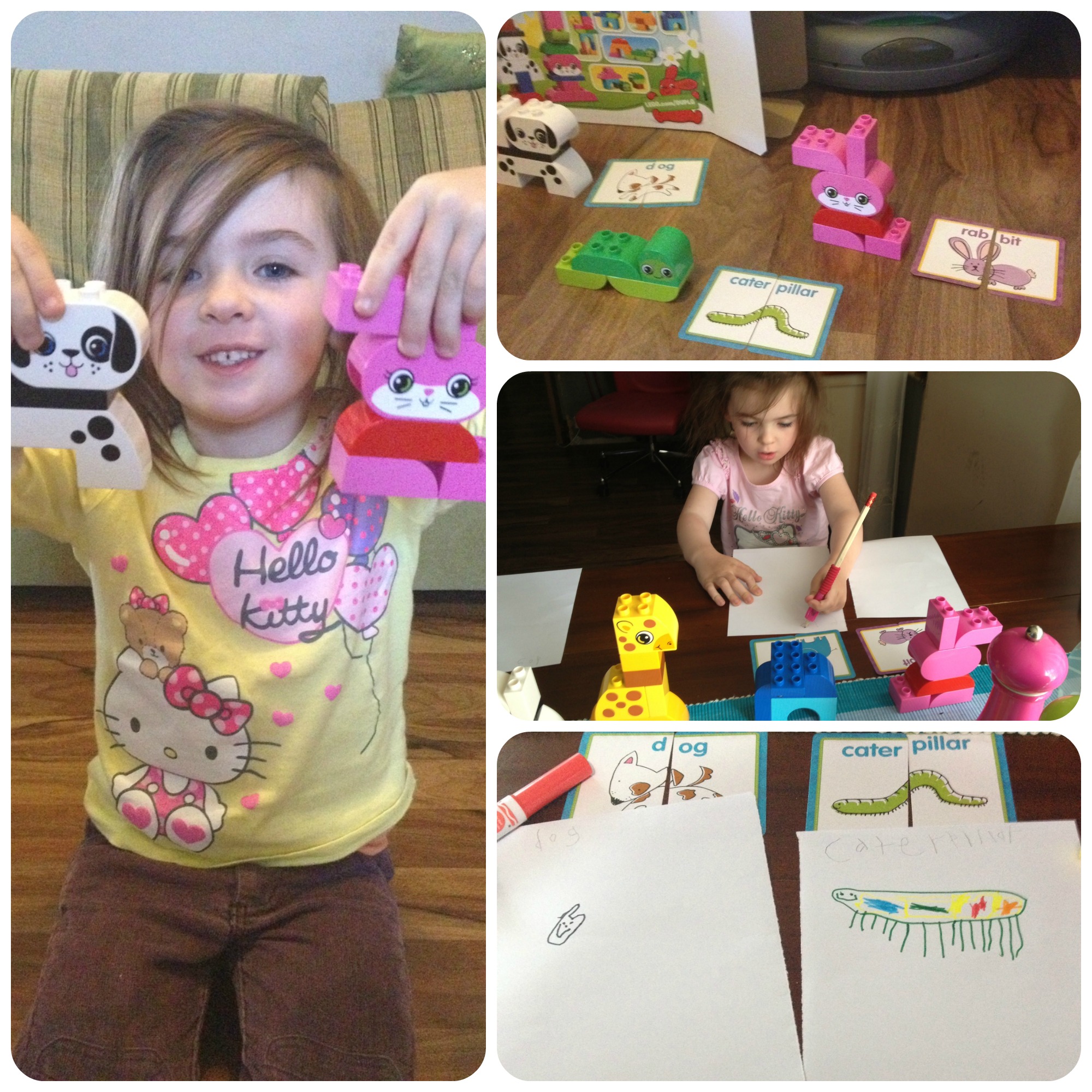 Charlotte really enjoyed 'free play' with the LEGO DUPLO, when I had not set up any structured learning activities to go with them. However as I watched her play I noticed there was some incidental learning occurring too. For example as she built towers or invented her own animals she had to practice and learn how tall she could make things and how to stack the bricks so that they would remain balanced and stable. She also practiced counting and adding with the spots on the bricks, as well as the actual bricks.
Overall we both loved the product and found it a good assisting tool for Charlotte's learning.
Reviewer: Sarah: Bayswater, WA
Recently, I along with Miss 2 and Miss 4 got to trial LEGO DUPLO for the first time.
I set the box aside to save for a rainy day, low and behold that opportunity presented itself only 3 days after receiving my package. Snuggled up in bed with dad, the girls were in a frenzy to open their bricks were blown away by the shapes and faces on these. I took the opportunity at the beginning to go through all the pieces and we talked about colours and shapes and sizes – Miss 4 listening attentively whilst Miss 2 mostly tried to stake her claim on the good pieces. They each took a display card, which clearly showed each 'animal' we were able to build. Dad assisted Miss 2, whilst Miss 4 boldly declared she would do it by herself. Bit by bit they found their pieces and as they went through we talked about 'in the middle' or 'flat side down' so they could negotiate the building themselves whilst learning. In no time at all Miss 4 had her giraffe built, and Miss 2 her dog. They then set about chasing each animal around making the appropriate sound, giggling hysterically at each other!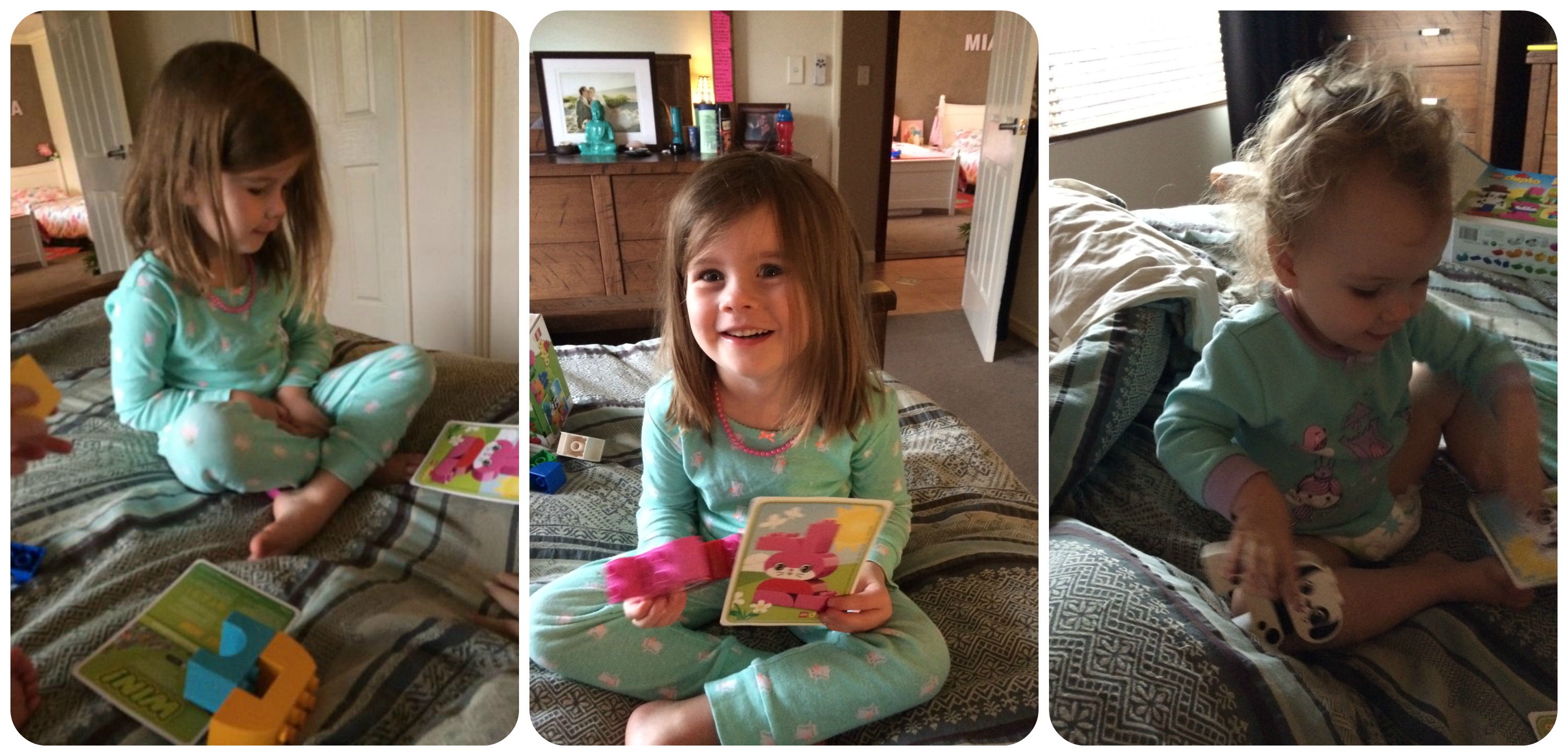 What surprised me most though was how much they have returned to it in the following days and whilst Miss 2 is firmly entrenched with building her doggy (by herself, like a pro) every time, Miss 4 is now experimenting and is making all sorts of weird and wonderful animals – she tells me a story about each one and delights in coming up with silly names. The LEGO DUPLO bricks went to Grans house for a sleepover and she commented too on how creative they had been. I loved being able to use an interactive toy to talk colours with Miss 2 who up until this week still said everything was blue.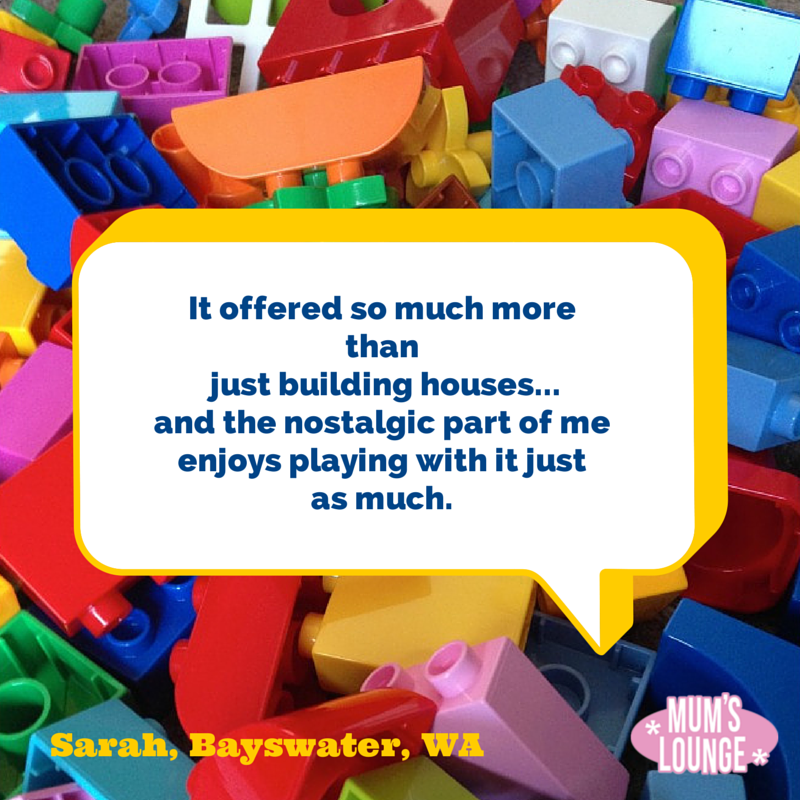 I will definitely be looking to bring much more LEGO DUPLO into our home as I felt that it offered much more than just building houses as our existing block set did, and the nostalgic part of me enjoys playing with it just as much.
Reviewer: Belinda, Shell Cove, NSW
My girls were excited when their LEGO DUPLO set arrived and saw that it was a little shop with a car and people. With engineers as parents, they have enthusiastic helpers when the bricks come out. As a parent I love that whilst having fun, there is a lot of learning happening through their play.
Lucy is still a little young, being 12 months old, (our set is recommended from 2 years to 5 years) but she was still enthusiastic to explore the contents of the box, especially the people and the car. And she can pick up and hold the pieces easily as they are sized just right for little hands. She concentrated very hard to put the people in the car and push the car along the floor. Her sister Isabelle is 3.5, and really suited to the level of difficulty of this set. Whilst Lucy played with the people and car, Isabelle had the box quickly emptied on the floor and was straight into working out how to build the shop arrangement shown in the booklet. The pictorial booklet also has ideas as to other arrangements that can be made.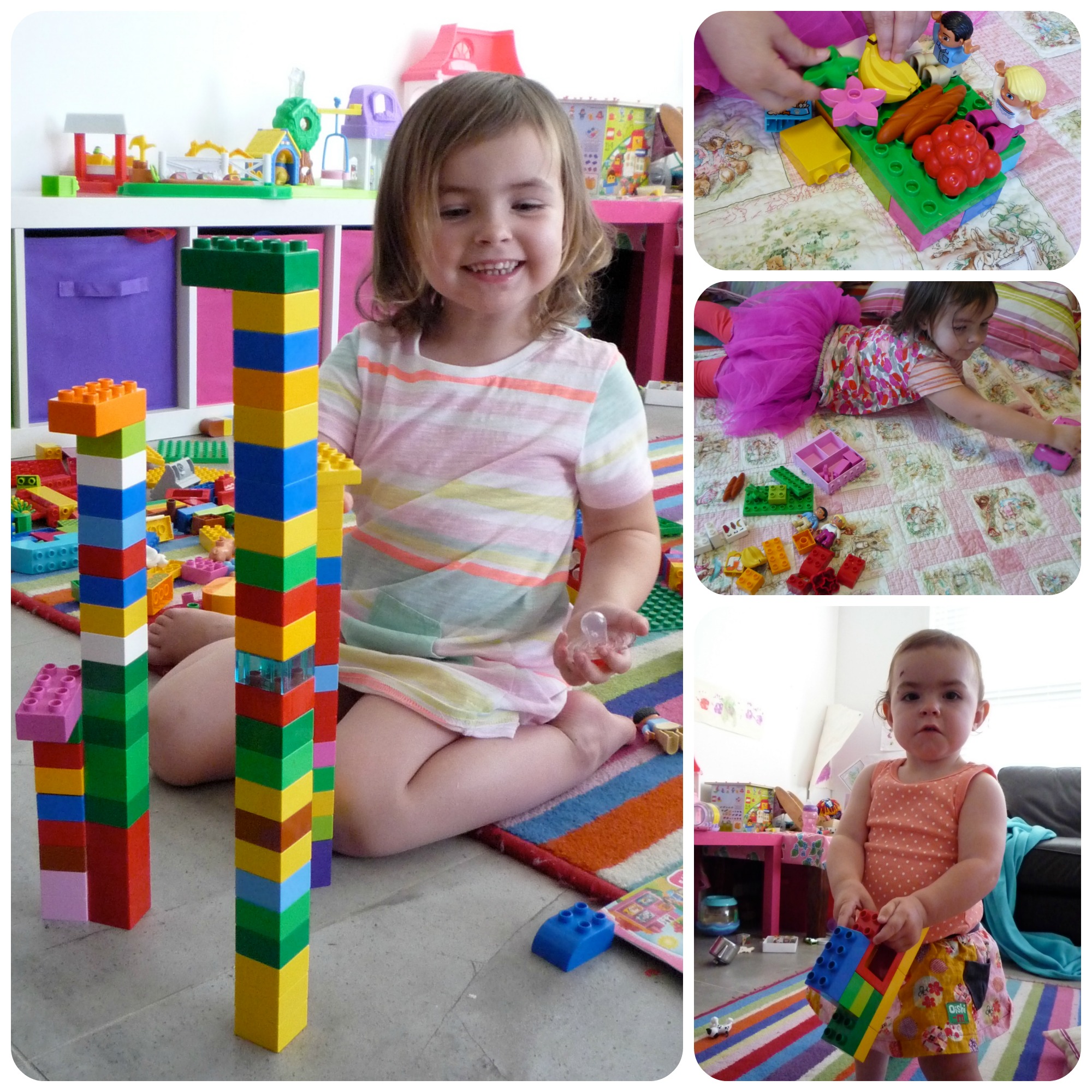 Isabelle decided she was going to make beds for the LEGO DUPLO people and was very proud of her imaginative creations. Following the picture on the box, Isabelle also made the shop display. Isabelle is very interested in teaching Lucy and started to show her the food blocks – she pretended the puppy was eating the pet food and counted the bananas and apples before putting them in her shop.
Next, Isabelle decided to build towers of different colours and asked for help sorting the blocks in colours and sizes. She then built each tower a different colour and found that there were more blocks of one colour than the other and they made different height towers. The red tower was nearly as tall as Lucy, much to Isabelle's delight. Lucy was more interested in knocking down the towers. I really like that it is easy to encourage learning of basic concepts like colours, size, spatial arrangement and shapes through play with LEGO DUPLO without having to try to come up with activities, it just seems to naturally happen.
I love LEGO DUPLO because it offers unstructured imaginative play opportunities where my girls can freely create what they want and aren't contained by a set of instructions. They can be manipulated easily and are a great tool for developing fine motor skills. The bricks are brightly coloured and the graphics are clear and understandable, and are big enough to not have to worry about little mouths swallowing the pieces, making them great for big and little siblings to play together at their own ability level whilst learning through play.
Join us next week for more LEGO DUPLO inspired play ideas and reviews.
You may also like:
8 Fun Ways to Play with LEGO DUPLO
So Many Ways to Play with LEGO DUPLO Community Members Review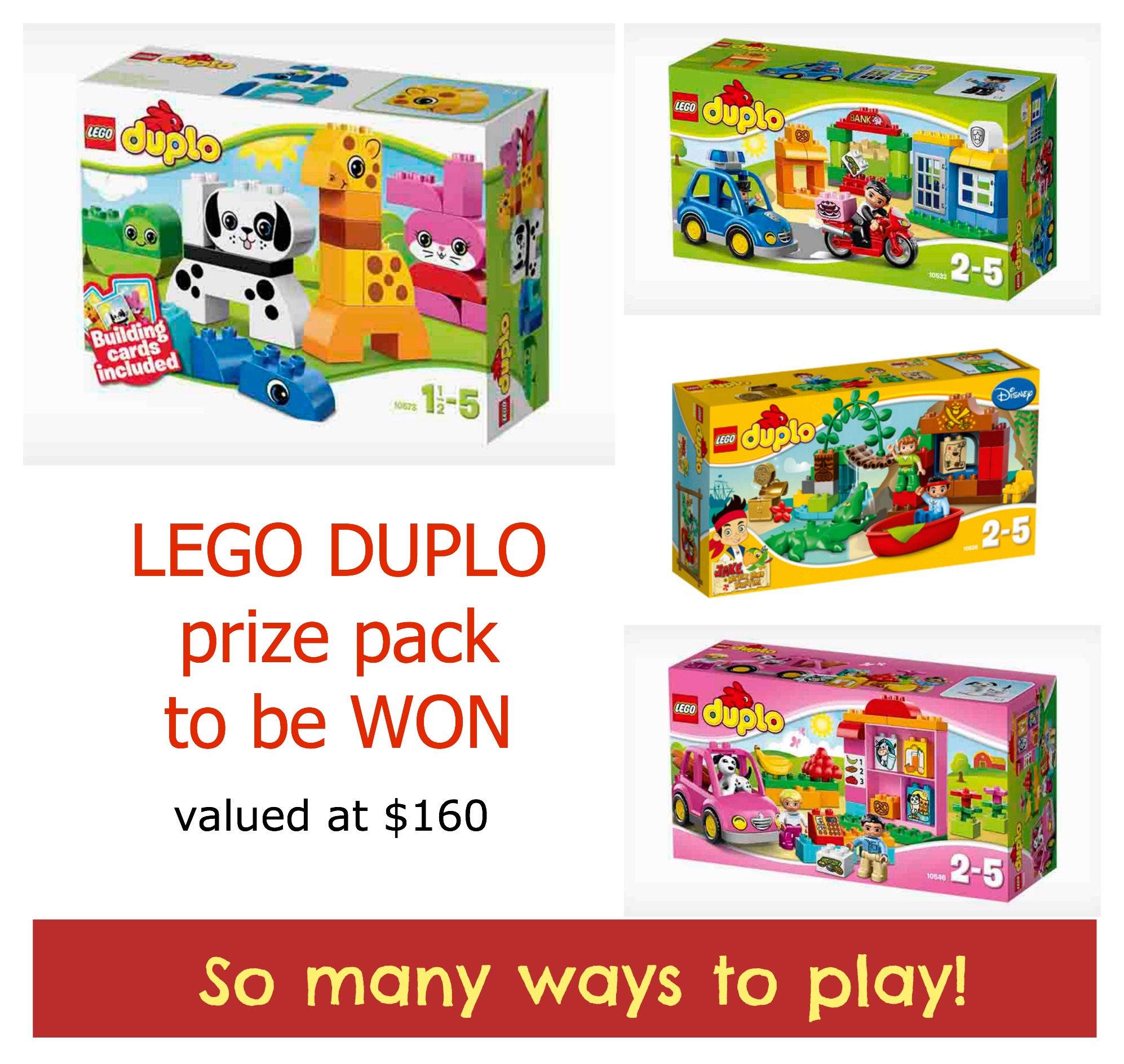 The Giveaway
LEGO DUPLO are giving Mums Lounge readers the chance to win this fantastic LEGO DUPLO prize packs (valued at $160).
The prize pack includes:
1 x LEGO DUPLO Creative Animals
1 X LEGO DUPLO Pater Pan's Visit
1 x My First Police Set
1 x My First Shop
Just imagine how much fun will be had beneath the Christmas tree this year with this awesome collection of LEGO DUPLO!