The Cubo Ai Smart Baby Monitor Review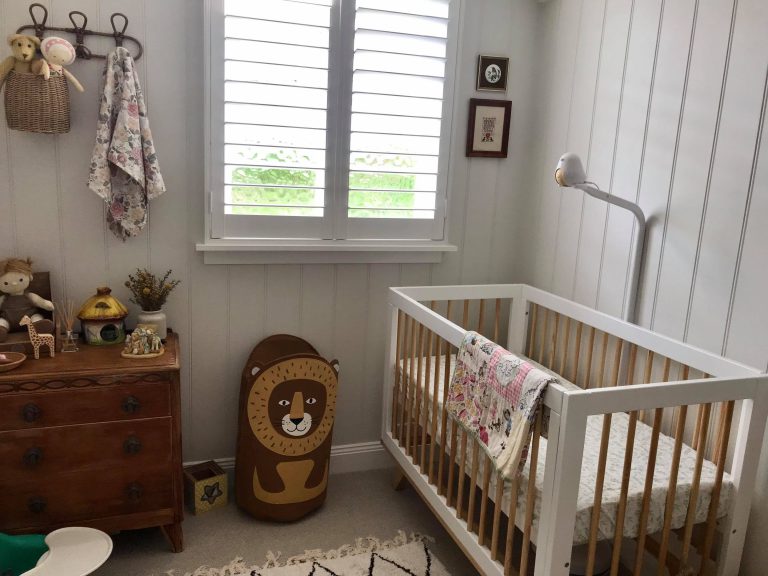 The Cubo Ai Smart Baby Monitor Review
Last month the most amazing thing happened. My sister gave birth to her first child, a beautiful baby girl called Etta. That's right! I'm an auntie, again. As fate would have it, despite my sister and I having lived in different countries or states for the past 21 years, this momentous occasion has fallen at a time when we've both settled in the sunny state of Queensland. So, I'm extra grateful to be able to visit her and watch her grow up. However, I am acutely aware that due to the current COVID situation so many families are separated, new parents are missing out on the support of parents and their extended family and babies are missing out on all those cuddles.
This in part, is one of the things that drew my attention to Cubo Ai Plus Smart baby monitor – it is helping little Etta's grandparents in the UK feel much more a part of her life, while they wait for borders to open and the green light to visit their new granddaughter. But, before we get to that (which really is the icing on the cake for what this baby monitor can do), I'd love to tell you a bit more about the standout features of the Cubo Ai and how it came to be.
Disclosure: In the interest of full disclosure, let me first say that my sister was gifted a Cubo Ai baby monitor for the purpose of providing a full and honest review for the Mums Lounge website. All thoughts and opinions expressed here are my own, my sisters, and Etta's grandmothers.
How it Started
The catalyst for the invention of the Cubo Ai baby monitor came 4 years ago, when co-founder Joanna finally met her first little miracle after 6 rounds of IVF. After finding her baby's face accidentally covered by his bib, she was unable to sleep peacefully for months. Seeking better baby safety technology, Joanna joined forces with a paediatrician, A.I experts and a team of parents with more than 15 years of scientific and technological experience and founded Cubo Ai with a mission to protect babies' sleep safety the world over.
What Makes the Cubo Ai Smart Baby Monitor Different
This is where things get exciting! My own children are almost 15, 13 and 11 years old now, so as you can imagine, the world of baby monitors has changed a wee bit since then. But it's no exaggeration to say that I was blown away to see what the Cubo Ai can do.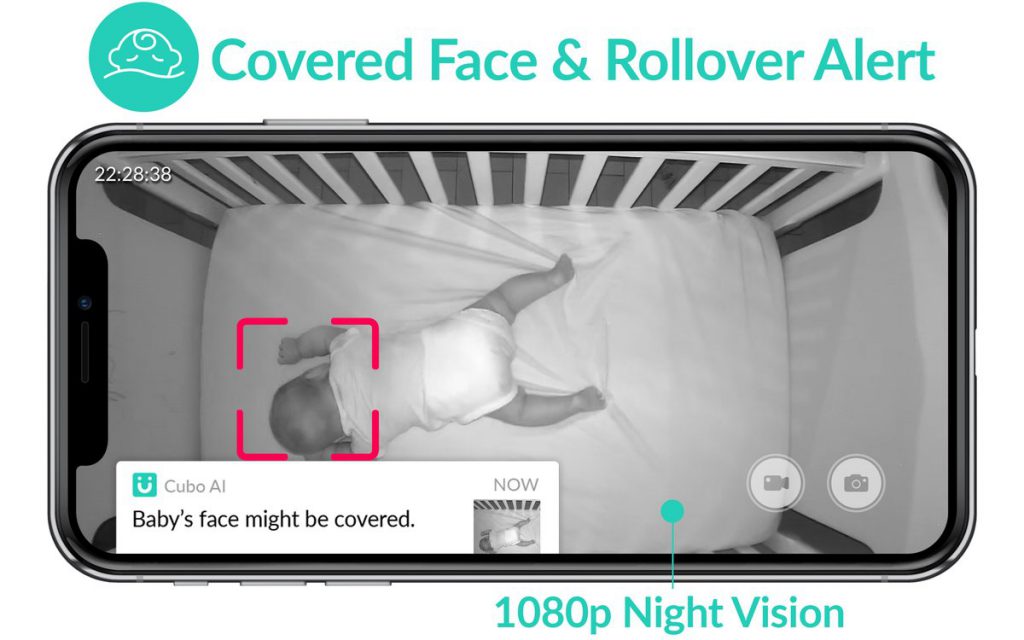 Proactive Safety Alerts
Unlike other baby monitors on the market Cubo Ai is all about 'proactive detection' for baby safety. So, for example, instead of letting you now that your baby isn't breathing (like some other monitor do), it has the technology to alert you when your baby's face is covered, or they've rolled over. It really is incredible, and has been a great source of reassurance for the new parents as they navigate the early weeks of parenthood. It's very easy to see how, as baby Etta develops and becomes more mobile, rolling in her cot (and not having the strength to roll back), and later crawling and even climbing, it will provide peace of mind, allowing parents and caregivers to ensure that she is safe.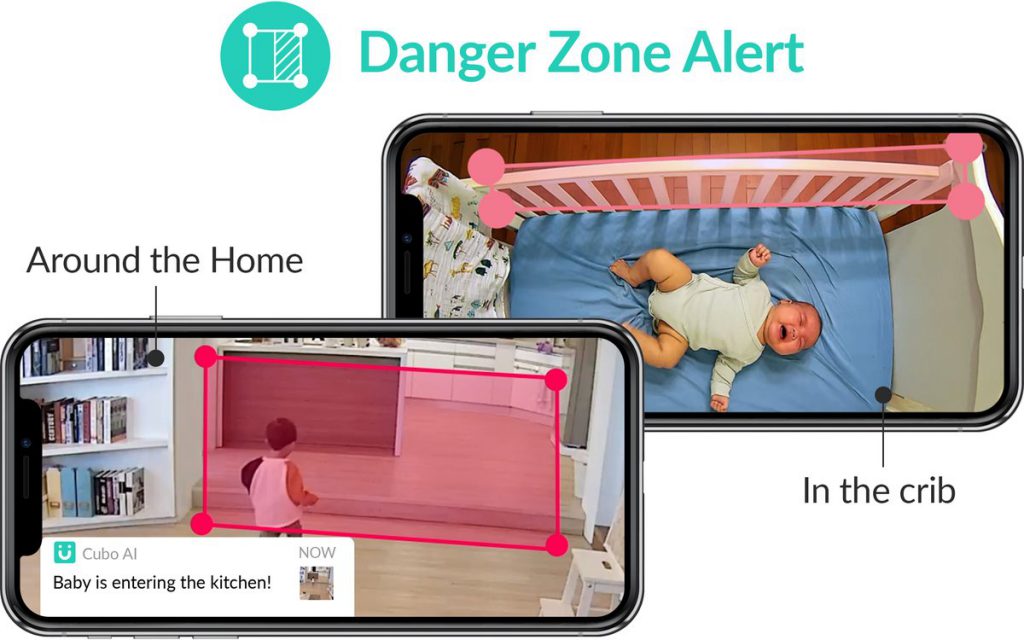 The Cubo Ai baby monitor isn't just for the early months, or even just the first year. It grows with your child up to the age of 5 years – allowing parents to set up 'Danger Alerts' to detect if their little one is venturing a little bit too far. So for example, you could set the safety  limit for toddlers near doorframes, so you know when they are out of bed in the morning, or in out of bounds areas for preschoolers, such as near a fireplace or window frame.
Temperature and Humidity Detection
The Cubo Ai baby monitor allows parents to create and maintain a comfortable and safe sleep environment for their child, by scanning the room's temperature and humidity. This allows parents to make changes if need be.
Tracks Your Baby's Sleep
I'm so impressed with the sleep tracking feature which automatically records information about your baby's night, without the need for them to wear any kind of device. It shows you how long your baby sleeps, how often the parent/caregiver visits, and more, allowing parents to assess their needs using real numbers.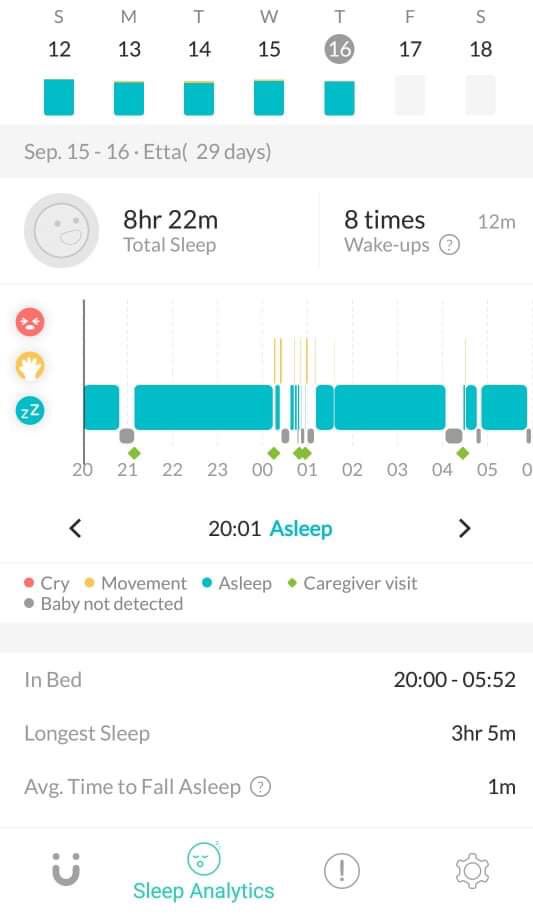 1080p HD Video Day and Night
The 18 hour Sleep Playback stores video from the last 18 hours so you can scroll through your baby's sleep timeline, with easy-to-access highlights from the night's events. The Ai technology detects when your baby is safe and sound in their crib, and uses computer vision to monitor when they're fast asleep, even timing how long it takes them to go down!
When you visit your baby in the night, it detects them and saves the moments when you came in to care for your baby.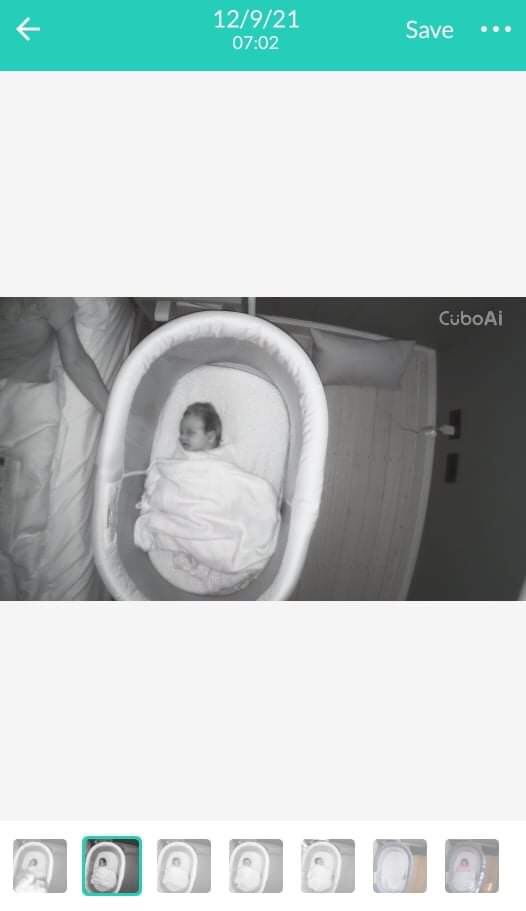 Up to 8 Concurrent Viewers
With all of the safety features of this remarkable baby monitor aside, as I mentioned previously, one of the other things I really love about this monitor is how it is helping to bridge the gap for family's who have been unable to travel to visit new babies.
My sister and her husband have been able to share baby Etta with her Nana and Grandad in the UK by giving them the login to the Cubo app, so that they can tune in whenever they like and watch their precious grandbaby.
"The baby monitor has been a great way feel connected to our first grandchild, which is particularly important this year being in the UK and not there for her birth. Watching our Granddaughter drift to sleep, waking up and being able to sooth and talk directly to her from the other side of the world is an incredible experience. It also provides a degree of comfort, reassurance and closer involvement in her life which we could not otherwise achieve.
Things we particularly like:
The ability to take photos and video that we can keep and later share.
Watching recordings of her sleep habits and development as she grows.
Being able to feedback things we've seen her do to her parents.
The flexibility of the control settings, allowing appropriate times for our viewings and the microphone being on or off.
I can see further benefits as she grows where we can have personal one 2 one interactions with her as we would if we were there i.e. read a story, teach a nursery rhyme etc. This monitor doesn't need to be just about monitoring bedtimes, it a great communication tool too."
(Wendy Slack, Southampton, UK)
Stylish Design
Not only does the Cubo Ai pack a tonne of amazing features into this cute bird-shaped unit, it's also super stylish and fits unobtrusively into your child's nursery or around you home.
Other features:
Having covered the standout safety, connection and aesthetic features of the Cubo Ai baby monitor, there are a few other really cool things it can also do that my sister said are worth mentioning.
Plays nature sounds, lullabies, and white noise from anywhere.
Captures your family's sweetest memories and milestones
Organises photos into your personal scrapbook
Allows for on the move monitoring anywhere in the home.
2-way audio allows you to talk to and soothe your baby via the app
Night light – Directed upwards and turn on/off via app
Multiple camera support – so you can add cameras for other children if need be
Conclusion
"As first-time parents, we've both been quite anxious about sleep times. Knowing the Cubo Ai will alert us if our baby rolls over or if the blanket covers her face gives us invaluable peace of mind.
I love that the Cubo Ai is easily transferable from one room to another, so no matter whether she is sleeping in her crib beside my bed at night, during the day in her cot in the nursery, or having a little nap in her rocker in the living area, I can relax with a cup of tea or get on with some housework or hang some washing outside knowing that I have instant access to her via my phone.
A really nice feature of this monitor that shows they've really thought long and hard about what parents need and want, is the subtle night light which allows me to see and attend to my daughter during the night without having to turn on a light and making returning to sleep difficult for us both. It makes navigating around the room for night feeds much easier. I really find that the lullabies and natural sounds help us both relax during the stressful night period too.
I would highly recommend this baby monitor to new parents. My husband and I have already told all our friends who are currently expecting all about it. The app is so easy to navigate and allows us to worry less, and relax and enjoy our new baby more.
It's been difficult not being able to share this special time with her grandparent in the UK, but the Cubo Ai has been amazing, as it lets then pick up their phone and check in on her too. We are so grateful to have been given the opportunity to trial this baby monitor and hope that sharing our experiences will help other new parents pick a product that helps them to stress less."
(Char Hampton-Slack, QLD)
The Cubo Ai Smart Baby Monitor is available in two options:
3-Stand Set RRP $499
Includes Cubo Ai Plus camera and 3 stand options: floor base, crib attachment, and mobile stand. Built to transition from baby camera to toddler camera with mobility.
Wall Mount Set RRP $329
Includes Cubo Ai Plus camera and wall mount (requires drilling). Provides a bird's-eye view at a sturdier setup and keeps camera out of baby's hands.
For more information or to purchase visit the Cubo website here.