WIN a Brand NEW Steelcraft Agile Plus Reverse Handle Stroller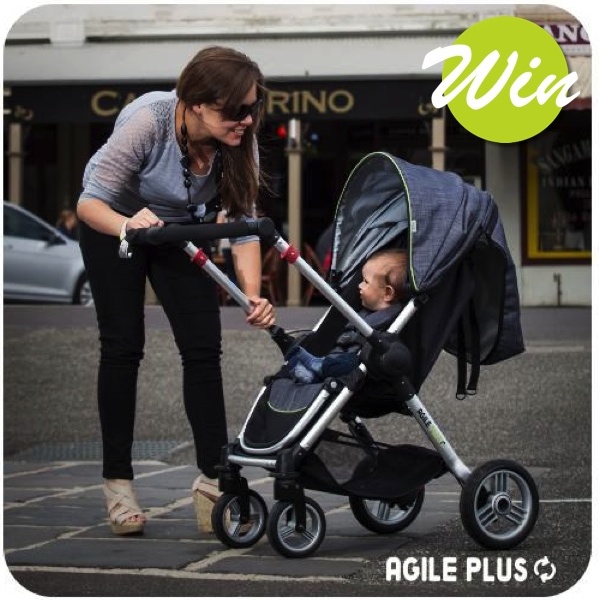 It's always exciting getting to test drive a brand new stroller on the market and the Steelcraft Agile Plus reverse handle certainly didn't disappoint.
There are a few things that I always look for in a stroller that I consider important factors for any Mum; whether you are a first time Mum or growing your family. These key things are always at the top of my 'Must have' list:
Manoeuvrability
The Steelcraft Agile Plus Reverse Handle Stroller is really light to push, even with an almost 3 year old in it. This stroller glides effortlessly across the ground and turns with great ease, meaning that I can easily manage the stroller one handed, leaving my other hand free to hold onto my other toddler or grab that much needed coffee en-route. Most importantly, the easy ride and swivel front wheels means that my little ones' journey is smooth and as comfortable as possible.
Weight and ease to fold
This is where the Steelcraft Agile Plus Reverse Handle Stroller really shines. Many strollers can be fiddly to fold and then heavy to lift into the boot of the car but NOT this one, which means that I can lift it easily without the usual strain placed on my lower back. Whilst the stroller is incredibly light it doesn't sacrifice any of the seat size or storage, meaning I can keep using it for my little one for as long as they need it (or up to 25kg).
The Steelcraft Agile Plus Reverse Handle Stroller also folds easily and super fast with its easy one lift fold action – you just lift up the handle at the base of the seat and off you go. This means I can make that transition from the stroller to the car as quick and pain free as possible and we all know how important that is for Mum's sanity when you have a crying baby waiting in their car seat!
The Steelcraft Agile Plus Reverse Handle Stroller also folds down really compact and once folded has an auto frame lock making transporting it fuss free and a great option for travelling.
Ease of use
I can safely tell you that it took me no more that a couple of minutes to work out all of the neat tricks that this stroller has, making it a real pleasure to get to know.
The seat reclines completely flat and adjusts up and down into any position in-between with a really simple smooth action, so as not to disturb my little one when they dropped off for that much needed nap after a busy morning.
The brakes either tap on and off with a simple touch of your foot on the foot brake or flick of a lever on the hand brake, which are both coloured red and easily identifiable, so no faffing or explanation needed when handing my precious cargo over to a friend or family.
The handle adjusts easily to various height positions, so it's perfect for me and my very tall husband to use comfortably.
What stands out about this stroller?
I have test run many strollers in my time and I always look for something that makes them stand out or considerably different from the rest and The Steelcraft Agile Plus Reverse Handle Stroller didn't let me down with it's clever reverse handle feature. There are many times when I would like to have my bub facing me, so that I can gaze down at their gorgeous face and marvel over the beautiful little person that I am so proud to be the mother of. Then there are other times when that inquisitive little person that I created wants to see the wonders of the world around them and as they grow so does that interest.
The Steelcraft Agile Plus Reverse Handle Stroller solves the dilemma – forward facing/rear facing stroller? You get both and can switch the handle over in seconds without removing your little one from the stroller. This is my favourite feature of this stroller as I can have the best of both worlds for me and my bub…my inquisitive little darling can soak up the world around them for as long as they want and then when they need to see me or I want to gaze upon them as they drop off to sleep, a simple flick of a switch and I have transformed the stroller from forward facing to rear facing….I love it!
KEY FEATURES:-Hand-Operated Brake-
Allows the parent to lock the brakes
in baby facing position.
-Travel System Compatible-
For further versatility out and about.
-Adjustable Leg Rest-
Provides comfort for sleeping baby.
EXTRAS:-Large basket & canopy pocket.
-Head pillow & shoulder pads.
-Boot & full rain cover.
-Child tray for toys/snacks & or drinks.
In summary this stroller is a great choice for any new Mum, it's very easy to use, light, compact so is great for a small car or travels. it's sleek and stylish and offers you the best that both a forward and a rear facing stroller have to offer.
Written by Julie Williams
Disclosure: The author was gifted the stroller for the purpose of an honest review.  All thoughts and opinions expressed here are her own.
To WIN one a gorgeous Steelcraft Agile Plus Reverse Handle Stroller's in Denim RRP: $499 enter here and good luck.
Steelcraft Agile Plus Reverse Handle Stroller