Zero Co Review: The Cleaning Brand That is Revolutionising the Way We Clean Our Homes and the Planet
Zero Co Review: The Cleaning Brand That is Revolutionising the Way We Clean Our Homes and the Planet
Did you know that the average 4-person home in Australia uses 6205 single use plastic containers in a lifetime? It's hard to imagine how enormous the pile would be if you and your neighbours got together to pile them all up to send to landfill, let alone the whole of Australia.  It's horrifying! I know, from talking with friends and other school mums, that when it comes to purchasing environmentally friendly products, many of us would love to, but find that cost can be a major barrier. It's not that we don't want to make better choices, it's more often that the family budget just won't stretch that far. So, what if I told you that I've discovered a cleaning brand that will save you money AND help you do your bit to save the planet? You'll want to stick around for this next bit, because I'm excited, and anyone that knows me knows I don't get easily excited over anything cleaning related – but this brand really is something special!
Disclosure: I was gifted the Starter Box for the purpose of providing an honest and accurate review. All thoughts and opinions expressed here are my own.
So (those of you who are old enough), do you remember having your milk delivered by the milkman? When I was a kid, our milkman was a lovely old man called Stan that used to come in his milk van and deliver milk to our doorstep in glass pint bottles. When we'd finished the milk, my mum would rinse the bottles and put them back on the doorstep. The next time Stan was delivering our milk he'd pick up the empties and they'd go back to the depot to be washed and refilled. It's a shame we started filling up plastic bottles and selling them at the supermarkets really isn't it, when you think how much more environmentally friendly this simple, yet effective system was! I know it sounds like I've gone completely off-topic, but bear with me, I'm about to get to the point!
Zero Co is using a similar model as the old milkman days, and I think it's brilliant!
In the interest of full disclosure, I will tell you that I was sent the Starter Box, so that I could experience not only the products and their efficacy for myself (we'll get to that shortly), but also the process, and then share my honest feedback with the Mums Lounge community.
So, let me explain how it works, so you can see exactly why I think this brand is on to something BIG!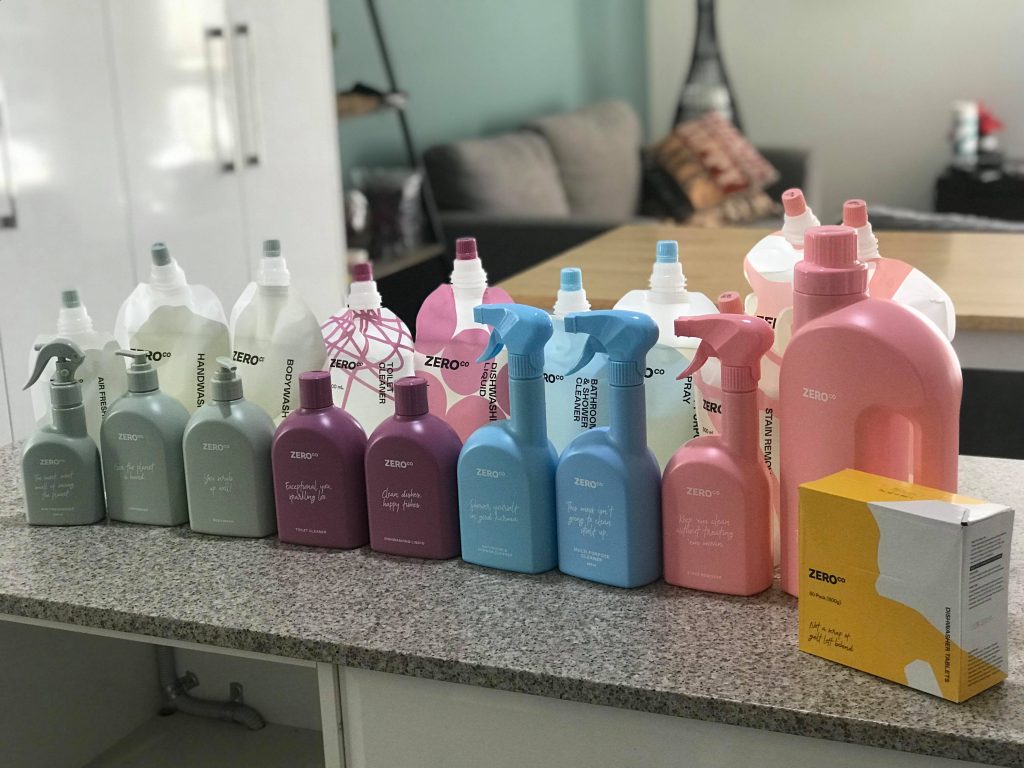 Your first Zero Co order will arrive at your door containing a set of empty dispensers, along with colour matching refill pouches, and a reply-paid satchel.
Simply empty the contents of refill pouches into the corresponding dispensers. I was concerned that this might prove to be a bit of a messy exercise, but the refill pouches contain a valve. This means that you have to gently squeeze the pouch to empty it into the dispenser, so there is no leakage unless you are applying pressure. No mess, no waste!

Pop the empty refill pouches in the reply-paid postage satchel and send back to Zero Co, (for free.)

Zero Co will then clean and refill and reuse the pouches, putting an end to the need for single use plastics (SUP), for good!
So far, so good, right? But, cleaning abilities aside (which I promise I will get to soon), there is even more to love about Zero Co. You see, they are committed to tackling the plastic problem at both ends of the supply chain, which is why their containers are made from the plastic waste that is junking up our planet!
How Zero Co is Turning Landfill into Reusable Containers That Can Be Used Over and Over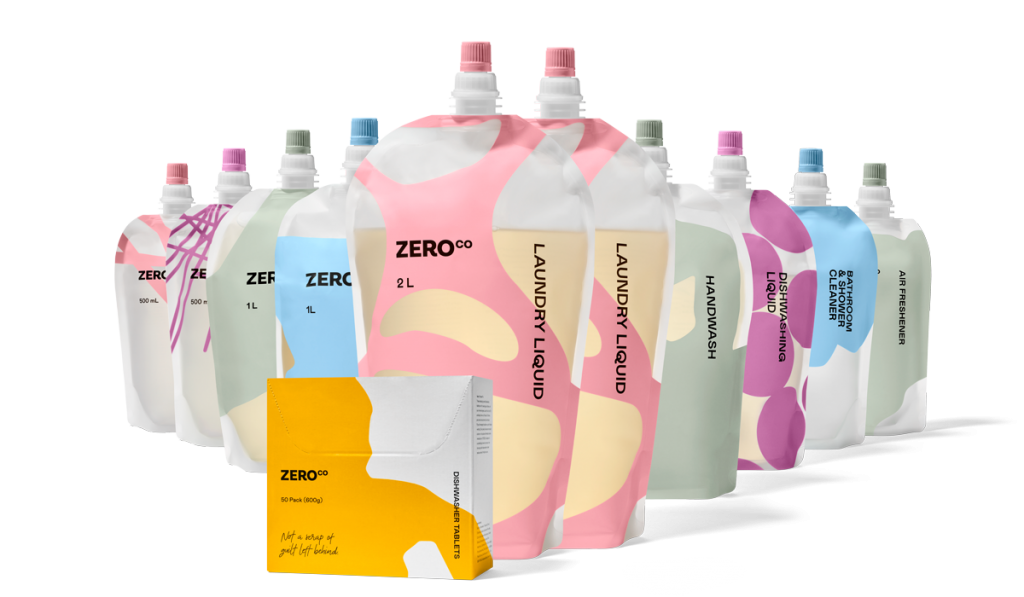 Zero Co's reusable refill pouches are made from plastic waste diverted from landfill and are designed to be refilled and reused over and over and over again. Every refill equals one less new plastic-bottle being made, used once and thrown away.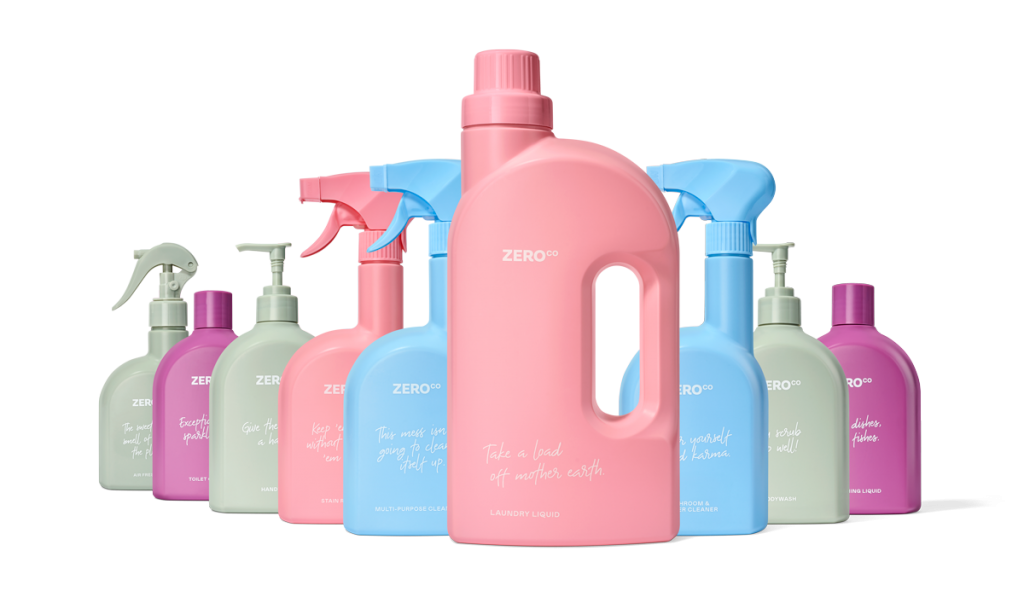 Their dispensers are made from plastic rubbish that they've pulled out of the ocean, beaches and landfill. So far, they've removed over 6,000kg of plastic rubbish from the ocean by organising clean ups across the country. That's the equivalent of more than 500,000 water bottles worth of plastic that they've already pulled from the sea!
Each Zero Co dispenser has a tracking code to show you which part of the planet you've helped untrash, which is a really cool way of getting children excited and involved in cleaning up at home and understanding the impact they can have on their environment.
The Cleaning Products
The Starter Box contains an impressive number of cleaning products – 10 in total, enough for 2-3 months of cleaning for an average 4-person household. 
It contains:
Handwash (1L)

Bodywash (1L)

Laundry Liquid (4L)

Multi-Purpose Spray (1L)

Dishwashing Liquid (1L)

Dishwasher Tablets (50pk)

Stain Remover (500ml)

Bathroom & Shower Cleaner (500ml)

Toilet Cleaner (500ml)

Air Freshener (250ml)

Plus 9 Reusable Dispenser made from Ocean, Beach and Landfill plastic (OBL)
Not only do you save $44.91 off the full retail price, if you purchase the starter kit, Zero Co have done the maths, and you'll also save money compared to purchasing similar supermarket brand cleaning products. Plus, there is the convenience of having them all delivered to your door.
ZERO CO REFILLS 
| | |
| --- | --- |
| LAUNDRY LIQUID  | $38.00 (4L) |
| HANDWASH  | $14.00 (1L) |
| MULTI PURPOSE CLEANER  | $11.00 (1L) |
| DISHWASHING LIQUID | $11.00 (1L) |
| BODYWASH  | $14.00 (1L) |
| DISHWASHER TABLETS  | $33.00 (50PK) |
| BATHROOM & SHOWER CLEANER  | $7.00 (500ML) |
| AIR FRESHENER  | $7.00 (250ML) |
| TOILET CLEANER  | $7.00 (500ML) |
| STAIN REMOVER | $7.00 (500ML) |
| STARTER BOX PRICE (REFILLS ONLY) | $149.00 |
SUPERMARKET 
| | |
| --- | --- |
| OMO ULTIMATE ($22.00 FOR 1.8L) | $48.88 (4L) |
| GLO LAB ($11.00 FOR 600ML) | $18.33 (1L) |
| ORGANIC CHOICE ($5.50 FOR 500ML) | $11.00 (1L) |
| PALMOLIVE ECO ($5.00 FOR 450ML) | $11.11 (1L) |
| ECO STORE ($14 FOR 900ML) | $15.56 (1L) |
| FINISH ULTIMATE  | $38.00 (50PK) |
| SHOWER POWER  | $6.85 (500ML) |
| AIRWICK BOTANICA ($7.50 FOR 236ML) | $7.94 (250ML) |
| ECO STORE  | $8.95 (500ML) |
| NAPISAN GOLD ($5.49 FOR 375ML) | $7.32 (500ML) |
| SUPERMARKET PRICE | $173.96 |
Not only are they plant-based, so kind to the environment and your skin, they smell amazing and they work! Importantly, they are cruelty-free, palm oil free and made here in Australia. I'm a big fan of using less chemicals around my home in the interest of the health of my family and pets, so to be able to clean my home and have it looking and smelling clean, without having a negative impact on the environment ticks all the boxes for me. You can find their full list of ingredients here.
Conclusion
I couldn't put it any simpler than – I'm converted! The Zero Co products I have been using in my home are second to none! Just from today's efforts, my bathroom tiles are gleaming in a way they haven't for quite some time, and I can smell the fresh waft of clean laundry drying on the line outside (not something I've managed to achieve with some other supermarket laundry detergents). There isn't one product that I've disliked (and much to my teenagers' dismay), since they don't contain any chemicals, the whole family can use them! Haha! 
If I can save money on cleaning products, and cut down my family's consumption of single-use plastics, it's a no-brainer for me. I'm really excited to support a company that is dedicated to cleaning up our oceans and planet, and to be a part of that by not only limiting my own waste, but being able to spread awareness to other families. I wholeheartedly recommend trying Zero Co, (and when you fall in love with it like I have), I recommend telling all your friends and family about it too. Let's leave this planet for our children, in a better state than we found it.
Disclosure: This article contains affiliate links. This means that if you make a purchase, we may receive a small commission, at no extra cost to you.