Thrift-Flipping is the Sustainable Fashion Trend That is Blowing Up on TikTok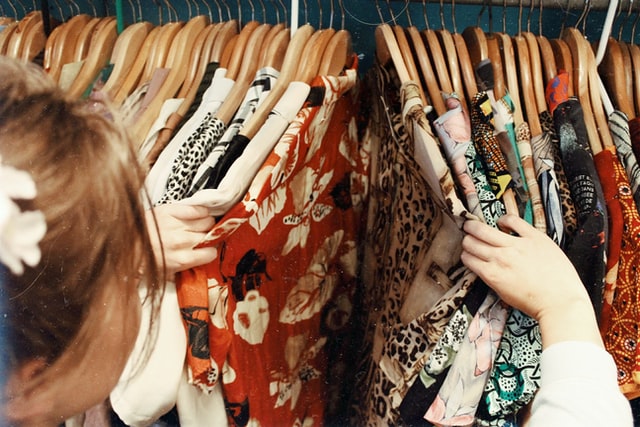 Thrift-Flipping is the Sustainable Fashion Trend That is Blowing Up on TikTok
Author: Jemma Boyd
In partnership with eBay
It's the trend you've seen all over TikTok, Instagram and resale websites – thrift flipping! Derived from the term for buying, rehabbing, and selling homes, "flipping" is a fabulously easy way to combine the thrill of a treasure hunt with the benefits of environmental sustainability and getting yourself some extra cash.
For centuries, (predominantly) women have been mending, recycling and re-styling clothes for further use. The thrift flip is the modern-day equivalent – taking clothing that needs some love and passing on to a new owner, which keeps clothing in the cycle of purchase for considerably longer than today's all too common process of buy, bin, repeat.
It's also no secret that fashion is one of the leading sources of our planet's waste. According to Clean Up Australia (2021), Australians dump 15 tonnes of clothing and fabric waste every 10 minutes, which adds up to 800,000 tonnes (or 31 kilograms) per person every year. So how can we minimise the dreaded landfill? Have a hunt through your local op shop and see how many goodies you can "flip" for profit!
 Here are our top tips for thrift-flipping:
Google the brand name
Found something cute that just needs a more current hem or adjustment? Search up the brand name and you may be surprised to find that, more often than not, quality clothing brands have themselves a dedicated online resale audience! Everything from higher end designers such as Calvin Klein and Ralph Lauren to more affordable brands like Sportsgirl and City Chic have buyers waiting in the wings. Sometimes it's the brand you've never heard of that turns out to be premium – a quick Google search will let you know!
Think about current trends
When you're re-selling fashion, it's always handy to look around at what your peers are wearing that could potentially be recreated with a pre-loved item. Found a good quality polo shirt? Give it the crop treatment and watch it sell in seconds. A maxi-dress can be easily transformed into a very 2021 two-piece set. It all depends on how handy you are with the sewing machine, but plenty of trends are easy to duplicate once you know what you're looking for.
Shop in high-end locations
Forget the shopping centres of wealthy suburbs – the real gold is all in the op shops! Often the wealthier people in your area are donating thousands of brand name items to their local Salvos without a second thought. This is your opportunity to capitalise on the "one man's trash" principle and find high quality basics perfectly poised for your creative makeover.
Broaden your horizons outside of clothing
While we don't like to hear it – sometimes there is more to life than clothes! Did you know there is a huge market for vintage toys and collectibles, often found second hand? Furniture, toys, dishware and more are a great option for those of us who are less confident with the needle but have a passion for DIY. Give that table a lick of paint, that beanie baby a wash cycle and you might have a real money maker on your hands! While these items may have no value gathering dust at your local Vinnie's, someone out there is waiting to give it a loving home.
If you are looking for a place to sell your thrifted items, eBay is a fantastic option. True, you'll have to pay a small fee (dependant on your sale price), but with over12 million users in Australia visiting the shopping platform every month, it's worth it. Not only does advertising your items on eBay open you up to a larger audience, you'll also enjoy the added safety of being able to interact with buyers without having to share any of your own personal information or social media profiles.
Posting items to buyers is a lot easier, and more straight-forward that you might imagine too. Thanks to eBay's partnership with courier company Sendle, the days of having to queue up at your local post office to post a parcel are a thing of the past. It's now possible for eBay sellers to arrange parcel pick up & delivery directly from their front door to the buyer, without even having to leave your home. All you have to do is chose whether to print the postage label at home, or simply write down the unique tracking number, along with the to and from address on the parcel. The Sendle service is contactless so once you've done that all you need to do is leave the parcel at your door on the allocated date and a courier will come to collect it.
The pandemic has drastically changed our buying behaviours. We've been stuck with our belongings and are driven to downsizing whatever doesn't spark joy (thanks Marie Kondo). A recent report from ThredUp (2021) predicts that second-hand shopping will surge around 69% in the coming years, so why not come along for the ride? Thrift-flipping is the perfect way to save the planet, teach yourself some new skills and make money doing it!
Sources:
Every 10 minutes, Australians dump 15 tonnes of clothing and fabric waste. That adds up to 800,000 tonnes, or 31 kilograms per person, every year. (https://www.cleanup.org.au/fastfashion)
The report also noted that online thrifting (or secondhand shopping) is predicted to surge about 69 percent from 2019 to 2021. (https://www.thredup.com/resale/#government-policy) thred up report