6 Destinations Perfect for That Mums Group Holiday You've Been Promising Yourself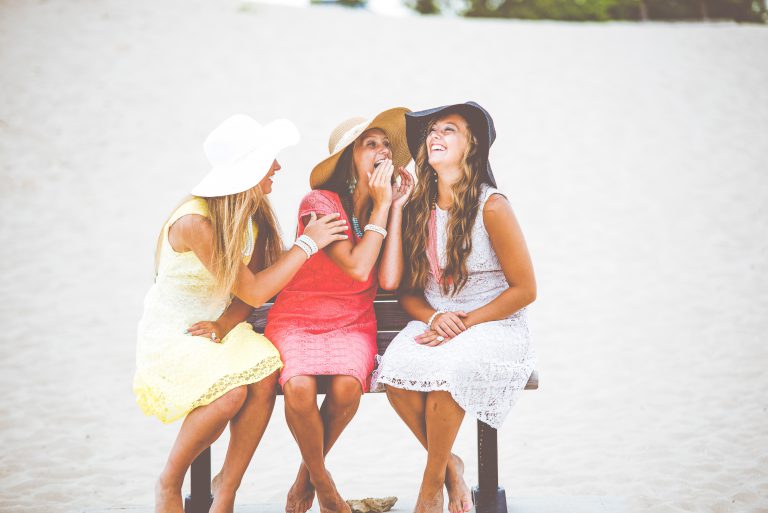 6 Destinations Perfect for That Mums Group Holiday You've Been Promising Yourself
"Motherhood can be very stressful – whether its financial stresses, time stresses, just trying to get a whole lot done in a very short period of time…I think it's really important for mothers to be rejuvenated and refreshed." Dr. Nava Silton Fox5NY
When psychologist Dr Nava Silton made headlines last year, when she urged mums to go away on holiday without their kids, there was little many of us could do to contain our excitement (and relief). All of a sudden, our guilty little fantasy about jetting away somewhere with our partner, or a group of girlfriends sans kids, was being sanctioned as not only beneficial for our wellbeing, but also our children's.
That's right! Grab that passport and pack your suitcase, but leave your mother guilt at home. Doctor's orders!
And we shared that article on our social media timelines and tagged all of our besties, didn't we? Let's all get away together. Cue daydreams of poolside cocktails and lazy spa days.
Yet, how many of us actually took that next step and planned, booked and went on that holiday?
Well…consider this a friendly reminder or a cosmic nudge from the universe, whatever works for you. If you've been promising yourself a getaway to recharge your batteries for like…forever, now is just a good a time as any to really get the ball rolling and put those plans into action. With a little help from the experts, if you know where to look, enjoying a luxury holiday with a group of your best gal pals, may be much more affordable than you realise.
When travelling in a group, we cannot recommend hiring a villa enough. Not only do you get to split the cost of the accommodation, have a bedroom each with plenty of room to move around, and get to enjoy other luxuries like your own private swimming, you also get a team of staff at the villa to look after you. Imagine that! Not only do you get a week off from taking care of little people, you'll have people to take care of you! So, we highly recommend looking into exactly what is included in your villa booking. For example, when you book through Villa Finder you'll reap the benefits of their impeccable Concierge Service. Not only will they help you arrange all the usual things like airport transfers and breakfast etc, they'll happily take care of all the other things too. Want to rent a car or scooter, book a massage or throw a last minute BBQ party? Feel like going on a helicopter ride, going on a day tour or enjoy a yoga lesson in your villa? Whatever your perfect girls holiday looks like, the Villa Finder Concierge team can make it happen for you.  So not only do you get to live a life of luxury for the duration of your stay, you can take your mum hat off and let someone else do all of the organising for a change. Sounds heavenly, right?
With that in mind, we caught up with our friends at Villa Finder to enlist their expertise in putting together a list of six destinations that are perfect for a mums group holiday. You're welcome!
Bali
Saying that Bali is paradise on earth isn't an overstatement. The island is known for its gorgeous landscapes and rich culture and the island's diverse attractions mean that even if you are travelling in a group of friends that has a mixture of interests, everyone will find something to do that they love!
The island's diverse landscape gives rise to a wide variety of natural attractions – from postcard-pretty beaches in the Bukit Peninsula, to sprawling rice fields in Canggu or towering volcanoes and sparkling lakes in Central Bali. Ubud is the arts and culture hub of the island, and home to numerous art galleries, museums, temples and traditional markets. See, something for everyone!
Villa Finder Tip: Watch a kecak fire dance performance at Uluwatu Temple, catch the surfers in action at Blue Point Beach, go snorkeling or free diving at Amed, do a sunrise trek at Mount Batur, explore the shopping streets of Seminyak or spend your day trying out the myriad spas, healthy cafes and yoga classes in Ubud.
Koh Samui
The Island of Koh Samui is undoubtedly amongst the most popular travel destinations in Thailand. With its sun-kissed beaches, magnificent tropical scenery and a wide variety of stunning villas to rent, Koh Samui promises a fun-filled island getaway.
Villa Finder Tip: Koh Samui is known for its great selection of local markets and shopping stalls where you can buy a wide range of souvenirs, gifts and Thai trinkets to remember your stay in Samui. And don't forget to search for the food section at these local markets to sample some of Thailand's world-renowned street-food.
Nightlife in Koh Samui is lively and diverse. Alongside affordable bars serving cheap cocktails and alcoholic drinks, you will find gourmet restaurants serving the absolute best of Thai cuisine to upscale diners.
Sri Lanka
Sri Lanka is undoubtedly one of the most underrated tropical destinations in the world. This tiny yet magnificent island nation in the Indian Ocean boasts a beautiful blend of rich natural resources, vibrant city life, fascinating history, and colourful culture.
If you like to stay active on your vacation Sri Lanka offers some incredible water sport experiences. More of a land creature? Don't miss a hike up Sigiriya Rock – a magnificent ancient rock forest listed as a UNESCO World Heritage Site.The historic city of Galle is also another the charming attraction in Sri Lanka that has marked its presence on the UNESCO list, and definitely worth a visit.
Villa Finder Tip: To get the most authentic local cuisine experience (which has parallels with South Indian food due to historical factors), Pier 88 Nebulain Bentota and Lucky Fort Restaurant in Galle come highly recommended by the Villa Finder team.
For those who want to try the water sports on offer, based on our personal experiences, the friendly waters of Bentota is a great spot for surfing, water skiing, and wakeboarding.
Myanmar
Home to Shwedagon Pagodas, bustling markets, unspoilt beaches, and hundreds of ethnic groups, Myanmar is an unmissable Asian tropical destination. With so many things to see and places to visit, you'll wish you booked to stay just a little longer. Kids? What kids?
Villa Finder Tip: Be sure to make the most out of your stay here and check out the country's thousands of temples and golden pagodas. We also highly recommend staying nearby Ngapali Beach if you want to soak up in Burma's undiscovered waters. This place is honestly one of the most stunning beaches around—filled with palm-fringed sea shore, fine white sand, and sparkling turquoise water.
Niseko
Being home to some of the snowiest resorts in the world, Niseko has become a highly coveted ski destinations for sports enthusiasts. If you and your friends love to ski, being a stone's throw away from snow mountains and having your very own home overlooking the Japanese Alps is a recipe for a dream holiday vacation! (Also, you won't have your family asking where their snow gloves are, or wanting to go to the toilet as soon as you've put their snow clothes on them! Bonus!)
Niseko has got some of the most powdery snow in the world, making it an idyllic destination for skiing.Cap off your days with a relaxing night at an onsen and enjoy hot springs the Japanese way.
Villa Finder Expert Tip: Complete your winter ski experience with a delicious bowl of hot soup. Take note of Abucha 2 for their authentic hot pot and Maeda! for their tasty noodles. Check out The Puband Mocking Bird at Hakuba as well if you want to get a beer or two before heading back to your chalet.
New Zealand
New Zealand is a prime destination that's included in almost everyone's travel bucket list. With its stunning landscape, laid-back atmosphere and amazing food, it's very easy to figure out why.
The island is a destination fit for adventurers. If you're brave enough for a blood-pumping challenge, you can try bungy jumping, skydiving, or paragliding for the most unforgettable experience of a lifetime.
Villa Finder Tip: This is one of our favourite destinations to overindulge. From the traditional Maori hangi to the world-renowned pavlova, everything is just so divine! And oh, don't forget to treat yourself to a good roast lamb and a glass of wine. Even the pubs near your villa serve mouth-watering meats!
Visit www.villa-finder.com to browse over 2,000 villas in 12 countries.