Top 6 Family Road Trips Near Sydney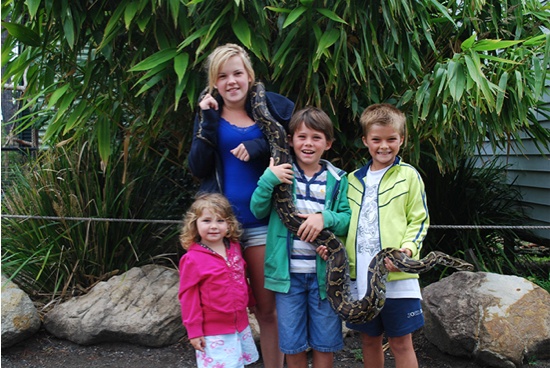 Family Road Trips Near Sydney
'What are we doing today?' ask the kids.
What if, instead of reaching for the Lego box again, you replied, 'How about feeding kangaroos, swinging through trees, riding Segways, driving over the ocean and eating gelato?' While they're still in a stunned silence, or screaming with joy, pack them into the car and head to one of these fun-filled road-trip destinations, all within an easy couple of hours' drive from Sydney.
If you need a comfortable, affordable and reliable car for the day – perhaps your partner has taken the family car to work or yours is having repairs – there's an easy solution.
Bayswater Car Rental – the 'No Birds' family business – has affordable daily rates on the latest automatic Toyota Corollas, all with air bags, ABS brakes and 5-star ANCAP ratings.
Book your car or people-mover online in three easy steps or check for the current special offers here.
1. Symbio Wildlife Park
This is the place for you and your kids to enjoy an up-close experience with Australian animals and exotic wildlife from around the world. Each day the zoo offers behind the scenes encounters, guided tours, keeper presentations and animal-feeding. There's also a picnic area and a swimming pool, so take your bathers and towels.
Getting there
Symbio Wildlife Park is at 7-11 Lawrence Hargrave Drive, Helensburgh. Take the Princes Highway south out of Sydney, through Sutherland and Waterfall connecting with the F6 freeway, then the Helensburgh/Stanwell Park turnoff and follow the Symbio signs.
Hours & entry
9.30am to 5pm daily. Entry for a family of 2 adults and 2 children 3-15 years is $75; adults $27, children 3-15 years $15 and concession $22.
2. Illawarra Fly Treetop Walk
Less than two hours from Sydney, is the 'Fly', one of the few elevated steel treetop walks in the world with a 50-metre-high central tower. From here there are stunning views across the rainforest canopy and beyond, to the Pacific Ocean. The easy 1.5km walk is pram accessible and takes about an hour, or you can take a guided tour. There's also a visitors' centre and café on the premises.
Getting there
Either take the Princes Highway M1 south out of Sydney, turning right at Albion Park onto the Illawarra Highway, then left at the Robertson Pie Shop (a great lunch stop) onto Jamberoo Mountain Road. Travel 10km then turn left at Knights Hill Road. Or, you can take the Hume Highway south out of Sydney, turn left onto the Illawarra Highway, then right at the pie shop. The Illawarra Fly Treetop Walk is at 182 Knights Hills Road, Robertson (Southern Highlands).
Hours & entry
Open every day 9am to 5pm. Adults $25, children 4-15 years $10, family of 2 adults and 2 children $64, concession $21.
Climbing high at Illawarra Fly; image supplied by Illawarra Fly Treetop Walk
3. Grand Pacific Drive, Sea Cliff Bridge & beachside gelato
This scenic family drive has the lot. After a short distance on the Princes Highway, heading south from Sydney, you enter the luscious Royal National Park, winding through nature's magical sights and scents. Extravagant coastline follows and beyond that, Stanwell Tops and Bald Hill Lookout, with sweeping coastal views to Wollongong and beyond. From here, cruise south to the awe-inspiring Sea Cliff Bridge and its snake-like curves that, at one point, extend over the ocean. Ten minutes more – a mere 82km from Sydney – you're at seaside Austinmer, ready to stretch the legs exploring the seaside, rock pool and family beach, which is patrolled on summer weekends. And of course, make that stop at the Austinmer Café for a well-earned gelato.
Sea Cliff Bridge gives new meaning to 'an ocean drive'; Tourism Wollongong
Getting there
This scenic drive is so good, it has its own website. Take a look at the journey from Sydney and all its great features at a glance, here.
4. TreeTop Adventure Park
It's not often your kids get to climb trees or swing like Tarzan through a forest – in safety. But at the Central Coast TreeTop Adventure Park, anyone over three years old can experience the serenity of the forest from way, way up high. A network of safe suspension bridges let you tour through the canopy, or you can soar from tree to tree on a choice of 20 flying foxes with five different degrees of difficulty. A continuous belay safety system allows your kids to climb, swing, leap and fly while you supervise from below.
Getting there
Take the Pacific Motorway M1 north out of Sydney, use the Wyong exit and follow the white and brown tourist signs. TreeTop Adventure Park Central Coast is at 1 Red Hills Forest Rd, Wyong Creek (corner of Yarramalong Road).
Hours & entry
Opening times vary with the seasons, but you can visit 364 days of the year (closes on Christmas Day). Children 3-9 years $25; age 10-17, $35; Adults $45, with a 5% discount for a family of 2 adults and 2 children; concession $40. Bookings are essential.
Safe extreme tree-climbing; image supplied by TreeTop Adventure Park
5. Australian Reptile Park
It may be called the Australian Reptile Park but more than just scaly, cold blooded animals live here. There are also koalas, dingoes, platypus, echidnas, kangaroos, Australia's crankiest crocodile and a 165kg tortoise. You can hand-feed kangaroos, watch crocodile and reptile shows, take a Tassie Devil tour and see venomous snake and funnel web spider milking behind the scenes. A reptilian adventure playground, cafe and picnic area with free barbecues are added attractions.
Getting there
Take the Pacific Motorway M1 north from Sydney to the Gosford exit, then follow the signs. The Australian Reptile Park is at Pacific Highway, Somersby, west of Gosford.
Hours & entry
Open 9am to 5pm, 364 days a year. Entry is $75 for a family of four; adults $28, children 3-15, $15; student/senior with valid ID, $20.
Cuddle a crocodile; image supplied by Australian Reptile Park
6. Segway Central Coast
Close to the Australian Reptile Park, just on the other side of the Pacific Motorway, is Segway Central Coast. Here you can cruise around the beautiful Mount Penang Parklands on two-wheeled battery powered segways. While they're not difficult to manoeuvre and instruction is provided, the minimum age to participate is nine years old and 40kg in weight.
Getting there
Take the Gosford exit off the M1, turn left off Central Coast Highway, left into The Avenue, then left into Festival Drive. Segway Central Coast is at Parklands Road, Kariong.
Hours & entry
A 30-minute Fun Ride is $39; a one-hour Adventure Ride is $69 and a 90-minute Adventure Plus Ride is $99. Bookings are recommended.
Take off on a Segway; image supplied by Segway Central Coast
Getting there is easy
The Toyota Corollas of the Bayswater Car Rental fleet are all late-model automatics, under three years old with air bags, ABS brakes and 5-star ANCAP ratings. Check for the latest special rates here and choose from a hatch, sedan, SUV wagon or people-mover.