A Grieving Family Warn About The Dangers of Mobile Phone Use in The Bathroom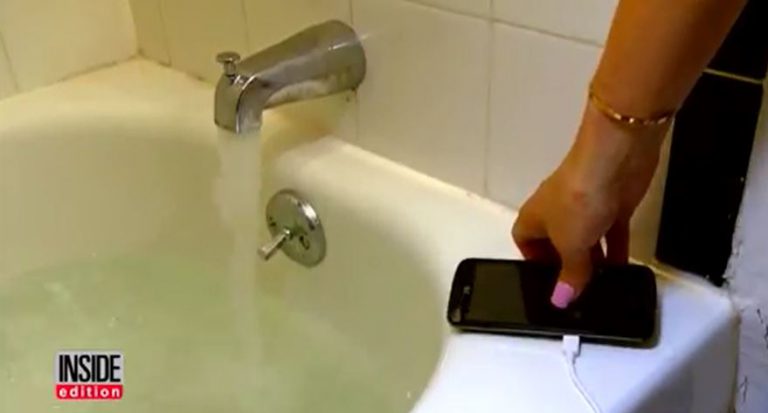 A family in New Mexico are mourning the loss of their 14-year-old daughter after she was found electrocuted in the bathtub while using her mobile phone.
Madison Coe loved using her mobile phone to play games or listen to music while she soaked in the bathtub.
But the ritual she loved doing, ended up taking her life, as Madison was found unresponsive in the bathtub.
Madison's stepmother, Felisha Owens, who is a nurse, told Inside Edition, "I went in to tell Maddy it was time to get out so we could go to bed.
So I called her name, and she didn't answer. So I went in. I thought she was asleep at first."
Madison's father, Logan Coe, a Fire Fighter and EMT said his "world came to a stop when I walked into the bathroom."
An investigation on what caused Madison's death is still being determined, but the coroner's report found the cause of death to be by electrocution.
The night Madison died, her phone was hooked to a charger and connected to an extension cord to reach an electrical outlet. Experts say that extension cords are highly dangerous to have in a bathroom. What makes them dangerous is the cord can lie in water on the floor which increases the chances of electrocution.
Mr Coe told Inside Edition, "Whenever I talked to Madison about it, she said, 'Dad, it's outside the tub.'"
When Madison's stepmother and father found the teen in the bath, they carried our CPR until paramedics arrived.
"There was so much water in her little lungs and it all seemed so unreal," her father said.
"I don't know if it got dropped in the bathtub.
"I don't know if she had it sitting on the toilet, playing music. Those are answers we're never gonna have."
The family are sharing their story to prevent other families from experiencing their heartbreak. Madison had dreamed of making an impact on the world. It's the family's hope their story shares the dangers of mobile phone use and electrical cords while in the bathroom.
"You're not supposed to bury your babies," her stepmother added.