WIN 1 of 3 BIG4 Breaks + 10 x Runner Up Prizes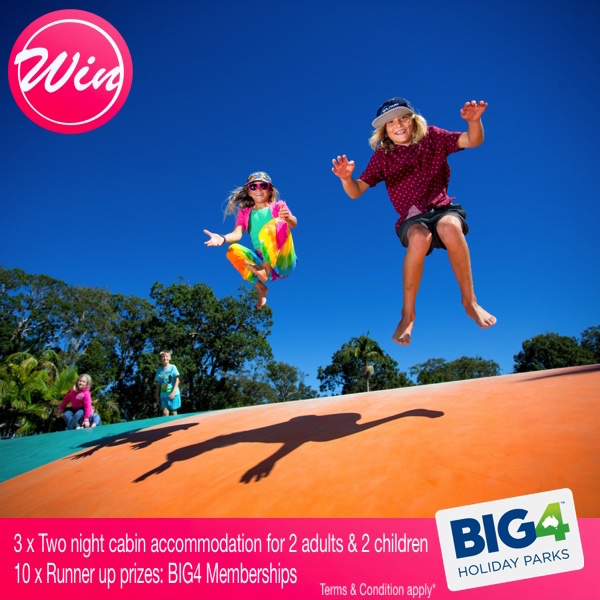 WIN 1 of 3 BIG4 Breaks + 10 x Runner Up Prizes
Every family deserves a break every now and then and with our hectic schedule we were certainly ready for one! Our Big 4 getaway took us right into the middle of all the great parks on the Gold Coast and from the moment we got into the car the anticipation and excitement from the kids was electric.
The Gold Coast Holiday Park, which is part of the Big 4 group, is about as good as it gets when it comes picking a location on the Gold Coast.  Located in Helensvale, within walking distance of Movie World, Wet'n'Wild, Australian Outback Spectacular, a short 5 minute drive from Dreamworld and White Water, only a 15 minute drive to Seaworld, just 80 minutes drive up to the amazing Australia Zoo and many more attractions in driving distance, it really is the perfect location for a fun packed holiday! To make life as easy as possible the Gold Coast Holiday Park will book your tickets for you ahead of your arrival and save you heaps of time queuing.
On arrival to the Gold Coast Holiday Park we were welcomed with big smiles and friendly staff who made it feel like nothing would be too much trouble. Although we had arrived a little early, the staff looked after us and guided us to the pool area, so that the kids could splash out their in-car jitters while we waited to check in, which was a welcome relief for them (and us) after a long drive! In no time at all, we were ready to check in and were escorted to our cabin by some helpful staff driving around on their little golf carts making sure that everyone got settled in ok.
There are plenty of options for accommodation, from campsites to plush cabins and while we are usually the camping type we were very happy to be enjoying the luxuries of a family cabin.  We were delighted to find that our cabin was nestled in amongst some tropical trees and while right in the middle of the campsite seemed surprisingly private and retreat like. The accommodation was immaculate and there was ample room for our family of 6 in the 2-bedroom cabin, making it a very pleasant and comfortable stay. The cabin had everything you would need, with a lovely well equipped kitchen area, a large dining table, bathroom and living area with somewhere for us all to unwind after a busy day but our favourite aspect of it all was the balcony area. The balcony was a beautifully decked area, surrounded by greenery and a great seating area perfect for sitting out to enjoy some family games together or for Mum and Dad to sit out with a glass of wine in the evenings once the troops had crashed out.
The site and amenities were outstanding. The BBQ area was fitted out with everything we needed and was thoughtfully laid out with great attention to details and finished of with a beautiful tropical fish tank, which really added to that feeling of relaxation as we cooked up our meal. We could have easily spent all of our days just at the site and never had a moment of boredom. The huge jumping pillow was great fun for everyone, there was a beautiful large enclosure with animals to pet, large outdoor games to play, tennis courts, pedal carts, face painting, movie nights and a pool area that alone could provide endless hours of entertainment. The pool area was the favourite place to be, with different swimming areas, an large fun water slide, which the kids could spend all day whizzing down, water features, high quality cabanas with comfortable cushioned loungers to relax on while the kids played.  When the evening set in, the pool area came to life with flames and coloured lights to create a great mood and atmosphere, with cheeky cocktails at the café to finish the day…what more could we have asked for!
If you are looking for a fun packed holiday with access to a huge range of great and exciting days out, or just a relaxing break away with plenty to keep the kids amused right on site, then the Gold Coast Holiday Park is the place to be! With friendly helpful staff willing to go the extra mile, excellent amenities and superb facilities we will certainly be returning with our family over the next school holidays!
Thanks to our friends at Big 4 we have 3 x two night cabin accommodation vouchers for 2 adults and 2 children, as well as 10 runner up prizes of a BIG4 Membership to GIVE AWAY to our lucky readers *Terms and conditions apply.
If you need a break and would love the chance to WIN one with BIG4, simply enter below and good luck. x