WIN a Brand New Safe n Sound Maxi Guard SICT Worth $449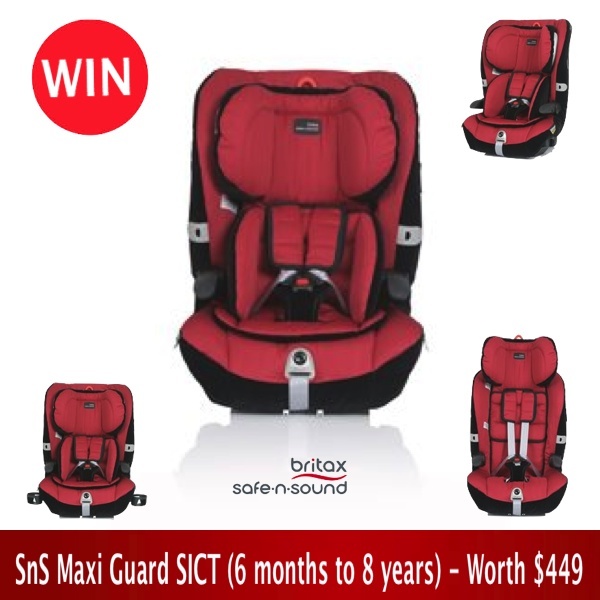 WIN a Brand New Safe n Sound Maxi Guard SICT Worth $449
Written by Julie Muchamore
One of the things that I have become very conscious of is the safety of my children while travelling in the car. It was always important to me but just how important really hit me when I had a scary incident with 3 of my little ones in the car. A split second could have changed my life forever but thankfully for me, despite the damage to the car, all of my little ones remained safe and secure within their car seats and were completely unharmed. I was so grateful that I had invested in such good car seats and this is something I would never compromise on.
After testing out many car seats in my time, when it comes to safety Safe n Sound car seats certainly stand out from the crowd. The new Safe n Sound Maxi Guard SICT is certainly a cut above the rest, with the SICT layer providing 180 degree protection around the head and chest which absorbs the immediate energy from the impact of a crash and with side impact protection you know that your little one is in the safest hands possible.
It's not only safety that's important though. Long car journeys are always a challenge, with 3 boys who need to eat constantly, a girl who needs to drink regularly, toilet training argh, needing a spare seat for in-laws, visitors or play dates, needing entertainment to avoid going insane – yes there are so many things that we need to think about before we even step foot in the car, so its worth finding a car seat that helps out a little and that's why I love the Safe n Sound Maxi Guard SICT.
This car seat is so much more than just a safe place to keep your children while travelling in the car though, it is a well thought out and engineered addition to your car and here's why:
The 6 point harness is completely hassle free and can be adjusted simply by moving the red handle at the top of seat up and down while remaining in its position. This means no more removing the whole seat from the car and fiddling with awkward job of re-threading the straps, meaning that you can constantly ensure that the straps are always correctly positioned for your growing child with ease and little effort.
If you have more that 2 little ones in car seats then this can often mean you need to change the whole car because most car seats are too wide to fit 3 of them in a row, making a new addition to the family an expensive one. However, the new Safe n Sound Maxi Guard SICT" has been thoughtfully designed so that the outer shell is slimmer and can comfortably sit side by side with another car seat or allow room for that extra passenger.
Despite its slimmer build, this car seat still has all of the handy extras, such as 2 cup holders to store those much needed drinks and nibbles for long journeys, 2 pivoting arm rests for comfort and some gorgeous soft cushioning to keep your little ones cosy. It also has 2 recline positions, so your little ones can enjoy a more comfortable sleep while travelling in the car and avoid that need to prop their drooping little head up.
Going on journeys in the car without food supplies is not an option for us, which can make a very messy car at times. Fortunately the Safe n Sound Maxi Guard SICT not only comes with easily removable washable covers, it also comes with a seat protection cover to place underneath your car seat that has handy little pockets on the front to keep things tidy.
Just when you think it couldn't get any better thought – it does! This car seat is everything you will ever need as it lasts from 6 months right up to 8 years and in some cases even up to 10 years. This is fantastic news as I am much happier keeping my little ones in a very safe car seat for as long as possible and I don't have to replace it later for a booster seat!
In summary the Safe n Sound Maxi Guard SICT is a win all round! Its safe, its smart, its comfortable, its easy to use and adjust, its easy to clean, it looks good and in the long run it will save me money so I love it!
Written by Julie Muchamore
Disclosure: I was gifted this product for the purpose of an honest review.  All opinions are my own.