Quick & Easy Ways To Teach Preschoolers The Alphabet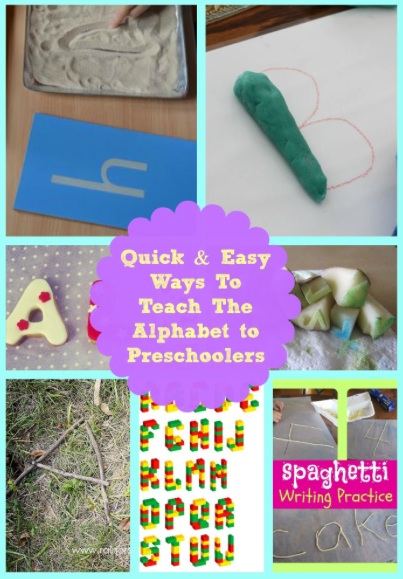 Quick & Easy Ways To Teach Preschoolers The Alphabet
As parents, we want our children to have the best possible start when they begin school. For a lot of us, that means that we want our kids to have a basic understanding of the alphabet, know the difference between uppercase and lowercase letters and be able to write their own name. By far, the most effective way to get kids familiar with the alphabet and be able to recognise and write letters is to get them involved in fun, hands-on and meaningful activities. Here's some quick and easy ways that you can teach your preschooler the alphabet in your own home.
Buy a set of letter cookie cutters and get baking!
You can usually pick up a set of letter cookie cutters from your local $2 shop for next to nothing.  So, next time you're planning on making a batch of cookies, don't roll them into neat little balls, but instead get creative and cut out dough letters to bake. This way when your child is eating the cookies you can ask them to guess what the letters are, and see if they can use the cookies to spell their own name. Yummy and fun – you can't get much better than that!
Image credit: Parents 
Whip out the playdough
Playdough can be used as a teaching tool in so many different ways. Practice rolling, shaping and cutting the playdough to make the letters of the alphabet. Make sure you've got an alphabet template on hand to help your little one out. You can also use your cookie cutters to cut out the playdough letters.
Image credit: Notimeforflashcards
Sand, sand and more sand
Are you cringing at the thought of getting sand all throughout your house? Well fear not! Grab a plastic tub and pop a little sand in the bottom of it – no mess! Ask your little one to trace the letters of the alphabet in the sand with their finger. Best of all, if they make a mistake, they can just rub it out and try again. Hate the idea of having sand inside? Well, head out to the backyard sandpit, local park, or even the beach!
Image credit: Theguilletots 
Use up leftover spaghetti
If you're anything like me then you tend to cook enough pasta for about 80 people at dinnertime! Rather than throw out any leftovers, let your kids use the cooked spaghetti to make the letters of the alphabet. It's easy to manipulate, is super cheap and heaps of fun!
Image credit: Creeksidelearning 
Do a nature walk
Go for a wander through your garden or down to the local park and collect as many little twigs, sticks, pebbles, leaves and shells as you can. When you get home grab a large piece of paper and write a couple of letters of the alphabet in PVA glue onto the paper (just focus on one or two letters at a time!). Have your child place the things they found over the glue. Once it's dried, encourage them to trace over the letters with their fingers. This kinaesthetic approach really helps to consolidate children's memory of the letters.
Image credit: Rainorshinemamma 
Make potato letter stamps
If you're a crafty or DIY person, cut a couple of potatoes in half and then carefully draw on an alphabet letter. Dig out around the letter with a knife (this part is adults only!) and leave out on the bench to dry. Grab a big piece of paper, an art smock and let your child dunk the potato stamps into the paint and then place them onto the paper. Ask them to identify some of the letters and see if they can find the stamps they need to write their name.
Image credit: Alotlikemartha 
Grab the LEGO and build away!
LEGO is a great way to learn the letters of the alphabet in a hands-on way. Most people will have a big bucket of LEGO lying around their house, but if not, you can often pick it up really cheap at the op shop. So, next time your child is playing with their LEGO, model building one of the letters of the alphabet and see if they can guess what you've made. Ask them to copy your letter or even build a different one.
Image credit: Behance
Teaching the alphabet doesn't need to be tricky or boring. In fact, by getting kids involved in identifying and writing letters in a hands-on and meaningful way from an early age, they will have a much better understanding of the alphabet and will be off to a flying start when they begin school.

What great ideas have you used when teaching your children the alphabet? Do you find that your little ones respond well to hands-on learning activities?