10 Awesome Kids Cubby Houses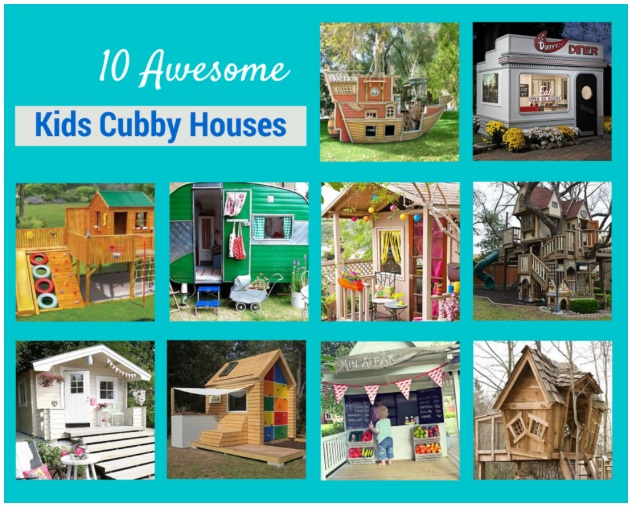 Say goodbye to the good old cubby house that was knocked together with scrap pieces of wood and say hello to the 10 most amazing and incredible cubby houses in the world! These cubby houses really are fit for royalty!

The Picture Story Book House

This amazing cubby house looks like it's just stepped off the pages of a picture story book. You can just imagine all the exciting adventures that would happen here.
Image credit: Huffington Post
The Climbing Wall Cubby
Active kids won't be able to get enough of this cubby house that comes with it's own climbing wall… how cool!
Image credit: Pins Health
To Market, To Market
Make believe play is so important to a child's development and so this cubby house shop is absolutely perfect! How cute are the little chalkboard menus – there's so much fun to be had here.
Image credit: Itsahouse 
Bohemian Chic
Oh how lovely! Mum's will totally want to kick the kids out of this gorgeous little hideaway and enjoy the serenity with a nice afternoon cuppa. Decorate with old cushions, fabric and some basics from your local $2 shop.
Image credit: 7beaches 
The Diner
Let your kid's inner chef be unleashed in this cool diner inspired cubby.
Image credit: Poshtots
Ahoy There!
No child will be able to resist this incredible Pirate Ship cubby house. Hours of fun are guaranteed to be had when searching for treasure, sailing the seven seas and of course, dressing up as a pirate!
Image credit: Cubbykraft
The Tree House
This super clever tree-house is built on top of a tree stump!
Image credit: samenspelopdebso
The Playground

Hours of fun is sure to be had in this playground inspired cubby house. The hardest decision will be deciding what to play on first!
Image credit: Cubbyhouse 
The Pool House
This cubby house looks good enough to live in! Adults and kids alike will go crazy for this pool-house style cubby… even better if you're lucky enough to have a pool too!
Image credit: Barbroslilleatelier 
The Caravan Cubby
How fabulous is this DIY caravan cubby house! Perfect if you know someone with an old unused caravan and are handy with a tin of paint.
Image credit: wonky-eye-day
 So there you have it – 10 amazing cubby houses that are guaranteed to blow the socks off any child (and adult for that matter)!
Which cubby house would your kids go crazy for?