Top Ten Cocktails to Get Your New Year's Eve Party Started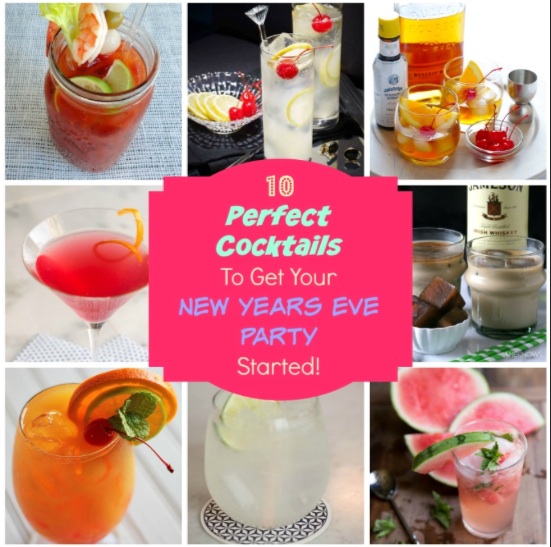 10 Perfect Cocktails To Get Your New Years Eve Party Started!
Whether you're having a low-key get-together with friends, or hosting a lavish and over-the-top New Years Eve soiree, there's one essential thing that will make your party even more fabulous… yummy cocktails!
We've done the hard work for you and put together our top ten cocktails recipes. Each and every one is totally drool-worthy and sure to make your party one to remember!
Mai Tai
If any cocktail could make you believe you're on a tropical beach in some exotic location, then a Mai Tai is exactly that! This delicious little mix just screams summer, fun and total fabulousness.
Old Fashioned
Ahhh Don Draper and the Mad Men crew have certainly brought the Old Fashioned back into… well fashion! This cocktail is sure to please even the manliest of men (and the loveliest of women). Made with bourbon, syrup, Angostura bitters, orange slices, maraschino cherries and ice, this is one cocktail that will keep you coming back for more.
Espresso Martini
An Espresso Martini is the perfect way to make sure you're wide awake when midnight rolls around. Mmm the combination of coffee and cream is just so good.
Daiquiri
Cool down with a perfect Frozen Strawberry Daiquiri this New Years Eve. Made with white rum, strawberries, lime and ice, this is certainly one perfect summer cocktail.
Margarita
It's hard to beat the simplistic perfection of a classic Margarita – they're just so lovely and fresh. Serve with some yummy Mexican finger food for a super yummy party!
Bloody Mary
Want a totally over the top cocktail that's sure to impress? Then a Bloody Mary is just the thing. Bloody Mary's are known for their ability to clear the head after a big night… if you can bear it!
Cosmopolitan
For those of us who spent hours upon hours watching Sex and City, can now relive our 'Carrie and the girls' memories with a deliciously fashionable Cosmo. What's not to like about this fabulous little mix.
Tom Collins
After a light and fresh cocktail? A Tom Collins is just what you need. We love the classic combination of gin, lemon, syrup and soda, topped off with a Maraschino cherry and slices of lemon… talk about heaven in a glass!
Irish Coffee
For a classic after dinner cocktail, an Irish Coffee is just the thing! Who could resist a little glass of coffee, brown sugar, Irish Whiskey and cream?
Mojito
A Watermelon Mojito is the perfect thirst quencher this New Years Eve. The combination of mint, watermelon, Bacardi, syrup and lime make for one amazing summer cocktail.
What will you be sipping on New Years Eve?