Whats on August – WA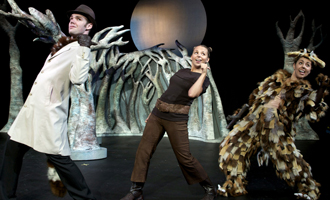 The Gruffalo's Child
When: Tuesday, 21 August, 2012
Wednesday, 22 August, 2012
Thursday, 23 August, 2012
Friday, 24 August, 2012
Saturday, 25 August, 2012
Sunday, 26 August, 2012

The team behind the 2010-11 smash hit The Gruffalo return with the charming sequel.The Gruffalo's Child brings together physical theatre, music and puppetry to deliver songs, laughs and scary fun for children aged 4 and up and their adults.
Click Here For More Information!

Act Belong Commit Avon Descent Family Fun Day
Sunday 5th August 2012
Join support crews and spectators to welcome competitors over the finish line for the City of Bayswater's ACT Belong Commit Avon Descent Finish Line Free Family Fun Day. Experience the action live with race commentary and footage on the big screen. Enjoy a family FREE day out with Bouncy Castles, Face Painting, Roving Entertainment and More!
Click Here For More Information!
Kaze No Ko Drumming
18th Ausgust TIME: 2 – 3 PM
Taiko Workshops For Kids are suitable for children aged 5 years and up. Taiko Workshops are filled with plenty of fun banging big drums and making lots of noise! Great for learning rhythm, musicality and coordination. Taiko requires teamwork but is a non-competitive activity that everyone can enjoy.
Click Here For More Information!
31st August – 13th September

Prince Big Ted has a royal crown, he has a royal cloak but doesn't have a
royal castle. He sets off to find one, and is joined by his friends 
Humpty, Jemima, Little Ted and the Play School toys as he travels 
through a fun filled world of nursery rhymes, songs and stories. Get 
ready to sing, dance and jump for joy, with a live show that will 
delight and captivate all Play School fans.
Click Here For More Information!

Hoyts Jnr Presents ~ Thomas & Friends: Blue Mountain Mystery
Showing at Hoyts cinemas in ACT, NSW, QLD, SA, VIC and WA from 21st of July until the 16th of September.

Discover the mystery of the lost engine and be introduced to the exciting new destination Blue Mountain Quarry! In this action-packed adventure, Thomas discovers a new engine hiding in the tunnels, and sets off to uncover the truth and get to the bottom of the mystery. Along the way he meets four new engines bought to Sodor from faraway lands… Will Thomas piece together the story and convince his new friend there's no reason to hide? Find out at selected Hoyts cinemas from 21 July!
Click Here For More Information!

Nest-box Building for Native Birds
Piney Lakes Environmental Education Centre Saturday, 25 August 2012
10:30am – 1:00pm
COST: $25.00 per participant
Bookings ESSENTIAL to the Education Officer as places are limited.
Come to Piney Lakes Environmental Education Centre to learn about the importance of nesting-hollows and to make your own to use in your backyard. Meet the excellent helpers from Bicton Men's Shed, on hand to show you how it's done! This is a great way for the family to spend their week-end morning.
Click Here For More Information!
State Library of WA :
Stories Round the Book Totem
 – Big stories for little people @The Place
Storytime happens every Wednesday at 10:30.
Join us to participate in our interactive story fun for pre-schoolers and their carers.Click Here For More Information!

Northern Districts Model Engineering Society – Miniture Railway Public Run Dday
Sunday 26th August 10am – 2 pm.
Held at the Society's track site, Vasto Place. On Public Run Days our grounds are open to the public for picnics, BBQs and of course, train rides. An entry fee applies. A limited range of snacks and drinks are available at the canteen. NOTE: Fully enclosed footwear must be worn (no sandals or thongs). This is a mandatory safety requirement for entry to our track site. Click Here For More Information!
Cubbihouse Live – A Day at the Park
Saturday 25th August Kadadjiny Park Hall, cnr Kitchener & Curtis Rd, Melville. 
10.30am Sat July 28th, with a repeat show at 11.30am.

Cubbihouse will be delivering a special show in the Hall which sits alongside the awesome adventure playground. Entry is $10 for kids and parents are free
Click Here For More Information!

Pregnancy, Babies and Childrens Expo Perth
Friday the 10th August – Sunday 12th August

Planning a family? Already expecting? Have little ones in tow? Discover what's best for you, your pregnancy, baby or child at the Pregnancy Babies & Children's Expo – the must see parenting event of the year!
Click Here For More Information!
Written by www.whatson4littleones.com.au.