Kids Lounge Toy Testers: Bunch O Balloons Review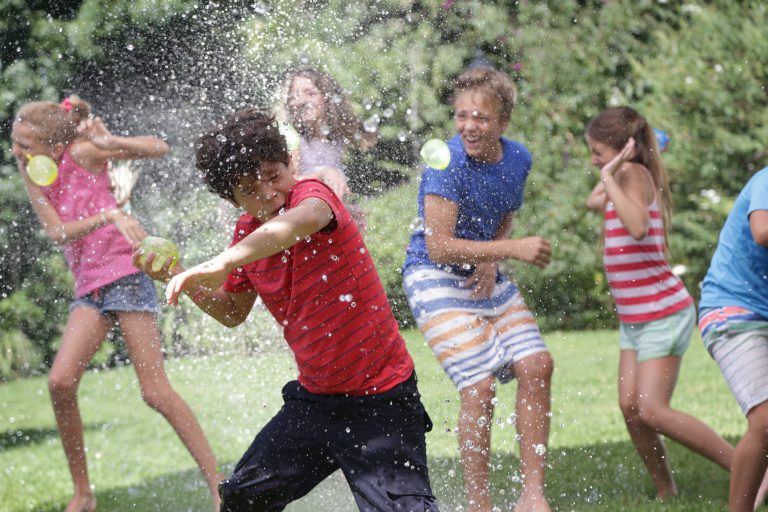 Kids Lounge Toy Testers: Bunch O Balloons Review
 What better way is there to cool off and let off some steam during the warm summer months, than to get outside and have a water fight?
Zuru's Bunch O Balloons will take your next battle to the next level! Now there is no need to waste valuable time trying to refill your water gun or fiddle around with the laborious task of filling and tying water balloons one at a time. Bunch O Balloons lets you fill a whopping 100 balloons in just 60 seconds! Simply connect the Rapid Fill Quick Adapter to a tap or hose – and watch the balloon fill up at the same rate.
Best yet, the innovative design means that the balloons are already pre-tied. Just shake your balloons free and they are ready to be launched! We recommend filling them over a large container of water to prevent them from hitting the ground and bursting before you are ready for action!
Our Kids Lounge Toy Testers filled their first round of water balloons prior to the water fight – so they were all ready for some fast-paced fun and nobody had to take precious time out to reload their ammunition supplies! But the best part was the Toy Testers were so keen to be a part of filling up more balloons because it's just so cool how they all fill up together. And we loved that they fill so quickly so no waning interest or whinging in sight! We did learn though that the balloons need to be filled to maximum volume so they burst on impact …if not properly full, the impact can be a little hard on the littlies.

As you can tell our Toy Testers had an absolute blast! In addition to the water balloons they also had a great time with the splat bat $24.99– a cricket bat that allowed them to practice their technique while batting back the water balloons being hurled their way, or, get sprayed with water!
The Dual Ambush Launcher (RRP $29.99) was also a huge hit with the kids. It can be used to fill up your water balloons or as a water gun to soak your opponents from up to 9m away! With these bad boys, no one is going home dry!
Verdict: Zuru Bunch O Balloons eliminates the frustration of having to stop mid-water fight to painstakingly refill your water balloon supply. Bunch O Balloons are easy to use and so much fun for little and big kids! We can visualise so many summer holiday fun times with Bunch O Balloons and with prices starting from just $14.99 they are very affordable, and make for many unforgettable play experiences the whole family will love! Our Toy Testers were so excited to play with Bunch O Balloons, it's easy to see why they are the biggest selling toy to hit the market this year!
Bunch O Balloons are available from Kmart, Target and Big W.
Bunch O Balloons Giveaway
We've got 10 x Bunch O Balloons prize packs worth $69.97 each to giveaway!
Each prize pack contains:
ZURU Bunch O Balloons (3pk)                                          Ages: 5+, RRP: $14.99
Fill and tie 100 water balloons in 60 seconds. So much fun can be had keeping you soaked in the sun this spring. The best water fights you have ever had! You can take your Bunch O Balloons to any water destination you want.
ZURU Bunch O Balloons Splat Bat                                         Ages: 6+, RRP: $24.99
Take your water fights to the next level with the new Bunch O Balloons Splat Bat-Cricket and baseball bat! Connect, fill and make hundreds of water balloons and get ready for attack! Now you can saturate your target with one hit to create the ultimate water combat! 
ZURU Bunch O Balloons – Value Launcher Pack        Ages: 6+, RRP: $29.99
Create double the watery trouble with the ZURU Bunch O Balloons Value Launcher pack. Featuring x2 launchers, x4 ZURU Bunch O Balloons and x2 Balloon Bags, you'll have the perfect arsenal to create the ultimate water fight. Plus turn the fight into epic proportions with the launcher's 60ft/15m range. Gather your friends, pick you teams and water fight the summer away!  
For your chance to be one of the lucky 10 winners, complete the entry form below.  Good luck!
a Rafflecopter giveaway