6 Reasons Why Parents Swear By This 'Life-Changing' Sleep Aid to Make Bedtime Easy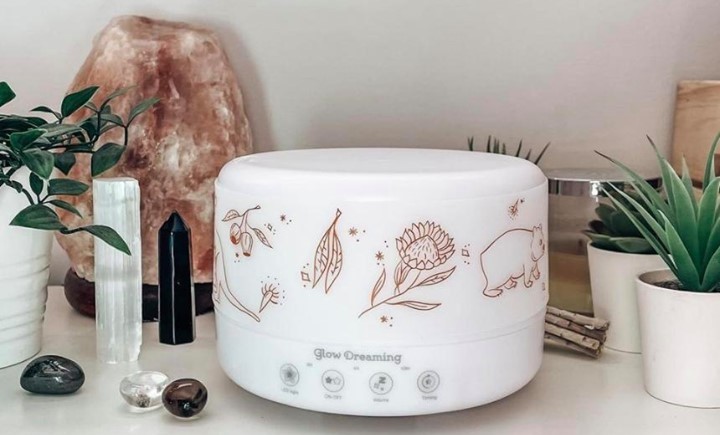 Glow Dreaming – Bringing Sleep To Those Who Need It Most!
Oh, what wouldn't we give to ensure our children got a good night's sleep!
Whether they are up and down like a yoyo at bedtime, early risers, or everything in between, getting our babies and children to bed and ensuring they stay there sleeping peacefully is often a parent's ultimate goal. After all, no one is a beacon of sunshine and light the next day if they've had a rotten night's sleep!
This is why we were so excited to discover Glow Dreaming, an incredible range of sleep aids.
Promising to bring sleep to those who need it the most, these nighttime products take less than 60 seconds to set up. Turn the device on 15 minutes before bed as part of your wind-down routine and the Glow Dreaming does the rest, providing a tranquil environment for the best sleep ever.
Glow Dreaming is a combination of a tinted night light, essential oil diffuser and calming noise generator, creating a lovely ambience scientifically balanced for a perfect night's sleep for people of all ages, from infants to the elderly.
View this post on Instagram
The Glow Lullaby organic oil calms the nervous system and relaxes the muscles preparing your child for sleep, while the red LED light gives them a sense of safety and security. It also stimulates the body into producing melatonin which is the bodies natural sleep hormone.
The Slow Wave Sleep Sound function not only blocks out background sounds like white noise but actually helps your child fall into a deeper better sleep reducing wakeups and ensuring they sleep through the night.
6 Reasons Why Parents Swear By This 'Life-Changing' Sleep Aid to Make Bedtime Easy
If you are still wondering if Glow Dreaming might be beneficial to you, here are six reasons why parents use these life-changing sleep aids to give their children a better night's sleep.
Separation anxiety
It can be extremely difficult to teach an active toddler to stay in their own bed, especially if they are determined to keep getting out of it to stay by your side! The calming qualities of Glow Dreaming help to calm the nervous system and relieve separation anxiety.
Staying asleep
One of our ultimate goals is to have our children sleep soundly through the night without waking up in between sleep cycles. Glow Dreaming helps your child fall into a deeper sleep, reducing the chance of waking often in the night.
View this post on Instagram
Night terrors
Overtired children are more prone to night terrors so make sure that your child is getting enough good quality sleep and have a consistent bedtime routine. Glow Dreaming Sleep Aid has a very high success rate with reducing the number of night terrors.
Special needs
Higher bedtime resistance is found in children with ADHD and special needs. The Red LED Light will assist in combating this resistance by inducing the production of melatonin, ultimately allowing the child to settle and become drowsy.
Co-Sleeping
Placing the Glow Dreaming device close to the child while they sleep will help with the transition from co-sleeping to sleeping peacefully in their own bed.
Winding down
Glow Dreaming helps create the perfect environment to wind down at the end of the day, forming a solid routine for your child to depend on and creating the understanding that it is now time to go to sleep.
Visit the Glow Dreaming website here to find out more about their sleep aid products.
Disclosure: This article contains affiliate links. This means that if you make a purchase, we may receive a small commission, at no extra cost to you.