This Dad Hilariously Explains Why He Will Never Play on Children's Play Equipment Ever, Ever Again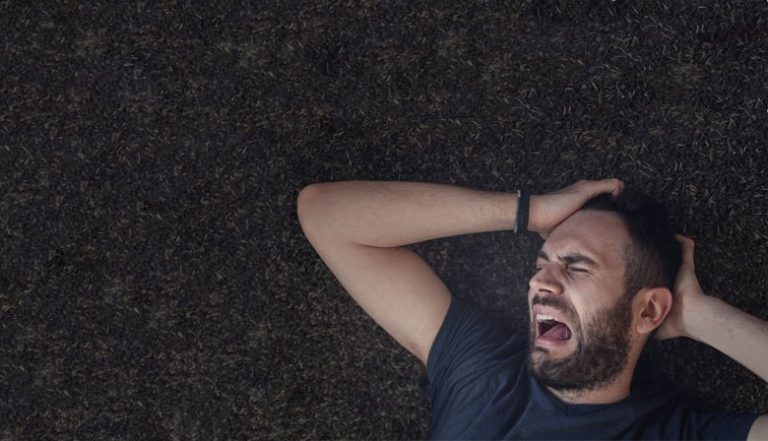 This Dad Hilariously Explains Why He Will Never Play on Children's Play Equipment Ever, Ever Again
Lots of grown ups have been tempted to play on children's play equipment every now and then. Hell, even I've been known to "test out" the swings or flying fox to "make sure" they are absolutely safe for my children to play on. Why should the kids get all the fun? I want in on that shit too!
So when I came across this story, I related to it in a whole new way. After I wiped the tears of laughter from my eyes, anyway.
Read this dad's hilariously account of why he won't be giving the seesaws another go anytime in the future…
A Short Story About Pain and Physics at the Playground
"There I was, perched on to a toddler sized motorcycle that sat on giant spring, tipping slowly backwards towards the ground. How could this turn out badly?
It was a hot day, 3 years ago and Naomi and I had set out for a new playground after becoming bored with our own neighbourhood's play structure. About a mile away, tucked into a grove of cedars was a smaller, older playground with toddler sized equipment and shady benches. Paradise found!
Naomi had never seen some of the dated play pieces before, particularly the ride along ones that sit atop those giant springs that you can rock back and forth upon. Naomi was reluctant to just hop on and go so it seemed that a demonstration was in order.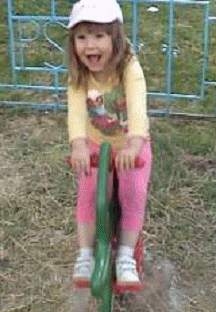 Looking about, it appeared that we had the main play area to ourselves so without the least hesitation I ambled over to a pint-sized motorcycle and gently sat down. Not hearing any telltale signs of impending collapse I raised up my knees to my chest and managed to get my feet on the little pegs. Huzzah! Mission accomplished!
Not at all worried that I probably resembled a melon on a toothpick, I triumphantly said: "see Naomi, nothing to it!" And that's when I noticed the gradual, backwards tipping motion.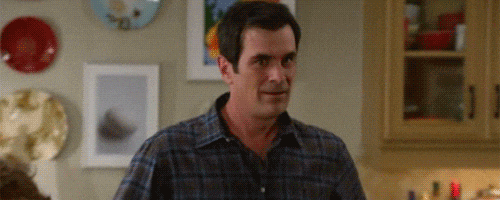 If you've ever wondered what metal fatigue sounds like you should really have been there to hear the very audible protestations of the old metal spring which had not likely been under that much pressure since it was first shaped in the fiery bowels of the steel mill.
My back touched the ground and I sat for a moment admiring the cloudless sky and wondered what to do next.
My elementary grasp of physics helped me rule out the idea that I would somehow, magically lift off the ground back to the upright position and it seemed just a touch embarrassing to call for assistance. I figured I would just let go of the handlebars, roll off onto my back and get up off the ground.
Here are some things I learned: 1. Small children are no help in emergency situations. 2. There are always more people around than you realise. 3. A large coiled spring bent backwards to the ground harbours a massive amount of force.
Legs spread apart, I optimistically let go of the handlebars. The pent-up kinetic energy of the spring propelled the little motorcycle forward at a phenomenal rate of speed where it slammed briefly into the ground before rocketing backwards, to where I was laying on the ground, with my legs spread.
When I came to, the first thing I noticed was Naomi's cherubic face looking down at me with a mix of mirth and uncertainty. I think she wanted to laugh but was worried that I might be dead. I also noticed the sound of chuckling which seemed to come from a number of people that I had not previously noticed were in the park at all.
Now if you've never been struck in the testicles by rapidly moving playground equipment you just can't imagine the universe of suffering and discomfort that clouds your thoughts. There was no "gee, you really are embarrassing yourself, you should get up, collect your daughter and go get medical assistance". Instead, all I managed was a feeble chortling sound that only served to further frighten Naomi.
At this point, I was truly worried that some vital part of me was damaged, ruptured or otherwise rendered useless which truly horrified me. I liked those parts.
Eventually, with great difficulty, I managed to move myself to the bench where I was able to take stock of the situation and begin to figure out how to gingerly trek back to our house.
Too scared to actually inspect the damage, I took Naomi by the hand and, now bow legged, led her out of the park. "But daddy, you forgot our sand toys!" she said indignantly.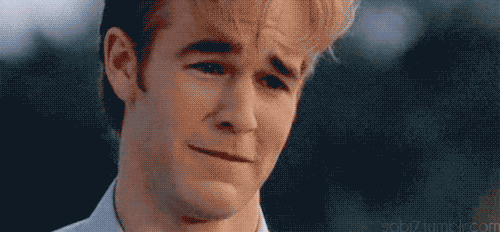 Looking down at her, teeth clenched, eyes half closed, I believe I managed to convince her that I would get her new ones but I'm sure the look on my face was enough to convey that nothing on God's green earth would ever move me to go back to that park as long as I lived.
No sense retelling the difficulty of the walk, the painful examination of the damage or my subsequent fear of small motorcycles. Happily, our third daughter was born last year which confirmed for me that a) I love being a dad to three girls and b) the only damage I really did that day was to my pride."
OMG. Someone has to bring me an inhaler.
Watching grown ass adults hurt themselves on children's play equipment will never not be funny, and he's just given us front row seats.
Glad to hear that all's well that ends well, and that little Naomi is now a big sister. So congrats that your bits still work, buddy! And thanks for the cautionary tale of how you nearly lost your nads on a small playground motorcycle.
Edited slightly for clarity.
Source: Ottawadaddy