5 Ways To Make Your Kid's Bedroom More Sleep-Friendly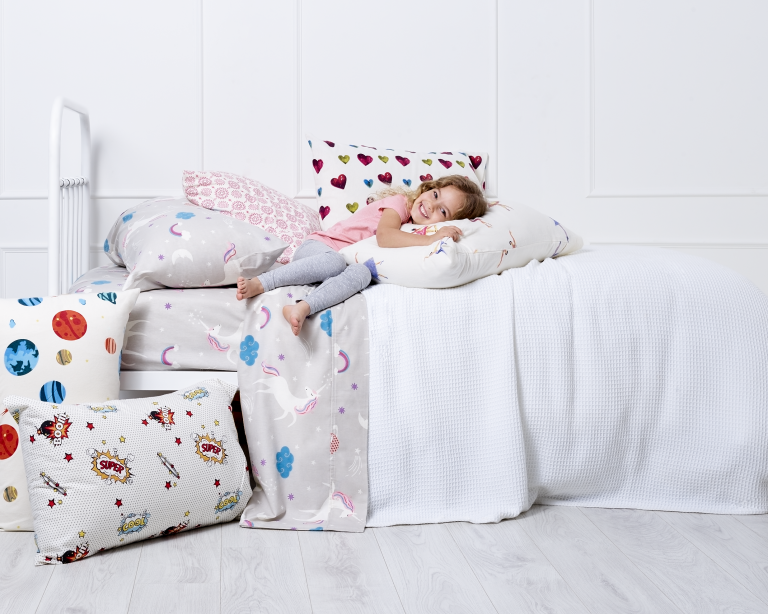 5 Ways To Make Your Kid's Bedroom More Sleep-Friendly
Sponsored post
What are the three words you say to your kids that invoke immediate wails of despair? Ok, it's true that 'eat your vegetables' is on the list but possibly the three words they hate the most are 'time for bed.' If those words are a cue to your child to ramp it up a bit, you need some help. So, what can you do to make bedtime more enticing for your little ones? Let's start by making their bedrooms a little more sleep-friendly. Here's how:
Use popular bedding
Kids love the themed quilt cover sets so why not let them choose one they love from Spotlight's extensive range of kids bed room collections, at the lowest price guaranteed. Add a matching sheet set and talk about how inviting their bed now looks and how well they will sleep. Ensure all their bedding is comfortable, that it fits properly and that their pillows are the right size. A padded mattress protector is a great way to make the mattress seem softer while still retaining some firmness, which is good support for their growing bones.
Add some comfy touches to the bed
Pop a soft and snuggly colour-coordinated throw rug and a few fun cushions on the bed to make their bedroom look as alluring and relaxing as yours. Extra pillows are nice too. Kids love a comfortable assortment of squishy pillows and cushions on their bed just like we do.
Add a hot water bottle
Hands up if you relish the thought of climbing between icy cold sheets on a chilly winter's night. No? Neither do your kids! So make their bed more inviting by popping a hot water bottle between the sheets for a while before bed time. Spotlight's range of hot water bottles have gorgeous covers the kids will love.
Darken the room
Use lamps or dimmers so that the room isn't too bright when they go to bed and hang blockout curtains from Spotlight's fabulous selection to prevent light from disturbing their sleep. Thick blockout curtains also provide some insulation from noise, cold and heat for a quiet bedroom and a pleasant sleeping temperature. For children afraid of the dark, use night lights to keep the bogeyman away.
Declutter
Just as clutter can impact upon your quality of sleep, it can do the same to your child. While your bedroom clutter is different, the clutter in children's bedrooms usually consists of toys and activities which they connect with play time, not sleep time. Too much stimulation will make it harder for your child to wind down at bed time, so utilise wardrobe space, cupboards or storage cubes, chests or boxes to tidy away all the toys and games before bedtime. Don't pack away the books though – a selection of bedtime stories can be a positive bedtime association for your children and a nice way to unwind together.
Sweet dreams kids!