5 Simple Steps To A Perfect Home Writing Station For Kids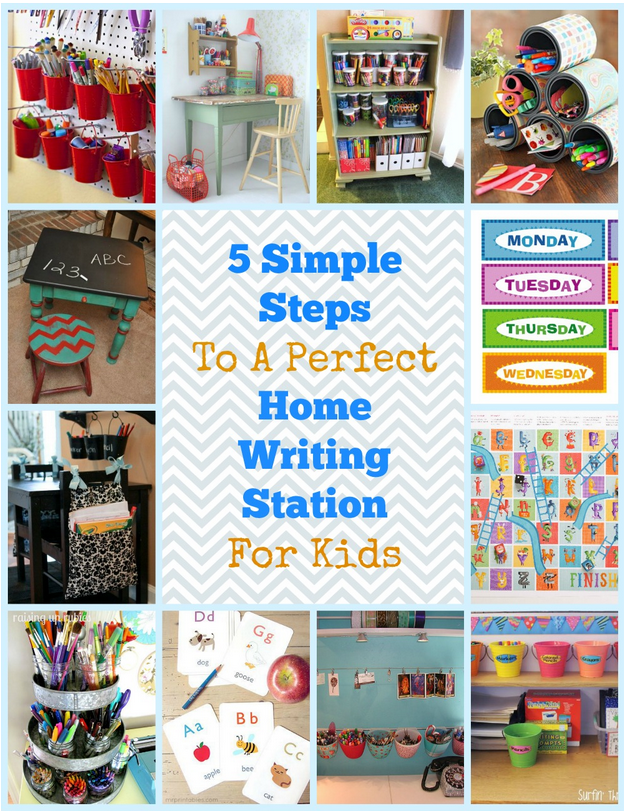 Home Inspiration: Writing Station for Kids
Whether your little one has started school or is chomping at the bit to do so, it's a great idea to have a writing area set up at home. A writing area is a special little spot where your child can let their imagination run wild, all the while develop their writing skills. A writing area doesn't have to be an expensive or time consuming thing to set up – in fact some of the best writing areas are a simple DIY job filled with bits and pieces from the local $2 shop. We've got you covered with all of the basic things you'll need to make your writing area useful and exciting… and of course, don't forget add in your own special little touches too!
Furniture
First of all you'll need to make sure your child has a table to write on and a (comfy!) chair to sit on. It's super handy if you also have a shelf or two to pop your writing supplies on. Op shops are a great place for finding little tables, chairs and shelves – give them a fresh coat of paint and a little DIY love and you'll be amazed at what you can create for next to nothing. Check out these great examples.
Image credit: Helmentalo
Image credit: Amanda Nisbet Designs
Image credit: Etsy  
Supplies, supplies, supplies!
Possibly the most important thing to remember when setting up a writing area is to make sure it's full of lots of fun and exciting bits and pieces. Here's a few ideas to get you started:
Textas, pencils, highlighters, crayons and bright pens (even the most reluctant writer won't be able to resist a bright, sparkly pen!);
A selection of different paper – coloured, plain, lined and blank;
A little notebook, diary or address book;
A clipboard (trust me on this one… give any child a clipboard and suddenly they're pretending to be a writer for the New York Times!!);
Envelopes, stamps, postcards, sticky notes, junk mail brochures, magazines, and;
Scissors, a ruler, eraser, sticky tape and paper clips.
Image credit: Raising up Rubies 
Storage
Once you've got all the supplies sorted, you'll want to keep them neat and tidy. A well organised writing area is so much more attractive to kids, so it's important to set it up right! For a cheaper DIY option, find some old glass jars around the house and paint them in cool colours, use plastic cups, tins, empty containers, magazine holders or anything else you can find around the house. I love these budget-friendly ideas for jazzing up your storage.
Image credit: BHG  
Image credit: BHG
Image credit: Surfin Through Second 
Educational Resources
An alphabet template (for learning how to write letters and for practising correct letter formation);
Days of the week;
A calendar;
Writing templates – recipes, letter writing, menus, narratives… and pretty much anything else you can think of;
A basic children's dictionary – make sure you choose one that is simple and includes pictures;
Word games and flashcards, and;
Story starters or story stones.
Image credit: Tiny Me 
Image credit: Zoe Friend
Other optional bits and pieces
A mini chalkboard and chalk;
Something to display work on – string, pinboard or magnetic board;
Picture books;
Stamps;
Stencils;
Poster paper, and;
Felt, material and craft paper.
Image credit: Crafty Intentions
Image credit: Lovin Our Chaos
The most important thing to remember when setting up a writing area is to make sure that it's an inviting and fun spot that your child is excited to use. It's a great idea to get your littlies to help as much as possible when setting up the area, so that they have ownership of the space…. and it will definitely get them super excited about getting to write in their special spot too!