How to Set Up the Perfect Nursery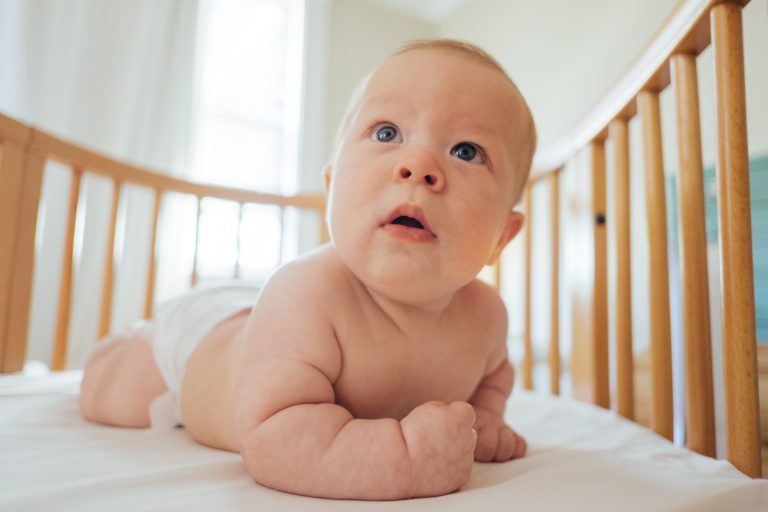 How to Set Up the Perfect Nursery
You only have to type up the word 'nursery' into Pinterest or Instagram to see that the decorating, designing and styling of baby rooms in big business. Of course, if your budget allows, there is no reason why you shouldn't create a beautiful sophisticated space complete with designer baby furniture, but it certainly isn't necessary. What is most important when creating your new baby's room, is to ensure that it is safe, practical and comfortable. It's also worth remembering that in the scheme of things, your baby will only need to use some furniture (such as the cot and the change table) for a proportionally short amount of time, and before you know it you'll be decorating the room for a toddler. So unless you plan on using the nursery for subsequent children and moving your baby to another room when they are big enough, consider furniture that grows with your child. e.g. a cot that can convert to a toddler bed. The important thing to remember is that yes, baby things are super cute, but don't be fooled into thinking that you need everything!
So, what do you actually need in your baby nursery?
Cot
The most important thing to consider when choosing your baby's cot is safety.
Only well-maintained cots built to strict safety standards are good enough for your baby. Cots that meet the standard will have a clear label – AS/NZS 2172 for cots and AS/NZS 2195 for portable cots.
Cots that don't meet the standards have many risks, including lead paint, gaps that children could get caught in, and sides that are too low and that children could climb over.
The second thing to consider is where to position the cot in the room. This should be away from windows and blind cords, and away from the outside walls if the climate you live in makes it draughty or cold.
Feeding Chair
Regardless of how you choose to feed your baby (breast, bottle or a combination of both), you are likely to clock up many hours of both daytime and night-time feeding. Whilst being woken up during the night to nurse your baby can be exhausting, having a comfortable place to settle into with them makes the experience a heck of a lot easier. Holding even a small baby for long periods can get tiring, so make sure it has adequate armrests and is wide enough to accommodate you, your baby and a cushion or nursing pillow if you plan to use one.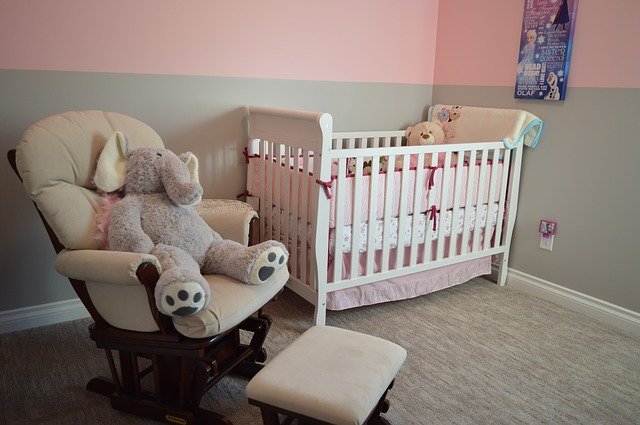 Hot tip: If you decide to go with a rocking chair, be sure that it doesn't squeak as this could interfere with your efforts to settle your baby back to sleep.
Baby Monitor
Many parents find that having a baby monitor with or without a camera in their baby's nursery, gives them greater peace of mind. As with any electrical equipment in your nursery, you must position your baby monitor away from the cot so that electrical cords aren't within reach.
Two important things to consider when setting up your baby monitor is where to put it and how far away it needs to be.
Change Table
Considering I bought a change table and used it maybe a handful of times with 3 babies, I'm going to say that it isn't a necessity and a change mat on the floor works just as well. However, there are lots of reasons to consider including one in your nursery. Bending over a mat on the floor isn't ideal, for example, if you are recovering from a caesarean birth, and they can be a real back saver. Some change tables are designed with storage space and drawers etc, in them, so they can be a great way of keeping the room organised.
Light
Okay, so there are two things to consider when it comes to the light in your nursery. Firstly, considering your baby will be taking two naps during the day in the first 12 months, and 1 day nap up until the age of 3, you're going to want to make sure that you can make it dark during the day, and street lights aren't disrupting your child's sleep at night. Consider investing in some heavy curtains or block out blinds. They'll be worth every penny!
Secondly, you'll want a nice soft night light that you can feed by during the wee small hours. The last thing you'll want to do at 3am is turn on the main light – waking you both up and making it difficult to settle your baby back to sleep post-feed.
Now that you've got your nursery essentials in place you can think about decorating!
Not sure what theme to go with? Don't stress! Some parents decide to wait and decorate their nursery with wall decals and wall art according to their child's personality and interests as they develop.
Can't wait? We recommend putting your feet up and heading to Instagram and Pinterest and indulging in a few hours of scrolling through #nurserydecor for inspiration.