I Love My Children Quotes – The "Real Mum" Edition!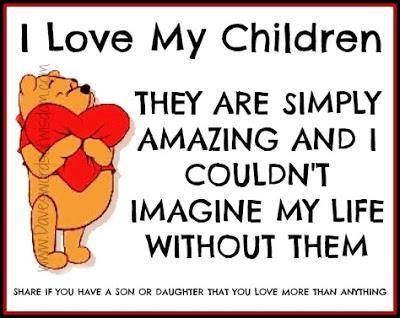 I love my children quotes – the "real mum" edition!
This is a contribution by Janine Mergler, Editor of Families Magazine Brisbane – the clever resource for thinking parents.
We all have that one Facebook friend… Five times a day she's posting inspirational "I Love My Children Quotes". Nothing says "I cherish every moment" like a cutesy cartoon character or the outline of a baby's foot. Here's some news my dear, we all love our children. We all love them for all the reasons scrawled in pink with oversized bubbly quotation marks chocking our Facebook feeds.
Frankly, though, the moments in life when I love my children the most, are never actually captured in a pithy quote on a sunset background. So, here's some "I Love My Children Quotes" for REAL life moments.
Parenting Quotes for REAL Mum Moments
I love that my children can get me out of just about any commitment.
A beach barbecue with your year ten hockey team… and their husbands… and their kids? Wow, sounds like a blast but little Johnny has a soccer final that day! Damn. It just sounds more polite than "Wow, I'd rather get a colonoscopy!" Work function with all the people you can't stand from work? Oh, I would LUUURRRVVEEE to come but my daughter has a ballet recital that day and I can't miss it! We'd LOVE to stick around for the slideshow of your trip to Broken Hill but we have to get the baby home…. At no time do I love my children more than when they deliver me with a neat and indisputable excuse to get out of painful social occasions!
A mother's love…. Of childish foods!
All those foods you lived on when you were at university… are now known as "sometimes foods" for kids and "once they're in bed" foods for mums. There's no greater moment in a mother's love when you can justify buying chocolate covered muesli bars knowing full well they won't eat them and that you'll have to.
For mums who love to unleash their inner Christmas elf

Remember how much you loved Christmas as a child? Then you turned adult and suddenly it was a dull affair filled with drunk uncles and ugly sweaters. If there's a biological clock, it seems to chime at Christmas time because you're suddenly 100% committed to tacky lights, intricate craft and overpriced wrapping paper! I love my kids at Christmas… so much I want to wrap them in tinsel, with matching baubles, and then theme them to be colour co-ordinated. Top them off with an angel made from paper plates and glitter glue….
I love my children because I am always late anyway
Yes, I'm the one who is ALWAYS at least fifteen minutes late. When you don't have children, that shiz is on you. When you do, your friends get their own form of baby brain where they forget that you've been tardy all your life. Now, they assume it's because you have children delaying you at every turn. It works too for "being too late" excuses! Too late to do the spin class this morning, "too late' to help out at that worker bee, "too late" to make a breakfast meeting… may as well not go – better than being the "late one".
I love my children most around Easter and Halloween

It's not just Halloween dressing up (although that's awesome fun, but super weird if you have no kids) it's that after Easter and Halloween there's a stash of treats singing a siren song from the pantry from the moment the kids go to bed. It's all about helping (forcing) them to make healthy choices right? If you eat 4 Freddo Frogs in one mouthful, you're saving their little bodies all that sugar. You're a good mother who loves her children enough to eat their stash.
Yes I love my kids but "I love my children quotes" not so much. Not much at all when the funny cats and shoe sales in my Facebook feed are pushed out for pithy memes! If you love your kids, take a moment to acknowledge that, every day, while you scoff their chocolate.
It's OK to fail at parenting, if you love your children but can't help but mess it up, you'll laugh out loud at this story about parenting too.  In the mean time, keep the "I Love My Children" quotes out of my feed!