This Mum's Hilarious Toy Unboxing Video Is All of Us on Christmas Morning!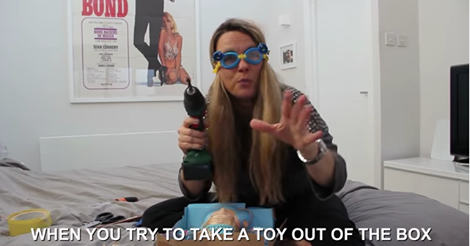 This Mum's Hilarious Toy Unboxing Video Is All of Us on Christmas Morning!
We've all been there – trying to get the damn toy out of the box on Christmas morning has become part of the joy of Christmas, right?
Wrestling with the manufacturer's packaging, trying not to lose your shit in front of excited little faces eagerly (and not-so patiently) awaiting their newest toy. It's a beautiful way to start the day, and an unspoken tradition of family Christmases.
After the children have unwrapped their presents and thrown the giftwrap everywhere, you have to get through the lethally sharp plastic packaging, secured with the stickiest sticky tape known to man.
But that's only half of the battle! Vlogger Tova Leigh has detailed the whole infuriating process to hilarious effect in her new YouTube video.
"Don't worry, Mommy's got the screwdriver," she confidently announces as she attempts to remove the new toy from the packaging. She enlists the help of a power drill and other various tools in the process. Perhaps having some secateurs or even some bolt cutters on hand would speed up the process a little?
Here's another good tip for all of us to remember on Christmas morning:
Make sure you don't accidentally throw away a Barbie shoe or tiny Shopkin cheeseburger with the wrapping paper. You'll be out rummaging through the wiz bin for the best part of an hour. Done that too.
Here is one final tip for a stress-free and happy Christmas:
Merry Christmas! And don't forget the batteries!