2 Ingredient Nutella Scrolls Recipe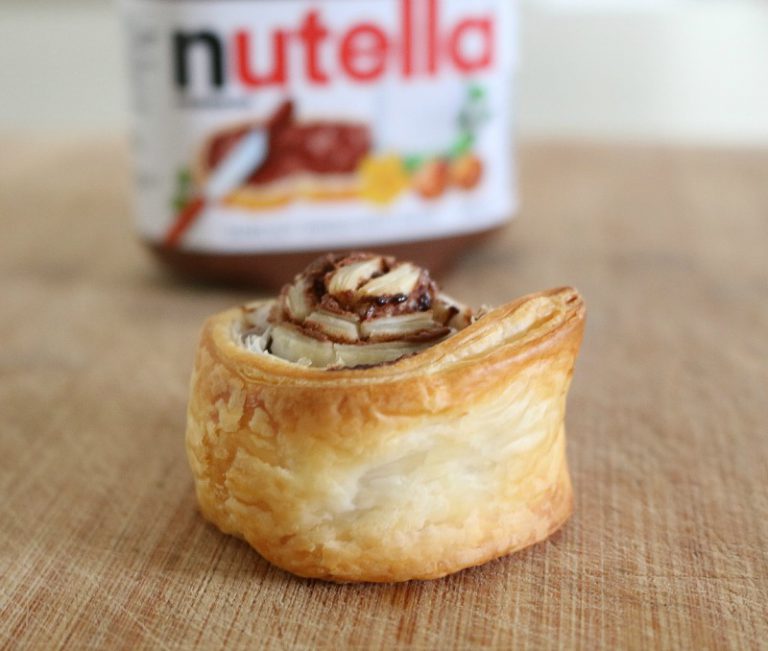 Hands-up if you're a little bit addicted to Nutella? Yep, me too! There's just something so delicious about that beautiful, creamy, hazelnut spread. Yum. And to be honest, I've been known to eat it straight from the jar. If you've never done that, please try it. I promise that it will blow your mind. It's possibly not the best thing for your hips, but it's oh-so-good for your lips! Thankfully, these scrolls are nice and tiny, so it's totally ok. Do you like my sugar-filled logic?
 Anyway, back to this deliciously simple 2 Ingredient Nutella Scrolls recipe. This is so, so simple! All you need is two defrosted sheets of puff pastry and Nutella… oh and an oven too, of course. You can prepare these scrolls up in no time at all (in fact they'll take you less than 5 minutes) and they make the perfect lunchbox treat or mid-morning snack.
To make the Nutella Scrolls you will need to defrost two sheets of puff pastry (you can use more or less depending on how many scrolls you would like). Cut each puff pastry sheet into 8-10 long thin strips. Use a knife to spread Nutella over one side of each pastry strip. Starting at one end, roll the pastry up until you have a scroll shape. Place the scrolls face-side-down onto a baking paper lined tray. Place into an oven preheated to 200 degrees and cook for 12-16 minutes, or until golden and puffed in the middle. I like to start checking on my scrolls from about the 10 minute mark as every oven is slightly different. The outside pastry will puff up quickly, however, you want to make sure that the inside layers have puffed too.
Oh gosh these are so good! Think crispy pastry layers covered a rich chocolatey inside. Yes please! How could anyone possibly resist such a delicious little treat?
 I love how quick and easy these are! You can eat them warm (try them with a scoop of ice-cream… OMG!), or you can allow them to cool and store them in an airtight container at room temperature. Pop them into your kids lunch boxes for a yummy recess treat, or keep them for yourself to enjoy with a mid-morning cuppa.
 Are you a Nutella fan too? How do you like to use Nutella in your cooking? Do you think your family would enjoy these 2 Ingredient Nutella Scrolls too?