Apricot and Chocolate Chip Cake Recipe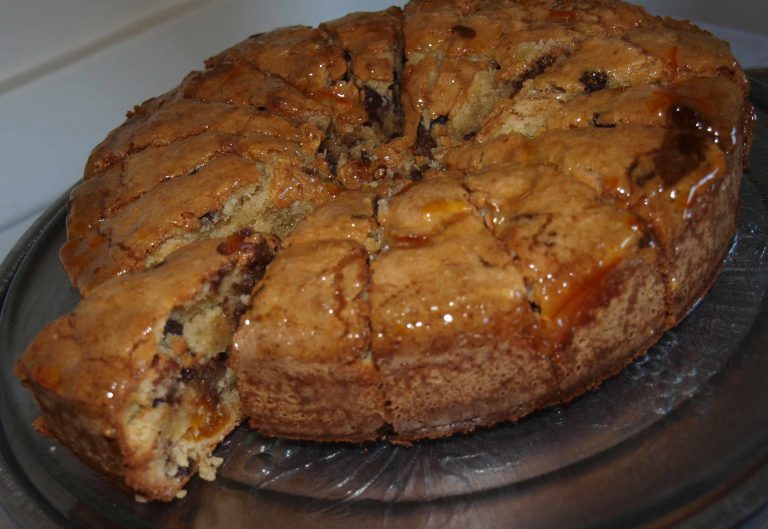 Wellness Retreat Solar Springs Hatted Chef Francois Razavet's – GF Apricot and Chocolate Chip Cake
Apricot and Chocolate Chip Cake Recipe
Ingredients
6 eggs
250 g /9 oz castor sugar
400 g / 14 oz almonds
100 g / 3.5 oz dessicated coconut
100 g / 3.5 oz choc bits
100 g/ 3.5 oz  dried apricots
1 tablespoon vanilla essence
1 tablespoon baking powder
Marmalade, Glazing for cake
Instructions
Preheat oven to 160 C / 320 F
Prepare 24cm (9.5 inches)  spring form tin - line with baking paper and grease
Place almonds in TM bowl and mill for 15 Sec Speed 9. Set aside.
Place apricots in TM bowl and chop 3 Seconds Speed 7. Set aside with Almond meal.
Add sugar in bowl and mill 4 Seconds on Speed 9. Scrape down.
Add eggs and baking powder and cream thoroughly for 2 minutes on speed 4 (must be really frothy)
Add all other ingredients and mix for 10 seconds on speed 5.
Pour into tin and bake for 40-60 minutes.
Let cake cool down a bit, take out of tin and spread marmalade on top while it still warm to form a lovely glaze.
https://mumslounge.com.au/lifestyle/food/apricot-and-chocolate-chip-cake-recipe/
Francois Razavet, Solar Springs Chef
Francois was born on in Amiens, North of France before his family moved to South-Provence when he was just a young boy. He began cooking at a young age and was a Chef at just 15 years of age.
Francois's love of cooking was born around the kitchen table of his grandparents' farm in the south west of France. "Sunday morning my grandmother would go out and get a duck or a chicken and it would be on the table for lunch. Fresh ingredients."
Francois has worked in France, the UK, Corsica, Italy, Jersey-Channel Is, Ireland and Canada, and began his career in Australia in 2000 after visiting for the Olympics. He moved here permanently in 2005 and has been living in the Southern Highlands since.
Prior to joining Solar Springs Retreat 18 months ago, Francois worked at Peppers Manor House in the Southern Highlands for 6 years.
Accolades include a Chef's Hat at Peppers Manor House for the 2009 & 2010 Sydney Morning Herald's Good Food Guide Awards. He was also awarded an Australian Good Food Guide Hat in 2011.
His inspiration is Michel Bras, Laguiole, France-3* Michelin – where he has dined twice.
Other delicious recipes at Mums Lounge:
Even  More Cake Recipes
For more recipes like these, click here to go to other Cake Recipes in MumsLounge.com.au.