Best Ever BBQ Chicken Marinade Recipe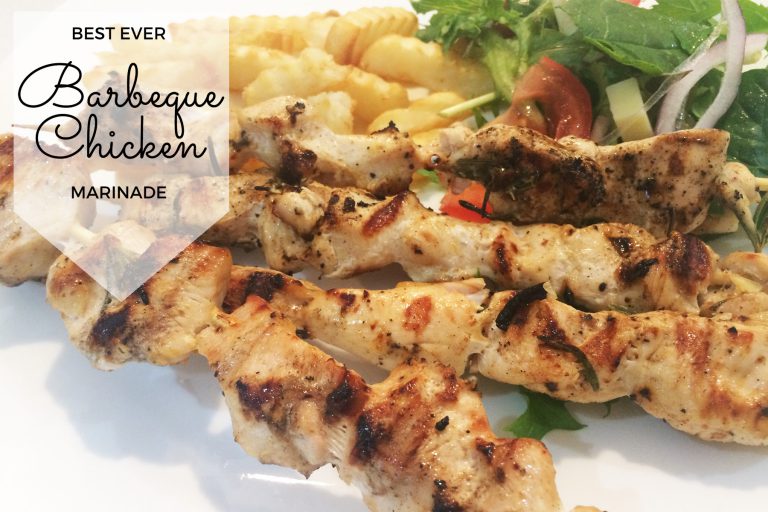 Best Ever BBQ Chicken Marinade Recipe
This is the best recipe for a smoky barbeque chicken marinade ever! Use it to coat chicken drumsticks, diced chicken for kebab skewers, wings or chicken breast fillets sliced into steaks – whatever you like!
I used this fabulous recipe to make chicken kebabs because that is my children's favourite. They love eating things off sticks with a passion, so we eat a lot of kebabs. And fairy floss, Pluto pups and toffee apples now that I think of it.
Anyway, here's what you'll need to make this amazing marinade.
Olive oil, salt and pepper, ground paprika, ground cumin seeds, chilli flakes, garlic, onion, fresh herbs (I used rosemary) and beer! Yay! You get to drink whatever you don't use so make sure you buy a lot of it. The recipe calls for one and a half cups, or about 350mls.
Combine all of your ingredients in a glass jug (check the recipe card below for quantities and directions) and add to a ziplock bag with your chicken pieces.
Pop it in the fridge and allow the chicken to marinate for at least one hour or overnight if you have that much time.
Then simply remove the chicken and cook however you like! I threaded mine onto kebab skewers and grilled them on the barbeque.
Serve with chips and a salad for a simple family-friendly meal.
Best Ever BBQ Chicken Marinade
Ingredients
½ cup olive oil
1 teaspoon sea salt
½ teaspoon ground black pepper
½ teaspoon paprika
½ teaspoon chilli flakes
2 cloves garlic, chopped
1 small onion, chopped
½ cup chopped fresh herbs
1½ cups beer
Instructions
Pour olive oil into a 500ml measuring jug.
Mix together salt, pepper, paprika, cumin, and chilli flakes and add to olive oil. Add garlic, onions, and herbs. Mix together well with a fork. Slowly add beer and continue to stir.
Add chicken to a ziplock bag and pour the marinade over the top. Remove as much air as possible from the bag and seal. Turn the bag from side to side to make sure all chicken has been coated with the marinade.
Refrigerate the marinating chicken in the bag for up to 1 hour or overnight if possible, turning the bag over every few hours to keep the chicken coated.
Remove chicken from the bag and cook as desired. Throw leftover marinade away immediately.
https://mumslounge.com.au/lifestyle/food/best-ever-bbq-chicken-marinade-recipe/