Cheesy Garlic Crack Bread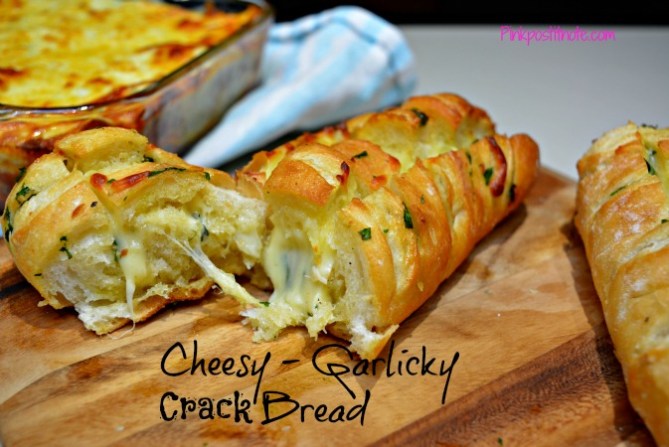 Cheesy Garlic Crack Bread
I've been seeing a lot, and I mean a LOT of "how-to" food videos on Facebook lately and they totally hook me in. Apart from the music. The music is terrible. I always mute the sound. Someone needs to fix that. So I watch them all and while they are mostly clever and look fairly easy, very few of these videos will ever lead to me personally making the portrayed recipe because I can't be bothered pausing and writing down the ingredients and most of these videos don't even give you a link to the recipe so it's mostly just a big time-waster for me.  Like, I really need that what with Pinterest, Instagram and the rest of everything and anything on F'book.
Anyway, one thing that did grab my attention was this Cheesy Garlicky Crack Bread. No recipe was required because the method and ingredients were a no-brainer. I ended up making this twice in one week because as delicious as my first attempt was, it didn't turn out quite the way I wanted it to because I bought the wrong kind of bread. The video showed a big, round loaf of bread which was probably something really dense like sourdough but I bought an ordinary white cob. Cutting through it was difficult because it was so fragile it fell apart a little bit and didn't hold its' shape. Also it was so thick the filling didn't make its' way through to the centre and clearly something called Cheesy Garlicky Crack Bread needs to have some of that goodness in every single bite.
Enter the second attempt with individual sourdough rolls and it was perfection! This goes fantastic with lasagna or spaghetti bolognaise. Or steak. Or just all on its own. Yum.
Cheesy Garlic Crack Bread
Ingredients
2 x sourdough rolls (or similar sturdy bread rolls)
1/2 cup butter, melted
3/4 cup mozzarella cheese, grated
2 tsp crushed garlic
2 tsp thyme leaves
1/4 cup parsley, chopped
sea salt & cracked black pepper
Instructions
Pre-heat oven to 180C/350F.
With a sharp knife, cut two long diagonal cuts 2/3rds of the way through the breads then make diagonal cuts in the opposite direction across the first cuts.
Mix the butter, garlic, thyme, parsley and salt and pepper together and use a teaspoon and your fingers to gently spread throughout the cuts. Then gently stuff the cheese into the cuts. Wrap in foil and bake for 15 minutes, then unwrap and bake for another 5-10 minutes or until the cheese is golden and melted.
https://mumslounge.com.au/lifestyle/food/cheesy-garlicky-crack-bread/