Curried Sausage Tray Bake Recipe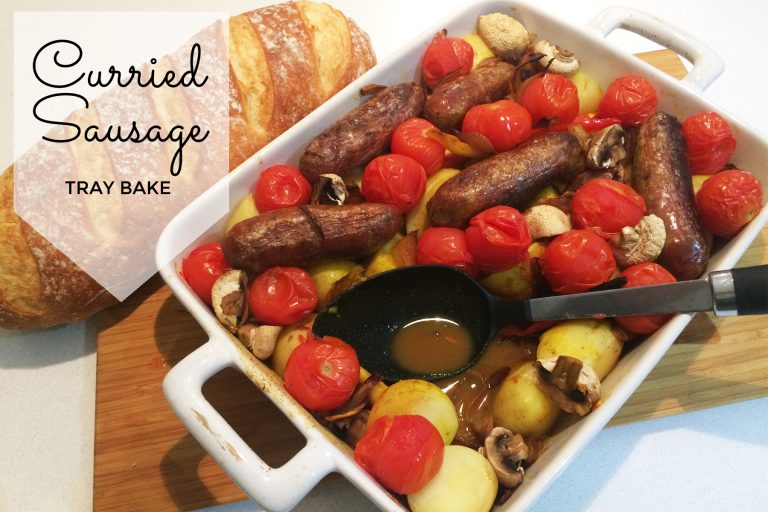 Curried Sausage Tray Bake Recipe
There are a few types of recipes that every home cook holds dear to their hearts – one pan wonders, no-fuss slow cooker casseroles, and tray bakes to name a few. Oh how we love a good tray bake around here! Arrange everything in a big pan and bung it in the oven until done. Dinner is served!
This tray bake ticks off two of my boxes for an awesome family meal – tray bake and sausages. Everybody loves sausages and they are too easy to make. We are always looking for new ways to prepare sausages and serving them up with roasted potatoes, tomatoes and mushrooms with a curry sauce has to be one of the best ways ever!
Here's what you'll need to get this dinner on your table in about an hour.
Baby potatoes, good quality sausages (as many as you need to feed your family, any quantity is fine), cherry tomatoes, mushrooms, a red onion, a long red chilli (you can leave this out if you want), garlic, turmeric, chicken stock and curry powder.
I also had the brainwave of buying a Vienna loaf from the supermarket bakery for a couple of dollars and popped that in the oven with about 15 minutes to go. OMG, I'll be doing that again! It was lovely and warm and crusty and OMG. This girl loves her carbs.
So anyway, parboil your potatoes for ten minutes, then pop them in a casserole dish or deep oven tray. Fry your sausages until mostly cooked through and arrange them on top of the potatoes. Then add the onion and garlic to the frying pan with your spices and stock. Pour that over your sausage and potato mix.
Bake in the oven for 20 minutes, then add the mushrooms and tomatoes and bake for another 25 minutes. How easy is that?
My family loved it, and the curry flavour wasn't too strong or spicy for the children, although you could knock it back a bit if you wanted to.
Give it a try, I hope you like it as much as we did!

Curried Sausage Tray Bake Recipe
Ingredients
2 tbsp Olive oil
6-8 good quality sausages
1kg baby potatoes, halved
1 long fresh red chilli, halved lengthways
1 large red onion, cut into wedges
2 garlic cloves, thinly sliced
1 1/4 tsp curry powder
1 teaspoon turmeric
250ml chicken stock
2 punnets of cherry tomatoes
150g mushrooms, halved
Instructions
Preheat oven to 200C/180C fan forced. Place potatoes in a large saucepan full of boiling water and parboil for 10 minutes. Meanwhile, heat a non-stick frying pan over medium heat and add olive oil. Cook sausages, turning, for 6 minutes or until browned. Transfer to a large roasting pan. Add potatoes and chilli to roasting pan.
Return frying pan to medium heat and add onion and garlic. Cook, stirring, for 2 minutes or until aromatic. Add the curry powder and turmeric. Stir until aromatic. Stir in stock and bring to the boil. Pour over sausage mixture. Roast for 20 minutes.
Add tomatoes and mushrooms to the roasting pan and roast for 25 minutes or until softened. Serve immediately with crusty bread.
https://mumslounge.com.au/lifestyle/food/curried-sausage-tray-bake-recipe/