Delicious and Nutritious Roast Vegetable Quiche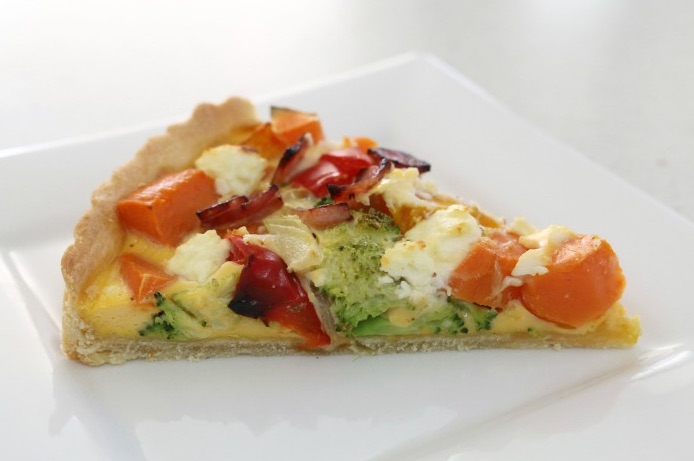 Delicious and Nutritious Roast Vegetable Quiche
For many of us, planning what to have for dinner every single night of the week is really quite a bore! And to be honest, it's just another job to add to the never-ending list of things to do. So I'm here to take the hassle out of deciding what to cook for your family tonight with my Quick & Easy Roast Vegetable Quiche.
Yep, you can have dinner whipped up in no time at all and you'll be able to kick back and relax for the night (or more likely, run around doing the other zillion jobs that are calling your name – overflowing laundry basket anyone?).
Even though I like my dinners to be quick and easy, I also want them to be healthy and include lots of yummy vegetables. This Roast Vegetable Quiche ticks all of those boxes!
It's also a great way to use up any leftover roast vegetables you have in the fridge – and that will save you even more time too.
Best of all, this quiche tastes great served warm or cold for lunch the next day. I'm sure I'm not the only one who LOVES having leftovers for lunch!
So let's get into the recipe:
Delicious and Nutritious Roast Vegetable Quiche
Ingredients
• 1 sheet defrosted shortcrust pastry
• 2 cups mixed vegetables of your choice, chopped (you can also use leftover roast vegetables cut up into 2cm chunks)
• 1 tbs olive oil
• 150g bacon, diced (you can also use diced ham)
• 100g crumbled feta (you can substitute the feta for grated cheddar cheese if you like)
• 4 eggs
• 150g full fat cream (or milk)
• sea salt and cracked pepper, to taste
Instructions
Preheat oven to 200 degrees celsius.
Chop your vegetables into 2cm chunks and place onto a baking paper lined tray.
Drizzle with the olive oil and season with salt and pepper and set aside.
Grease a 23cm flan/tart tin.
Place the sheet of pastry over the tin and press down.
Trim off any excess pastry.
Prick the base all over with a fork.
Line the base and sides of the tin with baking paper.
Half fill with rice or baking beads and place into the oven with the tray of vegetables for 15 minutes.
Remove both the vegetable tray and the pastry tin from the oven and carefully discard the rice and baking paper.
Reduce oven temperature to 180 degrees celsius.
In a large bowl place the eggs, cream, crumbled feta, and salt and pepper.
Whisk for 20 seconds or until well combined.
Place the roast vegetables and diced bacon on top of the pastry.
Pour the egg mixture into the tart tin and place into the oven.
Bake for 30 minutes or until lightly golden and firm in the middle.
Serve with a light salad or on it's own.
https://mumslounge.com.au/lifestyle/food/delicious-and-nutritious-roast-vegetable-quiche/
Prep time: 10
Makes: 4-6 servings