Grilled Broccolini with Sweet Chilli Cashews Recipe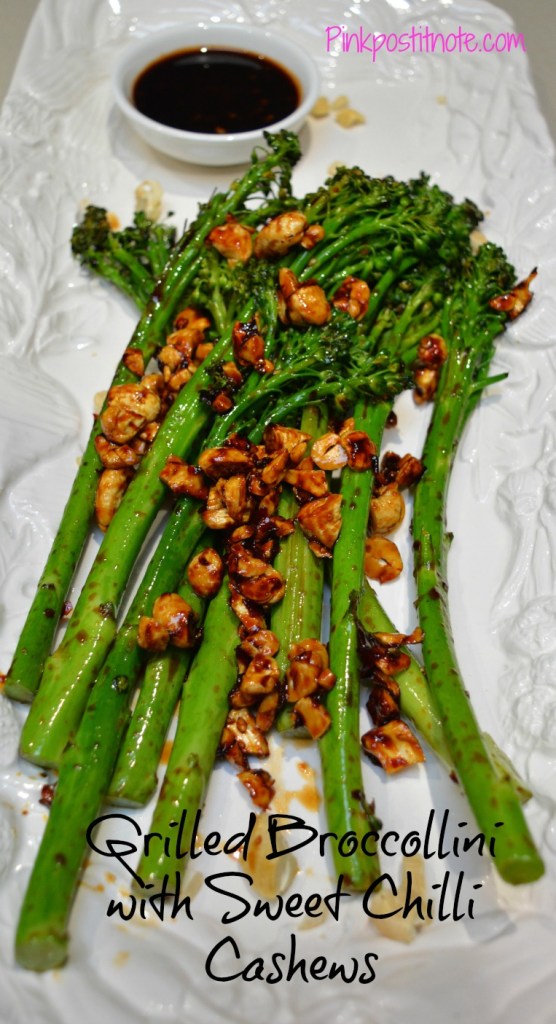 Grilled Broccolini with Sweet Chilli Cashews Recipe
Confession. I don't really like vegetables very much. Or maybe I've mentioned that here before. I'm not sure. If I have, I apologise but I feel the need to unburden my childish dislike of vegetables as often as I can just to see if anyone else will put up their hand so I don't feel so stupid. I do eat them but on a limited basis of carrot, corn, broccoli and cauliflower. Oh, and potatoes because they are totally a vegetable of the most epic kind. I don't like peas, turnips, parsnips, pumpkin, beans, beetroot or anything else really. Until…I discovered how to turn a humble bit of broccolini into vegetable candy! Yesssssss.
If you don't have a bottle of ketjap manis in your cupboard I implore you to get it and have it on hand at all times. It's a thick, sweet soy sauce and I marinate steaks in it, I make a fantastic satay sauce out of just ketjap manis, peanut butter and minced chilli and now I have discovered that it is epic on broccolini. Added to this are some cashews with a hint of chilli (or omit that if you don't want it hot) and you have transformed a little tree into a little bit of heaven. We are on a bit of a health kick at home so I'm steppin up the vegetables and pullin back on the carbs and this was a massive hit.
Grilled Broccolini with Sweet Chilli Cashews Recipe
Ingredients
1 bunch broccolini
1 tbsp. vegetable oil
1/4 cup kejap manis
2 tsp minced red chilli
1/4 cup chopped unsalted cashews
cracked black pepper to serve
Instructions
Mix the kejap manis and minced chilli together in a small bowl and set aside.
In a small frypan or wok heat the vegetable oil over medium heat. Add the broccolini and stir fry for 4 minutes. Add half the chilli mixture and toss through and then throw in the cashews. Serve immediately with the remaining sauce and a sprinkle of black pepper.
https://mumslounge.com.au/lifestyle/food/grilled-broccolini-sweet-chilli-cashews/