Back To School: Healthy Muesli Bars Recipe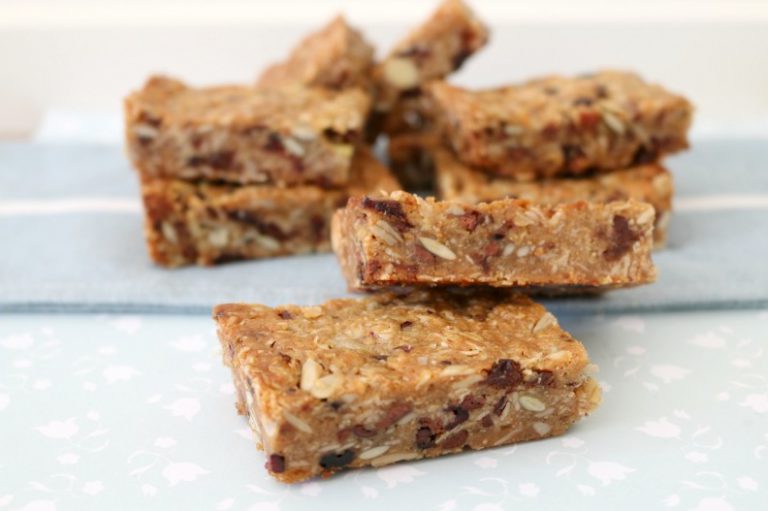 Back To School: Healthy Muesli Bars Recipe
Throughout the school day, kids are so busy. Ridiculously busy. Not only are their little brains working in overdrive during class time, but they then go outside and run around non-stop all throughout recess and lunch. It's tiring just watching them!
All of this busyness can only mean one thing… lots of energy boosting snacks are needed! While we're sure many kids would love to open their lunchbox to find packets of chips, lollies and chocolate, unfortunately the only thing that will give them is one massive sugar high…. followed by one HUGE sugar crash. And that's no good for anyone!
So what to pack that's yummy, will get the kids tick of approval, but is also healthy? These 'Back To School Healthy Muesli Bars'. They're chockfull of nutritious  bits and pieces like seeds and nuts, but are also naturally sweetened so they're appealing to kids as well.
If you're child attends a nut free school then simply substitute the nuts for extra rolled oats and dried fruit. However, many schools do actively encourage students to bring along nuts, with lots even having 'nut and fruit time' during the day. But as always, it's best to be safe and check your schools guidelines.
To make these back to school muesli bars, you will need:
• 1⅔ cup rolled oats
• 1 cup puffed rice
• ⅓ cup plain flour
• ½ cup coconut
• ¼ teaspoon cinnamon
• ⅔ cup brown sugar
• 1 teaspoon vanilla
• ½ cup melted coconut oil (or butter)
• ½ cup peanut butter
• ½ cup rice malt syrup (or honey)
• 1 cup nut and seed trail mix
• ½ cup cranberries, sultanas or other dried fruit
• ½ cup cacao nibs (or chocolate chips) *optional
To make these healthy muesli bars, simply:
1. Preheat the oven to 170 degrees celsius (160 if using fan forced).
2. Line a rectangular slice tin with baking paper.
3. Melt the coconut oil, peanut butter and rice malt syrup for 30 second bursts on medium heat in the microwave until melted.
4. Add in the cinnamon, brown sugar and vanilla and mix well.
5. Add the rolled oats, flour, coconut, seed and nut trail mix and dried fruit and mix well.
6. Add the puffed rice and cacao nibs and gently mix together.
7. Press the mixture firmly into the pan.
8. Bake for about 30 minutes or until the edges are golden brown.
It's important to wait until the bars are complete cold before slicing, otherwise they may crumble.
Store in an airtight container for up to a week.
What back to school snacks will you be making this year?
Read the complete Mums Lounge Back to School Guide 2015 here