Jaffa Slice Recipe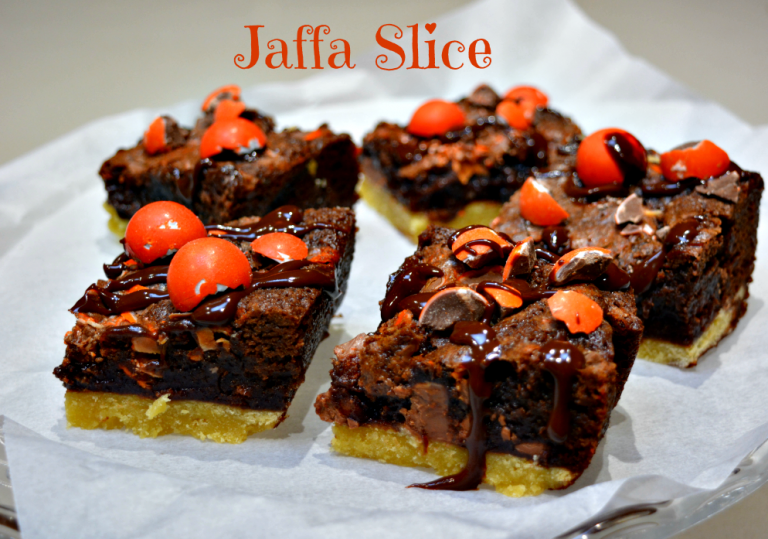 Jaffa Slice Recipe
Do you love orange and chocolate? Do you love them together? If you love Jaffas or any combination of orange and chocolate together you will absolutely love this easy slice. It's basically a rich, fudgey brownie with a hint of orange zest, sitting on top of a crunchy base and then to make it even better there's more Jaffas on top! Maybe buy two packets of Jaffas because it can be kinda tempting to nibble on them while you're putting it together…
Adapted from Taste Magazine
Ingredients
Base
150g (1 cup) plain flour
80g unsalted butter, chopped
2 tbsp brown sugar
¼ tsp sea salt flakes
1 egg yolk
1 1/2 – 2 tbsp chilled water
Chocolate sauce* to drizzle
Filling
200g pkt Allen's Jaffas (chocolate/orange hard-shell candy)
75g (1/2 cup) plain flour
40g (1/4 cup) self-raising flour
35g (1/3 cup) cocoa powder
300g (1 1/2 cups) firmly packed brown sugar
1 tsp finely grated orange rind
200g butter, melted
3 eggs, lightly whisked
Instructions
Pre-heat oven to 180C (160C fan-forced, 350F). Line the base and sides of a 20 x 30cm slice pan with non-stick baking paper.
Process the flour, butter, sugar and salt in a food processor until mixture resembles fine breadcrumbs. Add the egg yolk and enough water to process until mixture starts to come together. Press evenly over the base of the prepared pan. If it's a bit sticky which mine was, lightly flour your fingertips to make it easier.
Bake for 15 minutes or until light golden and cooked through. Set aside in the pan to cool completely.
Place the Jaffas in a small plastic bag and using a rolling pin or meat mallet roughly smash. Reserve 2 tbsp of the crushed Jaffa to decorate.
Sift the flours and cocoa into a large bowl. Stir in the sugar and orange rind. Add the butter and eggs and mix well until combined. Spread the mixture evenly over the base. Sprinkle evenly with the crushed Jaffa, lightly pressing into the mixture. Bake for 23-30 minutes or until a skewer inserted into the centre comes out clean. Set aside in the pan to cool completely. Cut into slices. Drizzle with the chocolate sauce* and sprinkle with the reserved Jaffa.
*Chocolate Sauce – you can use store-bought chocolate sauce, or heat a little cream until scalding and pour over some squares of dark chocolate, leave for 5 minutes, then whisk until smooth.
https://mumslounge.com.au/lifestyle/food/jaffa-slice-recipe/
Carolyn started her blog
Pinkpostitnote.com
just over a year ago as a way to deal with her obsession of trying new recipes from the copious collection of cookbooks that she owns (and continues to buy). She is particularly fond of "man" food, both cooking it and eating it. She will happily elbow people out of the road at the sight, sound and smell of a pulled pork burger. When she's not lying awake at 5am wondering if she should buy chooks and a cow to deal with the constant need for eggs and butter, she's dealing with all the paperwork associated with owning a bunch of tip trucks and her favorite time of the day is
wine
five o-clock.