Little Chocolate Pots Recipe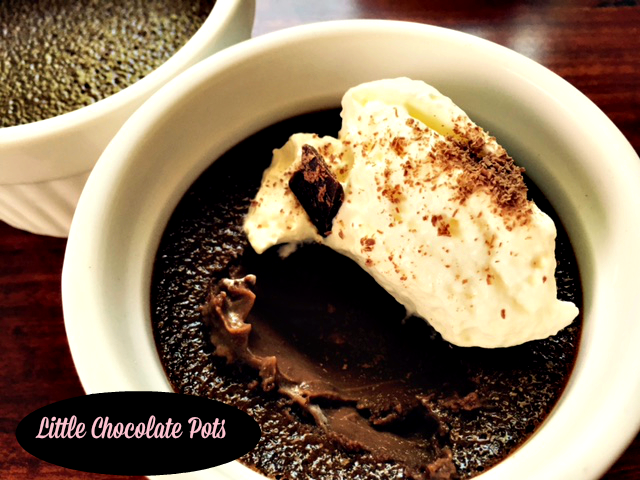 Little Chocolate Pots Recipe
Are you sick to death of lava cakes? And self saucing pudding? And panna cottas? They are all a little bit yesterday aren't they? I know they are still delicious and super popular because everyone loves their own little individual dessert. Just for them. It makes you feel special. And like you don't have to share. And lava cakes are popular because of the ooze that comes out when you pop your spoon into them BUT you have to leave your guests sitting at the table while you stagger into the kitchen after having already had 3 glasses of wine (or is that just me?) and try to summon the energy to mix it all up and bake them.
Same with self saucing puddings. They can't be made in advance. And panna cottas? Well actually I still do love a panna cotta but they can be tricky to get out of the moulds and they just aren't quite as sexy as a rich, dense, smooth, creamy dessert like these. Make these in the morning. Make these after lunch. Make them the day before. Doesn't matter. Just know that the bowls will end up looking like this:
Little Chocolate Pots Recipe
Ingredients
125ml (1/2 cup) milk
90g dark chocolate (use the best you can buy preferably 66-70% cocoa solids), finely chopped
200ml thickened cream
3 egg yolks
65g caster sugar
Whipped Cream, to serve
Finely grated dark chocolate, to serve
Instructions
Heat the milk in a small saucepan over low heat until hot but not boiling. Add the chocolate and stir until melted. Remove from heat and stir in the cream until the mixture is smooth. Pop into the fridge to cool slightly for 5 minutes.
Whisk the egg yolks and sugar in a bowl until just combined. Slowly add the chocolate mixture, whisking constantly. Strain through a fine sieve into a jug. Set aside at room temperature for an hour.
Preheat oven to 180C/160C fan-forced/350F. Place 5 125ml (1/2 cup) ramekins in a large baking tray. Pour enough boiling water into the tray to come halfway up the sides of the ramekins.
Cover the dish with foil. Bake for 30 minutes or until chocolate mixture is firm around the edges but the pots still wobble when shaken.
Carefully remove the baking dish from the oven. Remove the ramekins. Set aside until cooled to room temperature (about 45 minutes). Cover with plastic wrap. Store in the fridge for at least 1 hour to set. Serve each pot with whipped cream and grated chocolate.
https://mumslounge.com.au/lifestyle/food/little-chocolate-pots/