Steak Sandwiches with Avocado Aioli Recipe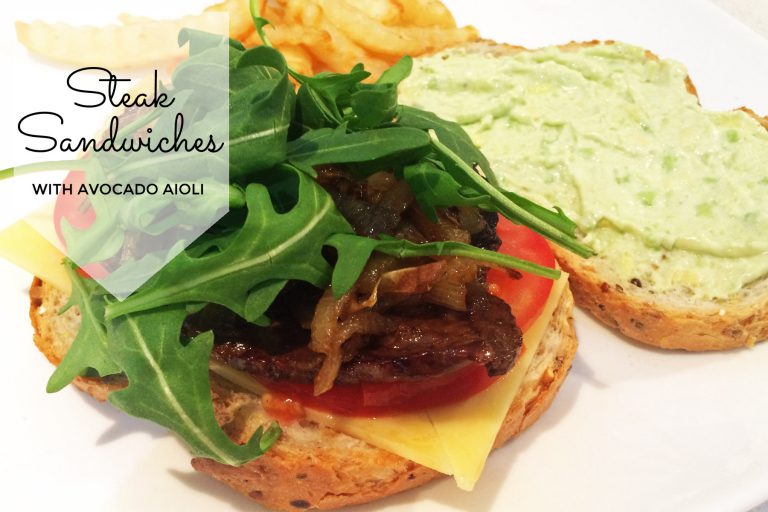 Steak Sandwiches with Avocado Aioli Recipe
Who would have thought that such simple, basic steak sandwiches would be such a hit with the family? My husband and children were enthusiastically tucking into these bad boys with all the happy 'mmmms' and 'ooooo yums' that come with a successful family meal.
They are super quick and easy to make, too. Let me show you how.
You'll need some sizzle steaks, a loaf of multigrain bread (I bought a sliced Vienna loaf from the supermarket bakery), some cheese slices, baby rocket, an avocado, onions, brown sugar, a tomato, a lemon (or lemon juice), butter, aioli and olive oil.
First of all, you need to cook your sizzle steaks in a pan for a couple of minutes until cooked to your liking. Then pop them on a plate and cover them with foil.
Next, melt the butter in the same pan and fry those onions until softened. Add the brown sugar and cook, stirring, until caramelised.
Here's where some preferences come into play – you can toast your bread if you want, I didn't. You can also melt a slice of cheese onto a slice of each sandwich if you want, I didn't do that either. Mainly on account of the fact that my oven doesn't have a separate grill and I was cooking chips at the time and it was all too much effort and I just couldn't be arsed with it all. But you can totally do that if you want.
You also have to make your avocado aioli – mash your avocado and mix it with aioli and lemon juice. You can do this in a blender if you find that terribly difficult to do manually, but who doesn't love little chunks of avo in their aioli?
Now just put it all together! First the cheese on one slice of bread/toast (we've been through this), then the tomato and the steaks, followed by your caramelised onions and baby rocket. Spread your avocado aioli over the other piece of bread/toast and serve with oven fries for a full meal!
I hope you enjoy it as much as we did.
Steak Sandwiches with Avocado Aioli
Ingredients
6 beef sizzle steaks
1 tbsp olive oil
20g butter
2 onions, sliced
1 tbsp brown sugar
12 slices of multigrain bread
6 slices of tasty cheese
120g baby rocket leaves
1 tomato, sliced
1 avocado
½ cup aioli
1 tbsp lemon juice
Instructions
Heat a large frying pan over moderate heat and add the oil. Cook beef for one minute each side for medium or until cooked to your liking. Transfer to a plate and cover with foil. Rest for 5 minutes.
Add butter to the pan with leftover oil and add onion. Cook and stir for 3 minutes until softened. Add sugar and cook, stirring for 4 minutes until caramelised.
Mash avocado in a bowl and combine with aioli and lemon juice. Mix well to combine. You could do this in a blender if you prefer.
Toast the bread (if you like) then top with cheese, tomato, beef, caramelised onion and rocket. Spread remaining slice with avocado aioli and serve.
https://mumslounge.com.au/lifestyle/food/steak-sandwiches-avocado-aioli-recipe/