Four 5th Grade Boys Put on the Best Talent Show Performance We've Ever Seen!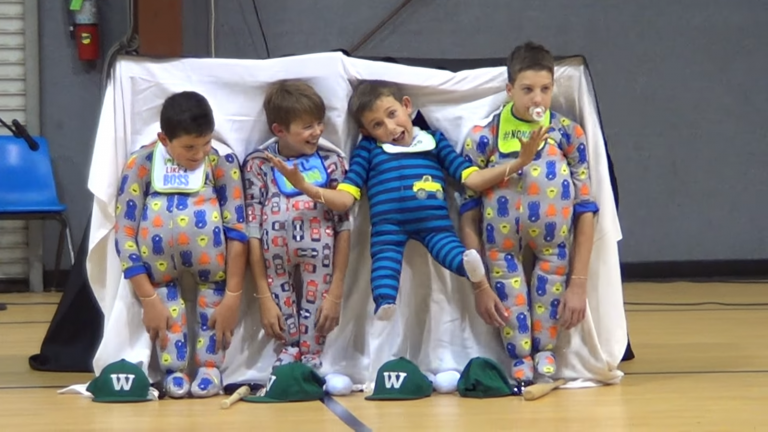 Four 5th Grade Boys Put on the Best Talent Show Performance We've Ever Seen!
Kids talent shows can be a bit hit and miss. While it is awfully cute to see all the kindy kids sing their sweet little songs with gestures and adorable costumes, the night can drag on a bit and you begin to wonder if anyone might notice if you sneak out early.
These year 5 boys didn't have anyone trying to sneak out during their performance though — it was hilariously unique and one of the best talent show performances we've ever seen!
Rider, Hunter, Mason, and Graham from New Braunfels Christian Academy in Texas put on a hilarious performance that no one in their school will ever forget.
After they were introduced by the MC, a black sheet was pulled from a large box-like object, exposing four heads and pairs of arms attached to what appear to be baby-sized bodies.
The boys donned onesies and bibs and brought props along to use as they danced and lip-synched to a medley of popular songs.
As the boys continue through their routine, the audience is in stitches.
Watch it here:
How good is that??
Watching the boys' expressions was half the fun of the video. Even they can't contain their giggles during the hilarious baby dance routine!
You can tell the kids did a great job of entertaining the audience and making them laugh as you can hear the roar of the crowd throughout their entire performance.
The skit was recorded and uploaded to YouTube by Mason's father Randy Benson, and now the four 5th-graders have been launched into viral superstardom, with over 5 million views and 31,000 likes.
Well done, boys!
Source: Youtube/Randy Benson