Super Healthy! Chocolate Rice Krispie Squares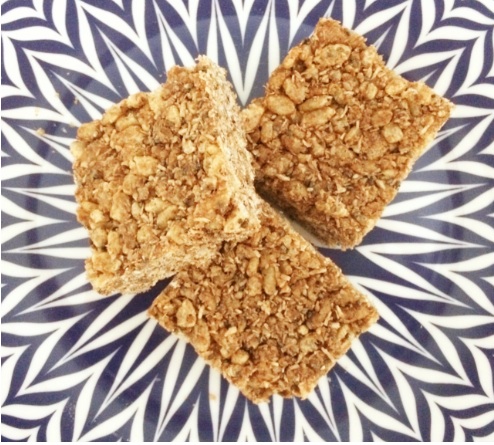 Am I the only person in the world that has never eaten an LCM bar? They weren't really around when I was growing up and even if they were, I can't imagine that Mum would have bought them for us. I definitely grew up in a house where all of our biscuits, slices and cakes were homemade. Even now, the idea of buying a packet of biscuits or slices seems strange!
And so, when I came across a recipe for Healthy Chocolate Rice Krispies on Pinterest, I was very keen to give them a go. And being that I am the worst person ever for following a recipe to a tee, I made a few changes here and there. But guess what? They were surprisingly really yummy (and were a massive amount healthier and cheaper than a box of LCMs!).
Chocolate Rice Krispie Squares Recipe
These bars are totally no-bake squares nd take about 5 minutes to make… so there's really no excuse not to give them a go! If you didn't know that they were packed with chia seeds, raw cacao and coconut, you would swear that they were a naughty little snack.
Enjoy these little 'Coco-Pops' bars that make the perfect healthy lunch-box snack!
Super Healthy Chocolate Rice Krispie Squares Recipe
Prep time: 10 mins
Total time: 10 mins
Serves: 12
Ingredients
• ¾ cup honey (or 1 cup rice malt syrup)
• ½ cup coconut oil
• ¼ cup raw cacao powder
• 4 cups rice bubbles (or any puffed rice)
• 2 cups desiccated coconut
• ¼ cup chia seeds
Method
1. Melt honey and coconut oil together in the microwave or over low heat in a saucepan.
2. Meanwhile, place the rice bubbles, chia seeds, coconut and cacao powder into a large bowl.
3. Pour over the melted liquid and mixed together really well.
4. Place the mixture into a lined 20cm square cake tin and press down well (I like to use a round glass and roll it over the mixture to really press it down extra hard).
5. Place the tin into the fridge and leave for 2-3 hours or overnight.
6. Take out of the fridge and cut into bars.
7. Store the bars in an airtight container in the fridge.
Hope you find this recipe just as good as we have.  Share it with others if you like it.
 More Dessert and Slice Recipes
For more recipes like this, click here to go to other Dessert Recipes in MumsLounge.com.au.
 About the Author
Hi there! My name is Lucy and I'm a primary school teacher, a wannabe baker, a wife, a blogger, a pilates lover, a chocolate addict, a super-organiser and an over-analyser. When I'm not teaching, you will usually find me whipping up something very naughty in the kitchen…. chocolate and caramel are two of my best friends! Come and join me over on my blog Bake Play Smile or on Facebook for some more sugarific baking adventures! xxx