Super Simple & Quick: Oven Roasted Chickpeas Recipe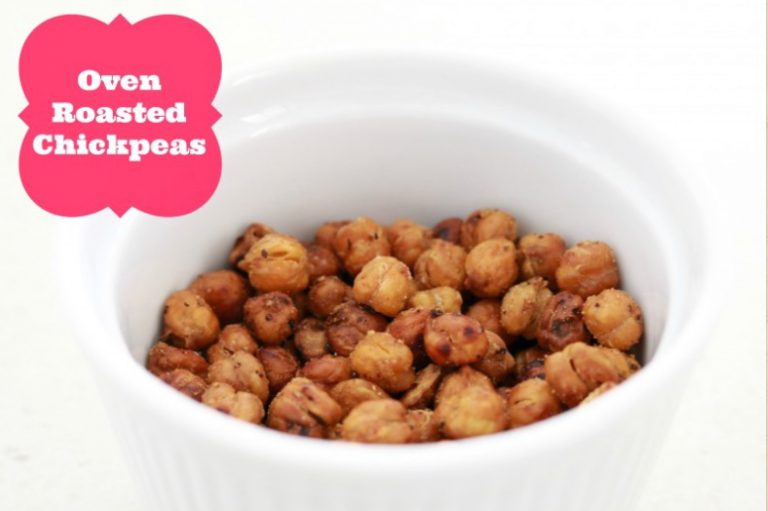 Super Simple & Quick: Oven Roasted Chickpeas Recipe
Like most people, I'm always on the lookout for healthy and simple snacks. Grabbing a banana or apple out of the fruit bowl, having a yummy bliss ball, or nibbling my way through a container of nuts and seeds is great, but sometimes you just need a change! Yep, day after day the same thing can get very boring. And being the queen of routine and boringness, I'm well qualified to make that call!
So, one of my favourite snacks to have on the go is a container of oven roasted chickpeas. I usually make them on the weekend and pop them into an airtight container to get me through my mid afternoon slumps! And if you have little ones, then oven roasted chickpeas make a great after school snack (or a fabulous little lunchbox filler!).
They're actually really quick and easy to make and are so good for you. Chickpeas are high in fibre which keeps everything moving nicely through the body and prevents constipation. They're also a great source of protein and iron (double bonus!). Chickpeas are low GI which means that you can kiss goodbye to your afternoon energy slump. And if you need another reason to eat chickpeas – they've been found to lower cholesterol too! These really are little wonder bites.
To make oven roasted chickpeas you'll need a tin of chickpeas, salt, pepper and a small amount of olive oil. Start off by rinsing the chickpeas under cold water. Place the drained chickpeas onto a few sheets of paper towel and place another sheet of paper towel over top. Gently rub the chickpeas until all of the skins have fallen off – don't worry if they don't all come off! It is however, really important to make sure that all of the water is off the chickpeas so that they crisp up when roasting.
Place the chickpeas into a baking tray and drizzle over 1tbs of olive oil. Sprinkle over cracked pepper and sea salt. Shake until well covered. Pop the tray into an oven preheated to 220 degrees celsius. Cook for 30 minutes or until golden and crispy. You'll need to make sure you watch them carefully near the end of cooking so that they don't burn.
For a sweet version, why not try these Cinnamon-Sugar Roasted Chickpeas from Sally's Baking Addiction. 
What are your favourite healthy afternoon pick-me-up snacks? (and no, a Caramello Koala doesn't count… even though I totally wish it did!).
Like the sound of this healthy little snack? Why not Pin It for later!