The Super Simple Guide to Making Tiny Teddy Cars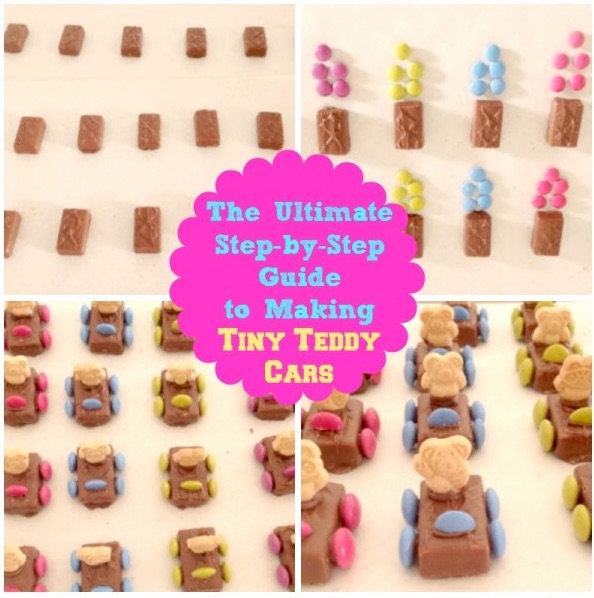 The Super Simple Guide to Making Tiny Teddy Cars
Tiny Teddy Cars are a party favourite! Whether it's for a baby shower, kids birthday or any other celebration, these Tiny Teddy Cars are sure to win over everyone on the cuteness and taste factor!
They're super simple to make and are perfect for getting kids involved in helping out in the kitchen.
To make the Tiny Teddy Cars you will need the following:
• 24 mini Milky Way bars
• 1 box Tiny Teddy biscuits
• 1 share pack family size bag of Smarties (340g)
• 120g milk chocolate, melts
If you prefer, you can also use Mars Bars, but Milky Ways are easier as they are wider and flatter.
To make the Tiny Teddy Cars you will firstly need to take all of the Milky Ways out of their wrappers and line them up on the bench. Make sure you pop them on top of some baking paper so that the melted chocolate you use later won't end up on your bench!
Now you need to open up your packet of Smarties and sort them into colours. You'll need five of the same colour Smartie per car. Cut one of each cars Smarties in half (using a very sharp knife to get a nice straight line). Then comes the best part… eat the other half of each Smartie!!

So now you should have four full Smarties and one half Smartie all in the same colour for each car.
Take your Tiny Teddy biscuits and cut their little legs off (feel free to eat those too!). Line the cut Tiny Teddy's up in front of the cars so you're ready to assemble them.

Melt your chocolate melts in the microwave on 50% power for 3 minutes (or until just melted), stirring every 30 seconds.
Using a teaspoon, place a small dollop of chocolate onto each of the full Smarties and carefully 'glue' them onto the Milky Ways as the wheels. Make sure you place the wheels slightly above the bottom of the Milky Way bars, otherwise they may fall off when you move them.
Place a small dollop of melted chocolate at the front of the Milky Way bar and 'glue' the steering wheel on (the halved Smartie).
Place another dollop of melted chocolate towards the back of the Milky Way bar and 'glue' the Tiny Teddy in place.
Leave the Tiny Teddy Cars to set completely.
Did you grow up eating Tiny Teddy's too? What are your favourite treats to make for parties?