A 1 in 70 Million Pregnancy – The Gardner Quads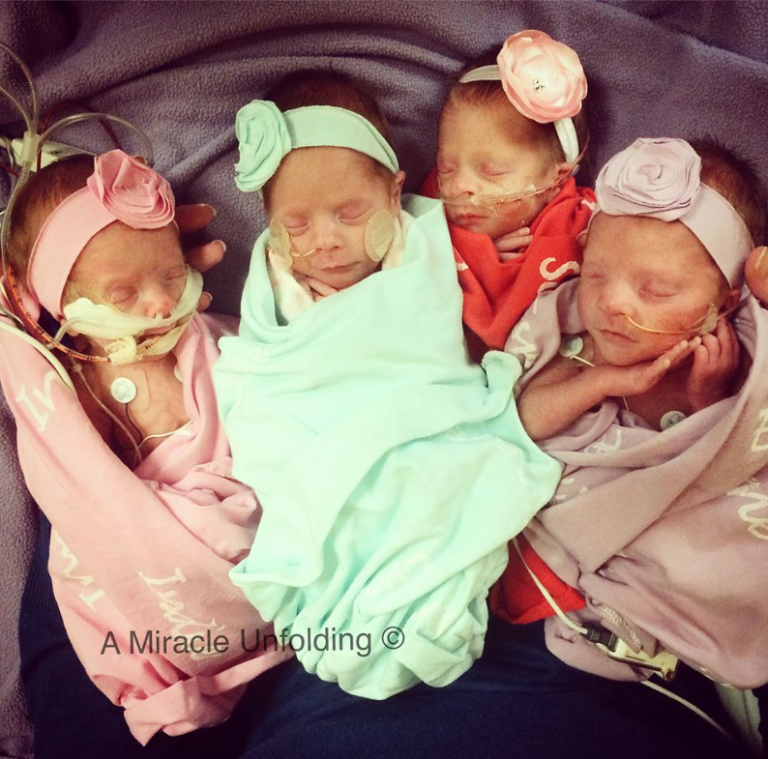 After eight years of struggling to conceive, Ashley and Tyson Gardner from Utah in the United States turned to fertility treatment to help them achieve their dreams of having a family.  In their first IVF attempt,  two embryo's were implanted and as fate would have it, Ashley was pregnant.
Because two embryo's had been transferred, the couple knew the chances of a twin pregnancy were high, but nothing could have prepared them for the news they received at their very first ultrasound.  Taking along a camera to record the special moment, never in their wildest dreams could they have imagined receiving news that not only had both embryo's implanted, but they had both split and formed two sets of identical twins – a one in 70 million pregnancy!
From the moment Ashley and Tyson shared with the world the photos from that very first ultrasound, their four babies were affectionally given the nickname – The Gardner Quad Squad.
Ashley and Tyson learning they are expecting quads. Image Credit
Photos of the couples stunned expressions quickly became viral and due to the interest they had sparked around the world, Ashley and Tyson set up the Facebook page – A Miracle Unfolding,  during the early stages of their pregnancy to share updates and photos with the thousands of people who had become captivated by their story.
After weeks of bed rest and close monitoring, Ashley's waters broke at just 29 weeks gestation and the decision was made to deliver her babies quickly.  A team of doctors delivered the Gardner quads in just 2 1/2 minutes and on the 28th of December 2014, Scarlett, Evangeline, Indie and Esme were born.  At birth the girls ranged in size from a little over 820g (Indie) up to 1190g (Evangeline).
 Twin Cuddles.  Image Source
All four of the girls have experienced many of the 'common' problems amongst premature babies including feeding intolerance, jaundice and low weight gains,  but overall they are in good health.
These babies truly are miracles after also surviving surgery in utero half way through Ashley's pregnancy to treat Twin to Twin Transfusion Syndrome (TTS) a potentially fatal condition.  While there have been a few bumps in the road during the girls short lives, they are doing extremely well and have recently graduated to NICU B , where they will stay while they grow bigger, stronger and learn to feed before being discharged home.