The Ultimate Salted Caramel Chocolate Mug Cake – Recipe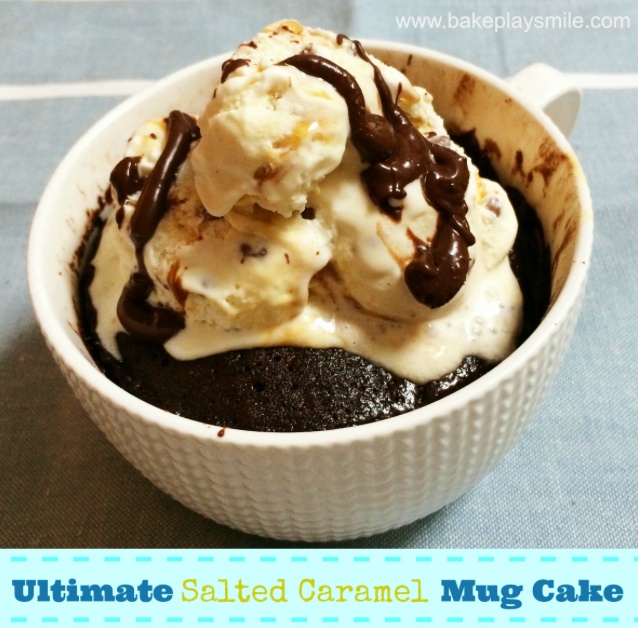 The Ultimate Salted Caramel Chocolate Mug Cake – Bake Play Smile
Eeeeeeeek!! (And that's an eeek of sheer and utter excitement by the way!). I cannot believe that this little sugarholic had never tried a mug cake until tonight!! Massive eeeek!! I had no idea what I was missing out on… until now that is.
So I had always been a little sceptical of mug cakes that you cook in the microwave because, well, because it's a microwave. As in, the thing that I pretty much only ever use to defrost food or heat my lunch up in. Certainly not something I ever thought about making a cake in! But I finally decided that I would give a mug cake a go. Seriously, it's not like I needed much persuading!
This Salted Caramel Mug Cake is totally dangerous. The fact that you can have a moist, rich, gooey, caramel cake in about 1 minute is scary! I feel like I'm going to be the person that wakes up at 3 in the morning and makes one of these cakes… just because it's so easy. The hardest part of making this mug cake was sharing it with my husband. I should have definitely made two of them. Although on second thoughts, given that it was really rich and I smothered it in ice-cream and chocolate sauce, one cake was probably the way to go!
To make the mug cake that bit more decadent, I popped two squares of Cadbury Caramello chocolate into the centre halfway through cooking. They sunk to the bottom and so when we ate the cake, there was this oozy, gooey caramel layer on the bottom. Eeeek I tell you!!
And so rather than me go on about how incredibly awesome it was, I'll just show you a picture of the empty mug… a picture paints a thousand words, right??
Next time you are craving something decadent and chocolatey, then please, please try this mug cake… just make sure you use a big mug!!!
The Ultimate Salted Caramel Chocolate Mug Cake – Recipe
Prep time: 2 mins
Cook time: 1 min
Total time: 3 mins
Serves: 2
The Ultimate Salted Caramel Chocolate Mug Cake – Recipe
Ingredients
• 3 tbsp butter, melted
• 1 egg
• 3 tbsp milk
• 1 tsp vanilla essence
• 4 tbsp plain flour
• 3 tbsp brown sugar
• 3 tbsp cocoa powder
• ½ tsp baking powder
• ½ tsp expresso granules (optional)
• Pinch of salt
• 2 caramel chocolate squares (I used Cadbury Caramello) - you could also use a chewy caramel like Werther's instead
• Salted caramel ice-cream to serve (or whatever flavour you like!)
• Chocolate sauce (or ice-magic!)
Instructions
Select a large mug (a smaller one will result in an overflowing cake).
Put your mug onto a microwave safe plate (just in case it does overflow!).
Place butter into your mug and microwave for 10 seconds (or until melted).
Add the egg, milk and vanilla essence and lightly beat with a fork until combined.
Add the dry ingredients into your mug and beat with a fork until well combined (no lumps!).
Place mug into the microwave and cook for 30 seconds on medium heat.
Place the caramel chocolate squares into the middle of the cake.
Place the mug back into the microwave for a further 30 seconds on medium heat (watch it carefully to make sure it doesn't overflow).
The cake should be cooked on the outside and gooey in the middle.
If you think it's still a little undercooked (all microwaves are different), then pop it back into the microwave and cook for a further 10 seconds on medium.
Repeat until it's cooked how you like (don't overcook it though or else it will be dry and yuck... keep it gooey and moist - like a pudding!!).
Take out of the microwave and top with your choice of extras - I used salted caramel ice-cream and chocolate sauce.
You could also use chopped nuts, whipped cream, chocolate bits, strawberries or berry
https://mumslounge.com.au/lifestyle/food/the-ultimate-salted-caramel-chocolate-mug-cake-recipe/
Hope you find this recipe just as good as we have.  Share it with others if you like it.
 More Dessert and Slice Recipes
For more recipes like this, click here to go to other Dessert Recipes in MumsLounge.com.au.
 About the Author
Hi there! My name is Lucy and I'm a primary school teacher, a wannabe baker, a wife, a blogger, a pilates lover, a chocolate addict, a super-organiser and an over-analyser. When I'm not teaching, you will usually find me whipping up something very naughty in the kitchen…. chocolate and caramel are two of my best friends! Come and join me over on my blog Bake Play Smile or on Facebook for some more sugarific baking adventures! xxx