Thermomix Buttermilk Scones Recipe Plus Win Recipe Book Prize Pack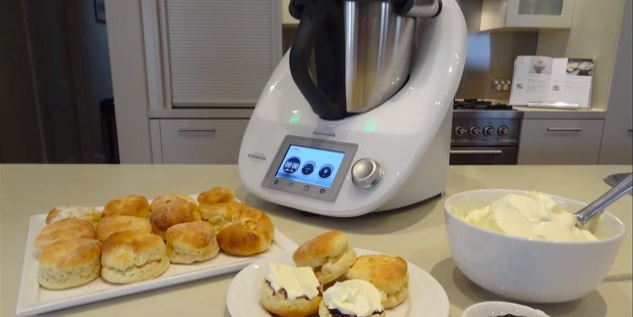 Thermomix Buttermilk Scones Recipe
Ingredients
440g self raising flour, plus extra for dusting
2 tbsp caster sugar
1 pinch sea salt
60g butter, cut into pieces
320g buttermilk
Useful Items
Baking tray (30 x 40cm)
Baking paper
Silicone bread mat (Thermomat)
Biscuit or scone cutter (6-7cm)
Wire rack
Sealable container
Preparation
Preheat oven to 220°C.  Line a baking tray (30x40cm) with boing paper and set aside.
Place flour, sugar, salt and butter into mixing bowl and mix 5 sec/speed 8, or until mixture resembles breadcrumbs.
Add buttermilk and combine 20 sec/speed 5, then knead 20 sec.
Transfer dough onto a silicone bread mat (Thermomat) or floured work surface and press out to a 2cm thickness.  Dip a biscuit or scone cutter (6-7cm) into flour and cut out scones until all dough has been used.
Place scones onto prepared tray, so that each scone is touching the next, then bake for 12-15minutes (220°C), or until lightly golden.
Allow to cool on tray for 5 minutes before transferring to a wire rack.  Serve warm, or allow to cool completely before placing into a sealable container to store until ready to serve.
Giveaway
We have 5 x Thermomix cookbook prize pack to be won this week valued at $160 each!
The prize pack includes:
Cooking for your Baby and Toddler
Something for Everyone
Quirky Cooking
Cooking for Me and You
To enter simply complete the entry form below. Good luck!


a Rafflecopter giveaway