WATCH: Sweet and Salty Popcorn Recipe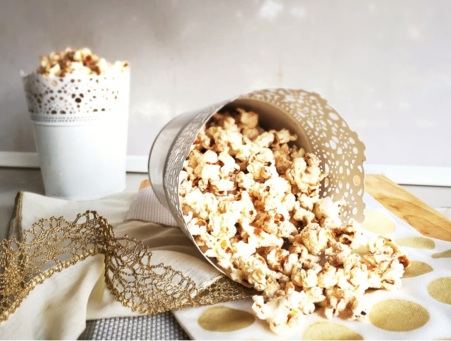 SWEET & SALTY POPCORN
Time : 8 minutes, Serves 4
WATCH: Sweet and Salty Popcorn Recipe
Ingredients
1 Tbsp Olive Oil
½ cup popcorn kernels
1tsp salt
1 tsp cinnamon
Instructions
Heat oil slowly over two minutes in a large lidded saucepan from medium to high heat.
Add popcorn and cinnamon, allow to cook 5-6 minutes monitoring the popping sound near the end to ensure the popcorn does not burn. Remove from heat and shake when the 'pop' is less than 1 in 10 seconds.
Sprinkle with salt and a little more cinnamon
Best served hot, but also great in lunch boxes.
https://mumslounge.com.au/lifestyle/food/watch-sweet-and-salty-popcorn-recipe/
TIP : To check if the oil is hot enough, add one kernel of popcorn. If the kernel spins, the oil is ready.

Amy McEntee is a mum of two and the author of Sydney based food blog, Eat Raise Love. A lover of all things food (& wine!), Amy is often found cooking for playdates and gifting meals to others. Amy cooks from the heart and shares her easy, healthy recipes and meal ideas for busy families.