Clever Ways to Store Kids Artwork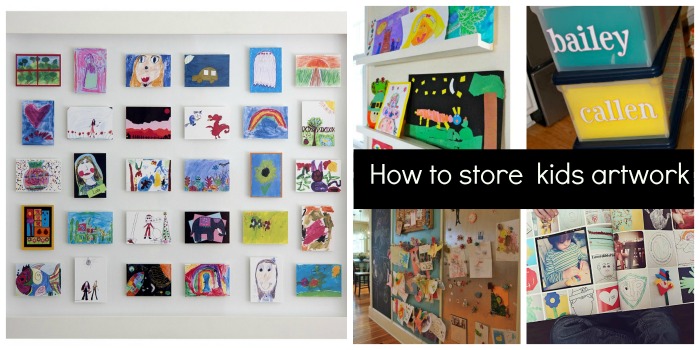 If your bench is getting cluttered with kids artwork, it's time to get it sorted. The sheer volume of artwork produced at Kindy and School and brought home for display is quite daunting and if you have a few kids in school, the paper trail can really pile up.
Your kids take pride in their artwork and as a parent it's important to take pride in it too. We've found some creative ways of displaying their pictures as well as some tips on how to store kids artwork so you can keep your house clutter free.
The best way to store your kid's art is to have a designated box or container that specifically holds their work. You can have one container where every artwork goes in or you can have a number of smaller boxes to represent each year at school for each child.
Once each child has their own box, pull out the best pictures or the ones your child really takes pride in. These are the ones that can be displayed around the home.
Not everyone has a large enough fridge to place all of their children's artwork so here are some interesting ways to hang their art around the home.
Why not install a ledge that can act as shelf to display current artworks? The artwork can be easily changed as new pictures are created.
These clipboards are a great way to also display art. The best part about these clipboards is the new art can be hung on top of the existing pictures.
Designate one wall for all artwork if you find that a ledge or clipboard won't meet the supply demand.
Magnetic wallpaper is a great way to display your kids artwork. The wall can look as messy or neat as you like it. The artwork can simply be attached to the wall using magnets.
If the above look is too messy for your liking, why not insert your kids artwork into front opening picture frames? The frames can be purchased online with different coloured frames to suit your home.
This organized wall gallery is proof that kids artwork can be displayed stylishly in your home.
Another creative way to store and display your kids artwork is getting each artwork photographed and placed in a gallery. There is no need to keep storage boxes with your kids artwork if you take on this idea and it's a great way to preserve their childhood.
If you prefer less clutter on the walls, use a photo printing service to create an album or book with your children's artwork displayed in it.
There are apps that you can use to photograph your kids artwork and store the pictures for when you wish to display them or create them into a book or large gallery in the future. Keepy app is one and it not only stores art work it can store photos, voice recordings and special  milestones in your child's life.
Sometimes, just keeping a few artwork pieces is important. The more children you have, the more easier it is to cull artwork from the archives.
How do you currently store your kids artwork? Can you share any other tips to help other mums?