5 Reasons to Love Netflix's New Interactive Stories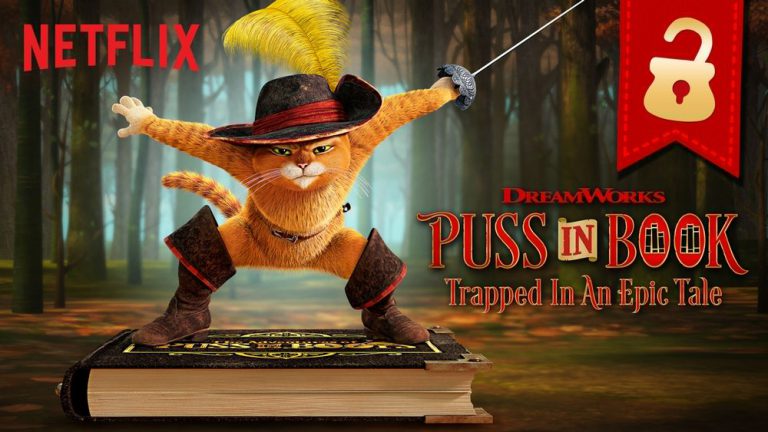 5 Reasons to Love Netflix's New Interactive Stories
Last night my children and I had our first taste of Netflix's new interactive stories when we sat down to find something to watch together before bed. Spotting the new red and yellow lock symbol on the 'Puss in Books: Trapped in an Epic Tale', it was an easy choice to make…and a good choice at that!
Here's just a few reasons why we are loving Netflix's new interactive adventures:
Viewers are in Control of What Happens in the Story
Those of us who grew up in the 80's and 90's are familiar with the 'Choose Your Own Adventure Books', right? I'll admit it, I was hooked on them. (They sold 250 million copies, so I know I'm not the only one!) There was something addictive about having some control over which direction the story took wasn't there?
Well, much like those books, 'Puss in Books: Trapped in an Epic Tale' offers viewers 13 A or B choices at different stages of the narrative. Instead of being passive viewers, kids get to interact with the story and make decisions that effect what happened to the main character Puss.
You Won't Mind Watching it Over and Over Again
Let's face it, kids will watch the same show over and over again. Whilst they might rejoice in knowing what is going to happen next, parents are often less enthusiastic about being subjected to the same show on repeat. Netflix's new interactive shows are about to change all that though, because kids can create a different adventure each time they watch…and I should know because we've already watched 4 different versions and they still aren't fed up with it.
The length of the show varies too depending on your choices – 'Puss in Books: Trapped in an Epic Adventure' can run for 18 mins (shortest) to 39 mins (longest). But word is that 'Buddy Thunderstruck: The Maybe Pile' due for release July 14, has an infinite loop as one option. (So avoid telling your child it's bedtime after that show finishes! ha!)
Choices Matter
I found it was a great way to explain to my children that in life, as in the 'Puss in Books' storyline, the choices that they make matter. For example if they choose to do their homework the outcome is likely to be different from if they choose not to do it. Having the visual representation of the results of making choices in this form, really seemed to resonate with them and they were able to offer other examples. So it also became a teachable moment that even I hadn't expected.
Majority Rules
Of course, there will be times no doubt that my children will watch Netflix interactive adventures on their iPad and be able to make every decision themselves, but last night we had to quickly establish the majority rules principle. It is good for children (and adults) to learn that they won't always get their own way and there has to be a little give and take.
We also discovered that if you take too long to make a decision, Netflix will choose for you so there isn't too much of a break in the action.
Endless Possibilities
Whilst Netflix are only experimenting with the concept of interactive stories, and of course programs for kids are the most obvious place to start it does leave the mind boggling at what the future could hold.

I for one went to bed dreaming of a world in which maybe I'll be running Lichfield prison, or making decisions on what Ragnor Lothbrook might do next on Vikings!

Mmm…I have a few ideas! 😉
What Netflix show would you like to be interactive and what would you like to see happen?