Family Favourites: Easter Recipes Egg-stravaganza!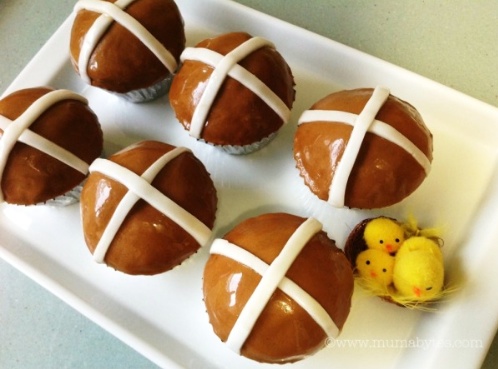 Easter Recipes Egg-stravaganza!
As Easter draws ever closer, many families will be looking for egg-citing ideas and recipes to make the holidays egg-stra special.  Take a look at some of our favourites:
Hot Cross CupCakes Recipe
Not everyone loves hot cross buns, but most people like cake. These hot cross cupcakes recipe should keep most people happy at your Easter party. Use whatever cake flavour you like – mid cake is always a hit with the kids.
Easter Bunny Cake Recipe
This super-cute Easter Bunny Cake Recipe is quite easy to make, and it absolutely delights the little ones.
This is essentially a cake within a cake, so you will be preparing two cake mixes. One baked cake is cut out into bunny shapes using a cookie cutter. The bunny shapes are then lined up in the same cake tin and the second cake batter is poured around it for re-baking.
Hot Cross Buns Recipe
There is nothing better at Easter than some hot cross buns and now you can make them yourself. Aunt Rozzy's hot cross buns recipe is so simple to make and is sure to be a family favourite this Easter.
Hot Cross Buns: Fun Facts
Whether you like yours warm and buttered or as they come, packed with fruit, chocolate chips or mocha flavoured, there is a hot cross bun available to suit every taste.  Here are a few fun facts to peruse whilst tucking into your favourite bun this Easter.
Cadbury Crème Egg Ice Cream recipe
It's that time of year again when it takes every ounce of self-control in my body (which is obviously very minimal) to stop myself from filling the shopping trolley to the brim with Cadbury's Creme eggs.
Am I the only one who goes ga-ga for the goo?
Frozen Yogurt and Fruit Easter Treats
It's almost Easter and the shops are already full of chocolate eggs. It's hard not to stuff yourself full of them. So here are an easy recipe for you and the littlies that they can even help you make. The added bonus? They are healthy and super yummy. (Then you won't feel so bad about having the chocolate eggs too…)
Cadbury Creme Egg Brownie Cake
Everyone loves chocolate and evryone loves cake.  This awesome Cadbury creme egg brownie cake is a must have for any serious chocolate fan!