The Aussie Bogan's Deadset Best Gift Ideas for a No Wuckas Father's Day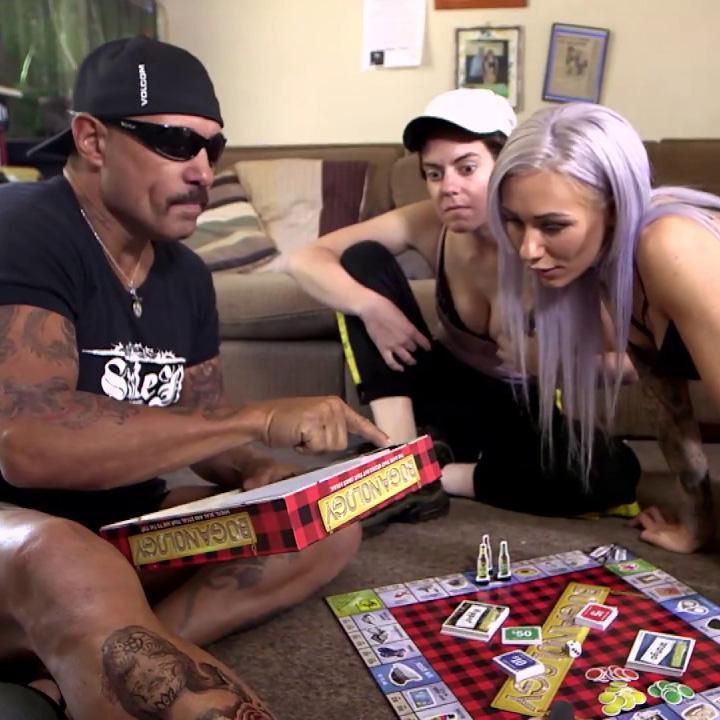 The Aussie Bogan's Deadset Best Gift Ideas for a No Wuckas Father's Day
Because, there is a little bit of bogan in all of us!
Bike Balls: The Overconfident LED Rear Bicycle Light
Bike balls are the silicone stones you need to be visible on the road.
This durable, water/splash-proof LED light turns on/off with a simple squeeezeeee (but not too hard) and  glows a nice bright pink (just like real balls when they're uber cold).
You have your choice of 3 light settings (solid, slow flashing or fast flashing) and they connect to your bike seat thanks to an integrated strap.
Bike Balls come beautifully gift packaged, making them a humorous gift choice for your cycling friends and family members.
Bacon Strips Adhesive Bandages
Know a Master Chef who comes out of the kitchen looking like a war hero? Fix them up with these novelty, orginal Archie McPhee Bacon Bandages. The fatty-goodness of these fake bacon trips will heal their wounds.
The "I'm So Hungover" Cookbook
Struggling to get your head off the pillow after hitting it too hard last night? we know what you need.
This recipe book is chock-full of the most indulgent, greasy monstrosities to help get your head straight after a night on the town. You probably shouldn't have had those last three beers, but here we are, there's no going back now. Only moving forward.
And trust me, it'll be easier with these delicious salty, cheesy mealsin front of you! Don't worry, they're nice and simple so you can easily handle them with a pounding head.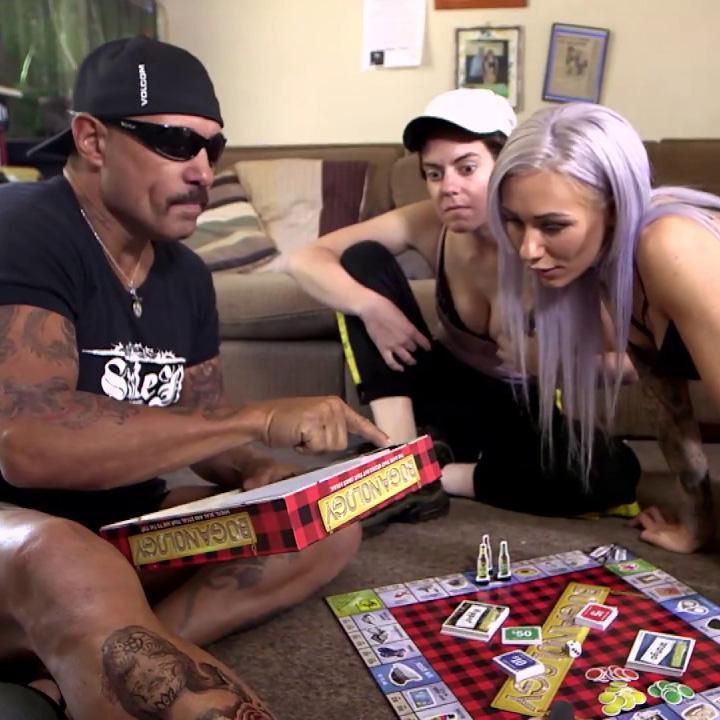 Boganology: Monopoly for Bogans
If you think Monopoly is for posh twats, then this bloody rippa of a game will be right up your alley. Boganology takes Monopoly outside and teaches it a lesson. Embrace your inner bogan and dominate, using all the bogan powers you have inside you!
Live the life of a bogan and smash ya opponents. Avoid the cops, f#ck of ta Kuta with ya mates, use ya child support for coldies and do a stint in the slamma.
A hilarious take on the classic game, Boganology will have you in stitches.
Sudski Shower Beer Holder
Do away with those cheap-ass suction cup beer holders and other (bought and shoddily rigged) holders to facilitate the drinking of the beverage of champions while bathing, and say hello to the Sudski™ – the patented silicone beer holder for your shower!
The Sudski™ grips to shiny fat surfaces like tiles, mirrors, laminate and glass. The space-age tech of this device means there are no suction cups, adhesives or wall mounts – it magically adheres to your wall! It won't leave any residue on your surfaces, and you canuse the Sudski™ over and over and over!
A refreshing shower beer… Is there anything better? Drink beer in the shower with the magical patented powers of the Sudski™!
Giant Chicken Nugget Bath Bomb
Did you ever try to eat chicken nuggets in the bath and have the worst happen? Maybe it's just me… It's okay, this is one chicken nugget you'll WANT to drop!
Forget the night out, the terrible first date, whatever you had planned tonight. Just swing by the drive-thru and grab yourself a cheeky six-pack of nuggets, down those and hop in the bath with your nugget-shaped bath bomb!
The tropical mango scent will have you all fresh ready to take on the world.
What the F#ck Should I Drink? Book
What The f#ck Should I Drink is the truly hilarious choose-your-own-adventure style cocktail book with easy drink recipes and hilarious commentary from Zach Golden: writer, film-maker and all round clever and hilarious guy.
A great gift for those who like drinking, swearing and aren't very good at actually following a recipe or making decisions, this book contains 75 cocktail recipes, witty remarks, lots of swearing and the occasional historical tit bit. Guaranteed to make your life better.*
*Guarantee not guaranteed.
Arse/Face Soap
Now you can have a hygienic bar of soap for using to wash all of your body. Use the side labelled "FACE" to wash your face, and the one labelled "ARSE" to wash your… you guessed it!
The good thing about this fun soap is you don't have to worry about germs getting to from your butt to your face. Best of all, the soap comes in a really sweet scent so that in addition to being clean you can also smell great!
A great, fun gift idea for someone with a sense of humour!
Maybe You Touched Your Genitals Hand Sanitiser
Ever shaken hands with someone and then instantly thought 'Hmmmm, I wonder where their hands have been.' They may have touched their genitals, and you don't want that sort of burden on your mind, or hands! Make sure to carry your hand sanitiser 24/7, and genital-germs will be a fear of the past.
How to Traumatise Your Children Book
Are you about to become a parent? Well if that is the case, congratulations! Maybe you have a friend who is pregnant, a sister or maybe a brother?
Regardless, the matter at hand is that their is a lovely innocent child being born into the world. So, have you thought about how you will raise (stuff up..) this child? We don't want to sound gloom and doom, but one way or another, along the way, you're most likely going to traumatize your children.
Why not traumatize them with 7 proven methods? Instead of asking yourself one day, 'How did this happen?', or 'What did I do wrong?', know exactly what it takes to make things go terribly wrong and screw up your kids. This is not to be laughed at, screwing up your child takes skill, time, and deliberate action.
Goon Goblet – Glass Jar with Lid
Drink to Dad or your swag-tastic self. You have to be 'up there' in the cool department if you plan on celebrating with this Goon Goblet, just saying.
Mini Wooden Pallet Coasters
Made to resemble their full size big brothers, these mini pallets are prefect for hot and cold beverages alike.
Things Bogans Like – Softcover Book
The beloved bogan is certainly an ever evolving and dynamic character. The persona has evolved over many years, from the Paul Hogan Bogan (featuring sleeveless button-ups), to the cashed up Boganaires (complete with jet ski) and finally to the evolved Bogan we have today. With all this transitioning it's difficult to pinpoint the je ne sais quoi that defines Bogan-ness.
But it's been done. Based on the popular website "Things Bogans Like" comes this revolutionary manifesto that outlines the prides and prejudices of the species. Chapter titles include titillations such as what goes down on a bogan's hen's night, why bogans love contiki tours and what's so damn appealing about Ned Kelly. So grab the biggest can of Mexican beer you can get your hands on, sit yourself down with a large meat lover's pizza, put on some Ministry of Sound and lose yourself in this sociological study of boganomical proportions.
Beer Bong Pint Glass with Straw
Sculling a pint is a rite of passage for any respectable bogan but it's no easy feat. It's tricky to get every last drop of amber liquid into your mouth, and if you're just starting out finishing the whole thing can be slow. If only there was a way to suck that baby down quickly, and without wasting one single sip.
Now there is! The pint bong is your favourite sized beverage with the speedy convenience of an oversized straw. Simply fill with beer, put your mouth on the straw and GO!
Battle of the Bogans Board Game
If you consider yourself somewhat of a bogan, then for once in your life your bogan-ness will be an asset instead of a liability!
Battle of the Bogans is the TV show-style game played in rounds, the first three of which teams answer questions to compete to win as much cold hard cash as they possibly can and become CUBS (or 'cashed up bogans', for the uninitiated.)
The team with the most cash at the end of the third round wins the game and can go on to play in the final 'Bogananza' for the chance to win the ultimate bogan mystery prize! Will it be a Torana? Will it be a slab of coldies? Will it be your mate's hot missus? WHO KNOWS?!?
This hilarious game will take your gatherings, family game nights and Friday night drinks to a while new bogan level!
Time's Up! Toilet Poo Timer
No more hogging the loo with this handy Toilet Poo Timer. Simply stick this timer to the toilet wall using the handy built-in suction cup and turn upside down.
Once the sands have drained from the hour glass it's time for the occupant to wipe their ass and pull up their pants!
A hilarious novelty gift for Dads prone to parking themselves on the throne for way too long!
Beer Tie
Men the world over have been crying out for a way to take their precious frothy amber man juice with them no matter the location or occasion, and now all their yeasty prayers have been answered with BEER TIE – the tie you can literally FILL WITH BEER.
This fashionable yet practical Hawaiian-print weapon of mass alcoholic consumption awaits you. Simply pour in your beer of choice, screw the top closed, and slip your neck inside the comfortable elasticised band.
Feel the weight of BEER TIE tug at your neck, as if calling to you softly, whispering in gentle beery splashes… drink me… drink me.
Enjoy the convenience of BEER TIE and never go thirsty again!
Ceramic Fish Vase
Sick of subtle hints that your husband should pick up some flowers for his loving wife on the way home from fishing with the boys? Well, there's nothing subtle about this!
Get him a vase so perfect for him that he'll WANT to fill the house with flowers! This ceramic vase is moulded and hand painted to look just like one of his top catches.
Cheeseburger Scented Candle
You've had a big night out, so naturally you hit the drive-thru on your way home. And when you open that bag… Heavenly. You could live in that sweet greasy scent forever.
Well now you can!
This funky cheeseburger-scented candle is scented just like your favourite end-of-the-night take-out and will have your home smelling like the delicious delicacy in no time.
This candle comes gift-boxed and in a tin, so it's a great gift for any junk food junkie.
The F#ck it List Book
A bucket list is a fun thing to write, but you know what's funner?
A fuck it list.
Well, that's what  Kevin Pryslak thinks, anyway. He's gone to the trouble of writing this book so you have a tick-off list of 120 activities you can avoid, so you can spend more time doing the things you actually enjoy!
This chuckle-worthy pocket book is filled with things not to do and why. Some great examples include "Fuck it: I'm not going to learn to play golf," "Fuck it: I'm not getting married," and "Fuck it: I'm not riding a mule to the bottom of the Grand Canyon."
Disclosure: This article contains affiliate links. Tis means that if you purchase something we may get a small commission, at no extra cost to you.