The 'Baby Belly' Image That Won the Internet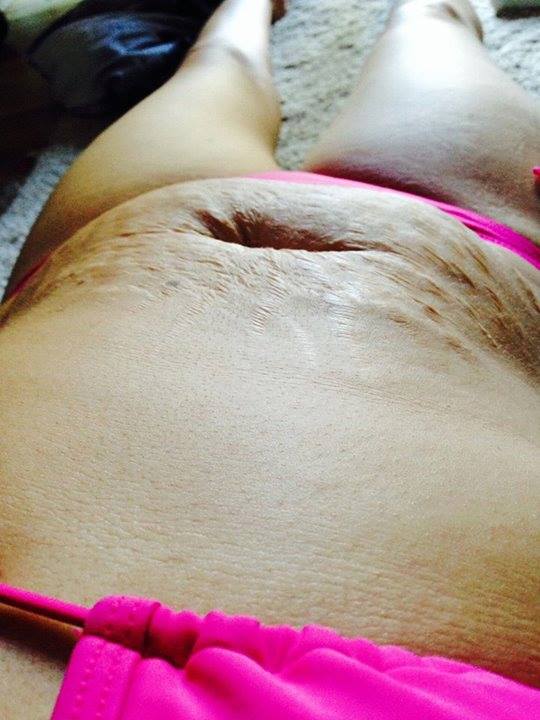 This morning the wonderful world of social media is heralding one Canadian woman a hero, or rather a 'shero.'
After being made the object of ridicule at a local beach where she was sunbathing, by 2 men and a woman, Tannis took to social media to have her say…and we are glad she did!
"This is an open letter to the 2 guys and 1 girl who decided to skip work today in Sherwood Park where they were building a house, but instead decided to come to Alberta Beach to relax in the sun, enjoy the water and some beers.
I'm sorry if my first attempt at sun tanning in a bikini in public in 13 years "grossed you out". I'm sorry that my stomach isn't flat and tight. I'm sorry that my belly is covered in stretch marks. I'm NOT sorry that my body has housed, grown, protected, birthed and nurtured FIVE fabulous, healthy, intelligent and wonderful human beings. I'm sorry if my 33 year old, 125 lb body offended you so much that you felt that pointing, laughing, and pretending to kick me. But I'll have you know that as I looked at your 'perfect' young bodies, I could only think to myself "what great and amazing feat has YOUR body done?". I'll also have you know that I held my head high, unflinching as you mocked me, pretending that what you said and did had no effect on me; but I cried in the car on the drive home. Thanks for ruining my day. It's people like you who make this world an ugly hateful place. I can't help but feel sorry for the women who will one day bear your children and become "gross" in your eyes as their bodies change during the miraculous process of pregnancy. I can only hope that one day you'll realize that my battle scars are something to be proud of, not ashamed of."
Whilst traditional media still sells the idea that slim is beautiful and that the best mums are back in their bikini's sporting 6 packs six weeks post-partum, it is encouraging to see real women push back against these ideals, reclaiming their power and self-confidence and saying "No! You are wrong! I may not be a size 8 but I still have an amazing, beautiful body."
Popular Australian blogger Bianca Wordley's post 'The Baby Belly' attracted equal media attention in December 2011 when she refused to succumb to media pressures about how her post baby body 'should' look.
Like Tannis, Wordley shared unedited images of her body online, stretch marks and all…and the internet cheered!
So, to the Tannis' and Bianca's of this world we thank you!
Thank you for taking a stand against the ridiculous body ideals that diminish the body-confidence and worth of women.
And thank you for modeling self-pride to your children and to mine, and showing women everywhere that in fact the media only has power over us if we allow it.
Let's reclaim our bodies ladies, and love them for the miracle they are!
I'll show you mine, if you show me yours!  Reclaiming body confidence
Are you game? Email [email protected] with a photo of your baby belly and we'll make them into a video montage for an upcoming blog post celebrating the miracle of childbirth and the power and beauty of our bodies.
Read More on Positive Body Image: The Selfie Phenomenon