Dad Flooded with Birthday Messages After His Cheeky Sons Put His Face on a Billboard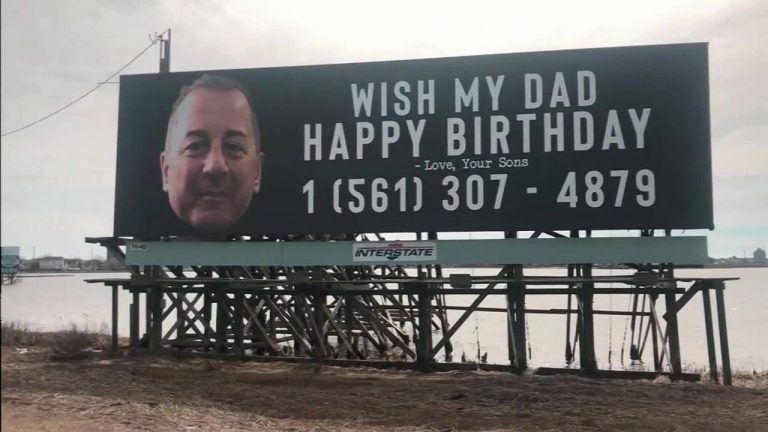 Dad Flooded with Birthday Messages After His Cheeky Sons Put His Face on a Billboard
A man from New Jersey has received over 15,000 calls and text messages wishing him a happy birthday after his sons purchased a billboard and put his face and mobile phone number on it.
Chris Ferry celebrated his 62nd birthday on the 16th of March, and while they were unable to attend their father's special day due to living interstate, sons Mike and Chris Jnr decided to make sure it was a memorable one for their father.
So they did what any normal person would do and purchased four weeks of ad space on a billboard on the side of a major highway into Atlantic City, New Jersey, urging people to wish him a happy birthday.
The prank cost his sons USD$2,000 and we're sure Chris could probably think of dozens of things he'd prefer instead, rather than a giant billboard with his face and mobile number on it.
Gosh, it's enough to give anyone a moment of anxiety, isn't it? Imagine having your phone suddenly blow up with thousands of calls and texts from complete strangers from all around the world!
Speaking to Inside Edition, the birthday boy said: "Every state in the Union, Luxemburg, Kenya, Philippines, Caritas Island – that little island in the middle of the Indian Ocean, they tried calling me."
But of the thousands of strangers to wish him a happy birthday, a guy called Nick was the first.
Mr Ferry told CBS3: "Thursday morning I got a text that said 'happy birthday', and I said, 'who's this?'
"'Nick.'
"'Nick who?'
"'You don't know me.'
"'How do you know it's my birthday?'
"'I read it on a billboard.'"
But despite being inundated with voicemails and messages, and even having to record a new voicemail message thanking well-wishers, Mr Ferry said the prank had ultimately been more heart-warming than annoying.
"I'm getting things like, 'My father's birthday was March 16. He passed away. I'm contacting you in memory of him.'
"It's a cool story, and I'm right in the middle of it, so I love it."
Too funny, well done Mike and Chris Jnr! But watch your backs when your birthdays come around. You got that sense of humour from somewhere, and we're sure this old dog is busy thinking up plenty of new tricks to get back at you!
Source: CBS New York