Entitled Father Insists That Entire Wedding Reception Meal Caters to His Adult Son's Low-Calorie Diet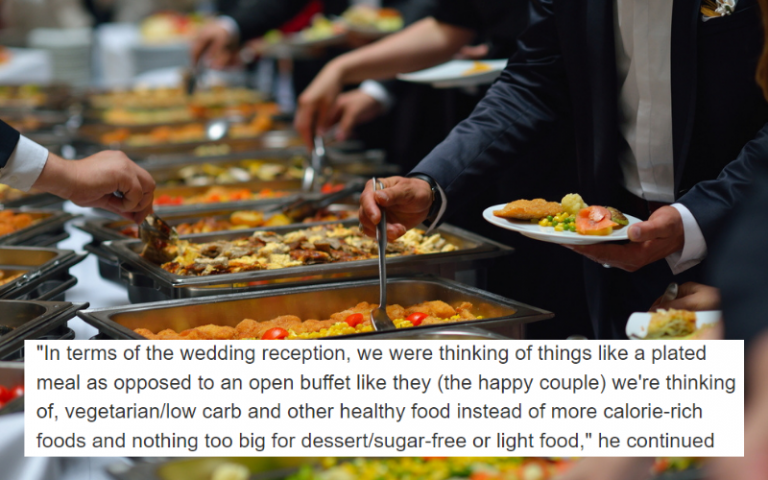 Entitled Father Insists That Entire Wedding Reception Meal Caters to His Adult Son's Low-Calorie Diet
Weddings are a time to celebrate love, family and friends with a beautiful event filled with flowers, cake, champagne, and delicious food. It might be a low-key event or a lavish soiree, but the elements that make a wedding special are still there.
This is why we are still shaking our heads at this entitled father's request of his son and future daughter in law to ensure that all the food options at their upcoming wedding reception be healthy, low-calorie foods to support his other son's weight loss efforts.
Taking to Reddit to ask others if he was in the wrong for insisting that the wedding meal be less tempting for his younger son, the father explained his unusual request.
"Me and my wife asked our eldest son Robert (age 33) to think about our younger son John (age 29) and his needs when they choose the food for the reception," he wrote.
"John has struggled with his weight. At his heaviest, John weighed almost 204kg. Five years ago John had bariatric surgery and he lost weight but he still weighs about 136kg. Even after the surgery, which did help, he had a difficult time and he's still trying to lose weight.
"In terms of the wedding reception, we were thinking of things like a plated meal as opposed to an open buffet like they (the happy couple) we're thinking of, vegetarian/low carb and other healthy food instead of more calorie-rich foods and nothing too big for dessert/sugar-free or light food," he continued confidently, no doubt not even thinking that this suggestion was wildly inappropriate.
"We presented several concrete options for edible but low calorie and healthy ideas. We also thought the other guests might appreciate fewer temptations."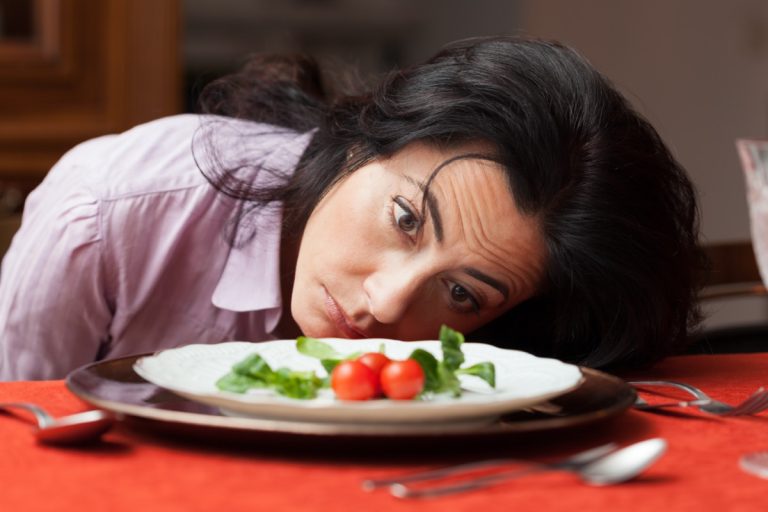 Unsurprisingly, groom-to-be Robert was not receptive to their request.
"He says they will do whatever they want and John can "deal with it". I know it's difficult to understand if you've never had issues with your weight and Robert is in above average shape due to his time in the Canadian Armed Forces. Robert said he wouldn't even bring this up with his wife. He isn't at all happy with us right now. Even John tried speaking with him and he got nowhere. Was I out of line? I don't believe so but Robert certainly does."
It is understandable that this father is considerate about his younger son's needs, but John is a grown arse man of 29. What about the preferences of his elder son and his new daughter in law? Do they not matter as much as his youngest son? Obviously not.
Commenters agreed wholeheartedly.
"It's supposed to be a wedding celebration for your oldest son and his wife, not a day to cater to the needs of your youngest," wrote someone by the name of Spotzie27. "If John can't handle a buffet with rich foods, then he should stay home."
"It's Robert's wedding and he and his wife have the right to plan it as they wish. If John has an issue with food, it's his responsibility to manage it," added dcm510.
Ciaoamaro hit the nail on the head: "Imagine having to eat sugar-free cupcakes and dressing free salads at your own wedding because a 29-year-old man can't practise self-control."
What are your thoughts? Would you cater to John's weight loss preferences, or would you serve whatever food you wanted? 
Source: Reddit/AITA